Thanks to everyone who contributed updates to Panini Happy's Great American Sandwich Guide! I'll be working over the summer to incorporate your suggestions into the updated guide. I personally love this resource for checking out awesome new-to-me sandwiches, whether I'm looking for a bite right here in San Diego or I'm traveling to a new city. Today's Spicy Tuna Melt Panini recipe was inspired by a local favorite sandwich from The Rubicon Deli, which I first learned about in the guide.
What I loved most about the Spicy Tuna sandwich at Rubicon was the balance of bold flavor. With pepperoncini, pickles, pepper jack cheese and habanero mustard it's definitely got a tangy kick, yet it still tastes like a tuna sandwich (which is, after all, the point). But like a tuna sandwich that was heads and tails above most others I've ever tried! Tuna fans: if you find yourself in San Diego or Reno (they've got locations in both cities), you must order this (preferably on Dutch Crunch bread, my favorite). In the meantime, try my panini version.
The spicy mustard is a key component of the Rubicon sandwich, but since habanero mustard isn't always easy to find I simply spiked some regular Dijon mustard with Tapatío hot sauce. BOOM – there's your spicy kick! I also used some of the pepper jack cheese that the folks from Cabot Cheese recently sent me to try. It melted beautifully and brought more gentle heat. The crunch of the panini-grilled sourdough replaces the Dutch Crunch in the original cold sandwich. Try it and let me know what you think (I hope you love it too)!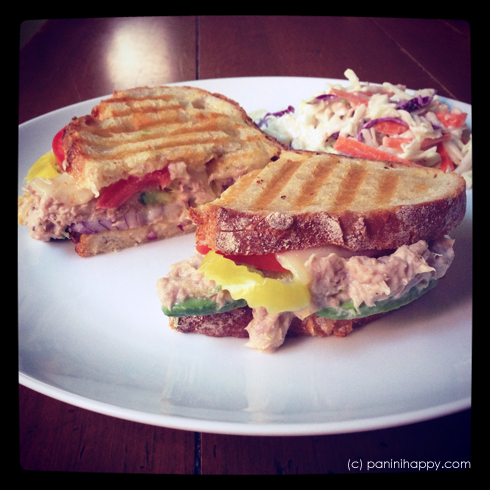 [print_this]
Spicy Tuna Melt Panini
Prep time: 20 minutes | Cook time: 10 minutes | Total time: 30 minutes
Yield: 4 panini
INGREDIENTS:
2

(5-ounce) cans solid white albacore tuna in water, drained

1

celery rib, minced

2 tablespoons

mayonnaise

Coarse salt and freshly ground black pepper

4 tablespoons

Dijon mustard

1/4 teaspoon

Tapatío or other hot sauce

4 tablespoons (1/2 stick)

butter, at room temperature

8 slices

sourdough or other rustic white bread, sliced from a dense bakery loaf

8 thin slices

red onion, separated into rings

1

medium-size ripe avocado, pitted, peeled, and sliced

2 tablespoons

sliced pepperoncini*

2

plum tomatoes (such as Roma), thinly sliced and seeded

4 ounces

pepper jack cheese, thinly sliced
DIRECTIONS:
In a medium-size bowl, mix the tuna, celery, and mayonnaise until it's well combined. Season the tuna salad with salt and pepper to taste.
In a small bowl, mix the Dijon mustard and hot sauce together – add more hot sauce if you prefer.
Heat the panini press to medium-high heat
For each sandwich: Spread butter on two slices of bread to flavor the outside of the sandwich. Flip over both slices and spread mustard on the other side of each. To one slice add onions, avocado, tuna salad, pepperoncini, tomatoes, and cheese. Close the sandwich with the other slice of bread, buttered side up
Grill two panini at a time, with the lid closed, until the cheese is melted and the bread is toasted, 4 to 5 minutes
* You can find jarred pepperoncini – pickled sweet or hot Italian peppers – in the condiments aisle at the grocery store, near the olives.
[/print_this]