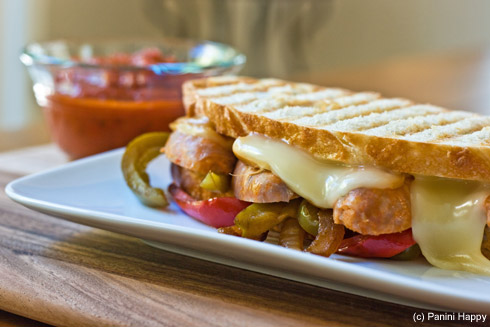 It's not that I don't like football – it's just that I have a hard time getting really into it. My mom always ribs me for routinely mixing up offense and defense when I was the JV cheerleading captain in high school. Details! I do enjoy the excitement of the game, though. They use some pretty snazzy on-screen graphics and the beer commercials are usually entertaining, I can appreciate that. But the best part about football season, for me, is football food.
Sausage, Peppers & Smoked Mozzarella Panini are the perfect big-flavor panini to enjoy while watching the big game, inspired by classic Italian sausage and peppers. Hot Italian sausage links are layered in with zesty bell peppers and onions, blanketed in smoked mozzarella cheese, and grilled nice and toasty on Italian bread. Serve marinara sauce on the side for dipping and enjoy!

I've posted the recipe on Food2 -did you know I'm a featured blogger over there now? It's the younger, hipper cousin of the Food Network, with lots of fun video content, recipes and taste challenges. Check it out!