I have just become acquainted with an amazing treat: roasted apples! For all the gazillion ways in which I've been enjoying apples every autumn I can't believe I never tried roasting them until now. The irresistible part is the caramelized crust that forms on the bottom from the sugars in the apple. I roasted a bunch of slices to make today's panini, but there really weren't many to work with once I started snacking on them.
I must thank a Panini Happy reader, Meaghan from Vancouver, for suggesting roasted apples as a panini ingredient. She submitted an On Your Grill idea recently that incorporated both roasted apples and Brie and the combination has been on my mind ever since. In keeping with autumn flavors, I decided to add in some pecans and grill it all on cinnamon raisin bread. Just wow.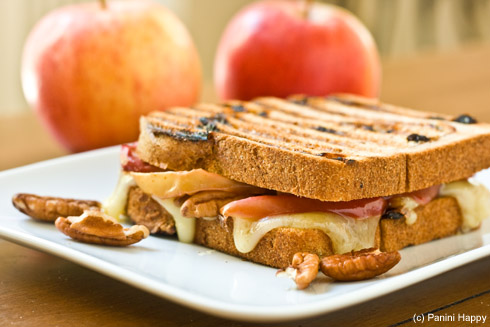 Roasted Apples, Brie & Pecan Panini
Serves 4
INGREDIENTS:
2 apples (I used Gala), cored and sliced into ~1/4″ wedges
8 slices cinnamon raisin bread (a relatively dense, fresh-baked loaf is best)
4 oz. Brie, sliced thinly
4 tablespoons pecan halves
DIRECTIONS:
Preheat a toaster oven to 375°F (or a regular oven to 400°F).
Spray a baking sheet with cooking spray and arrange apples on the sheet. Bake for 15-20 minutes until apples are soft and golden brown with a caramelized crust on the bottom.
Preheat the panini grill to medium-high heat.
For each sandwich: Arrange slices of Brie to cover a slice of cinnamon raisin bread. Top with roasted apple slices and pecans. Close the sandwich with another slice of bread. Grill for 3-4 minutes until the cheese is melted and the bread is toasted. Serve immediately and enjoy!