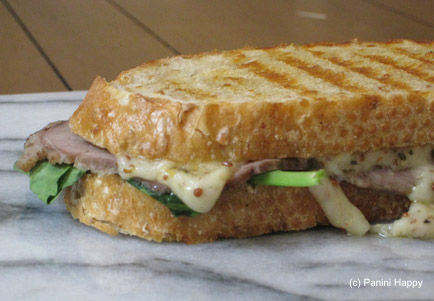 Red Dragon, with its robust cheddar, mustard and ale flavors, would make a fantastic grilled cheese sandwich on its own (read my "review" of this great cheese!).  In fact, I broiled a few open-faced ones for breakfast last week!  But since the point of my Cheese, Please! series is not only to find great cheeses for panini but also to identify delicious complementary fillings, I looked to hearty roast beef and fresh, peppery arugula to round out my Red Dragon panini.
A cheese that comes with its own condiment "built" right in…what will they think of next?  I didn't realize how much I'd love the fact that Red Dragon is made with mustard until I sampled it as a basic little cheese-on-baguette sandwich at Venissimo last week.  They offer a great lunch "special" – you pick your cheese and your bread and they make you a little sandwich, with a side of fresh fruit.  Not bad at all for $5.  It gave me a chance to really taste the cheese and think about what other foods might taste good with it.  In my notebook, I jotted down "roast beef for sure" – I always love roast beef sandwiches with cheddar and lots of spicy whole grain mustard.
With all of this big flavor on the inside of the sandwich, I decided to emphasize texture when it came to choosing the bread.  I found this great cracked wheat sourdough at Trader Joe's that finished everything off with a slight nuttiness.  Not only that, I was able to get some really nice, golden grill marks – the hallmark of great panini. 🙂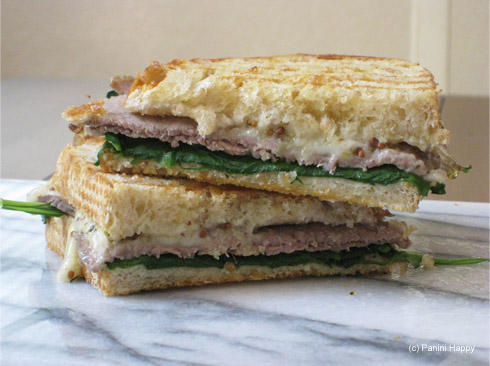 Red Dragon, Roast Beef & Arugula Panini
Serves 2

INGREDIENTS:
4 slices sourdough bread
Olive oil
Arugula
6 slices roast beef
4 oz. Red Dragon cheese, sliced thinly
DIRECTIONS:
Preheat panini grill to medium-high heat (375 degrees).
For each sandwich: Brush a little olive oil onto the outer side of each slice of bread.  On the inside of one slice, layer a small handful of arugula, 3 slices of roast beef and about 2 oz. of Red Dragon.  Place the other slice on top (olive oil side up) and grill 5-6 minutes until the cheese is melted and golden grill marks appear.  Serve immediately and enjoy!