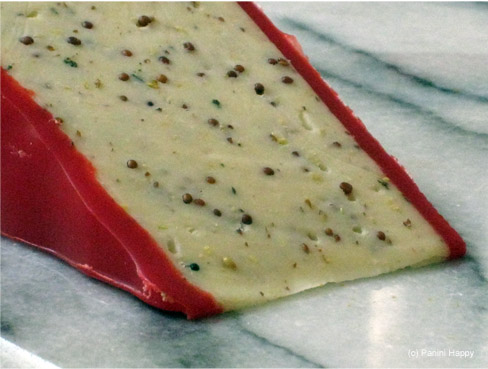 For this next installment of my Cheese, Please! series, I decided to do a little "research" at my local cheese shop, Venissimo. I told the ladies behind the counter that I was looking to expand my repertoire of cheeses that might melt well in panini and the samples started rolling in one after another.  It was terrific!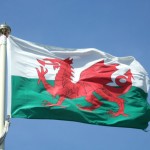 When we got to a sample called "Red Dragon" I braced myself for a dose of muy caliente, burn-my-lips-off, four-alarm spiciness.  I'm pleased to report my lips are still intact. It turns out the name actually is derived from the red dragon emblem on the Welsh flag.  The cheese itself actually isn't hot.  Phew!
Covered in bright red wax, Red Dragon is a Welsh cheddar-style cheese made with mustard seeds and Welsh ale.  It's got a buttery flavor combined with a sharp, tangy bite that I found to be really appealing.  It's almost like having your condiment and your cheese all rolled into one, with the inclusion of the mustard.  I knew right away that it would taste great on any sandwich where I might normally use cheddar and mustard – such as with roast beef, ham or turkey.
Since Red Dragon is made with beer, it's known to pair well with beer too.  I've seen recommendations for both pale and dark ales.  My recommendation would be to try it with both. 🙂
Click here for my Red Dragon, Roast Beef & Arugula Panini recipe!