I conjured up a vision of the panini and the flavors before I had even decided on the ingredients. Something with a little heat, but maybe an element to cool it down. Mild cheese, nothing too grandiose. A bright-flavored herb or vegetable that complements, but doesn't distract from, the gentle spiciness.  A good crunch on the bread. Colorful.
The reality from this vision? Red Chile Chicken Panini with Monterey Jack Cheese, avocado and red onions on sliced sourdough. Can't you just tell by the look of this thing that it was tasty?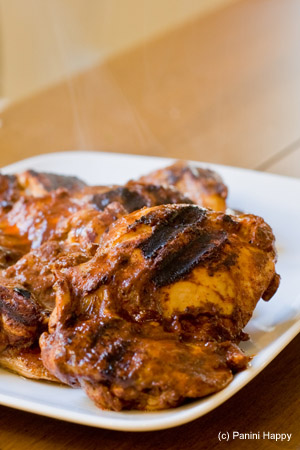 The red chile marinated chicken in this sandwich is pretty darned amazing. I found the recipe over on Simply Recipes (I refer to Elise's blog several times a week – even more now that she's got an iPhone app!). Aside from all the chiles within the chile sauce, there is warmth and subtle sweetness from the addition of spices such as cloves, allspice and cinnamon, which creates a real depth of flavor. For ease of layering the chicken into panini I opted to use boneless, skinless thighs rather than bone-in, skin-on and did my grilling right on the panini grill. Even with these modifications my husband and I still absolutely loved this chicken.
There was a time in my life when I might have found it strange to daydream at length about food. But these days I actually find it to be rather relaxing and therapeutic. Thinking about the smell, taste, look and feel of food is almost as enjoyable as eating it, yet without a single calorie to contend with. 🙂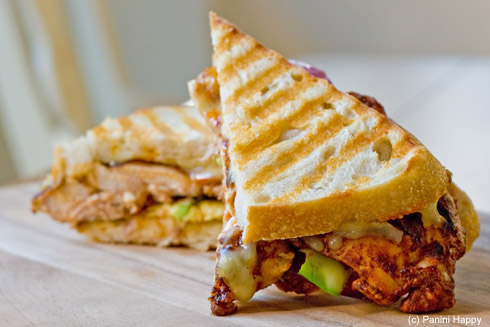 Red Chile Chicken Panini
(Chicken preparation adapted from the Red Chile Marinated Grilled Chicken recipe at Simply Recipes)
Serves 4
INGREDIENTS:
1 tablespoon olive oil
1 1/4 cup Mexican red chile sauce (e.g., Las Palmas brand)
2 tablespoons white or cider vinegar
1/2 teaspoon ground cloves
1/2 teaspoon ground allspice
1 teaspoon cinnamon
1/4 teaspoon ground cumin
A pinch of dried oregano, crushed
A couple of turns on a black pepper grinder
1 teaspoon minced garlic
6 boneless, skinless chicken thighs
8 slices sourdough bread
Mayonnaise
2 tablespoons melted butter
1 red onion, sliced thinly
1 avocado, sliced thinly
4-6 oz. Monterey Jack or Mexican blend cheese, shredded
DIRECTIONS:
(NOTE: Remember to allow about an hour for the marinade to cool down as well as another hour – or overnight – for the chicken to chill in the marinade.)
Heat oil in a medium sized saucepan on medium heat. Add the chile sauce. Add vinegar, cloves, allspice, cinnamon, cumin, black pepper, oregano and garlic. Bring to a simmer and let simmer for 5 minutes. Remove pan from heat and let cool.
Sprinkle salt over all the chicken thighs on both sides. Put chicken thighs in a non-reactive bowl or a large freezer bag. Add the marinade, make sure all pieces are coated well with the marinade. Marinate in the refrigerator at least one hour, preferably overnight.
Remove the chicken thighs from the refrigerator. Preheat the panini grill* to medium-high heat (375 degrees). Grill the chicken thighs with the lid closed for 7-8 minutes until cooked through. Unplug the grill and carefully clean the grates.
Reheat the panini grill to medium-high heat (375 degrees).
For each sandwich: Brush melted butter onto the outer sides of each slice of bread. Spread a thin layer of mayonnaise inside the bottom slice of bread. Add onions, avocado, 1-2 chicken thighs and cheese and close the sandwich with the other slice of bread (buttered side up). Grill the sandwich for 4-5 minutes until the cheese is melted and bread is toasted with nice golden grill marks. Serve immediately and enjoy!
* No panini grill? Prepare the chicken following Simply Recipes' original recipe for Red Chile Marinated Grilled Chicken and refer to How to Make Panini Without a Panini Press for tips on alternative ways to grill your panini.