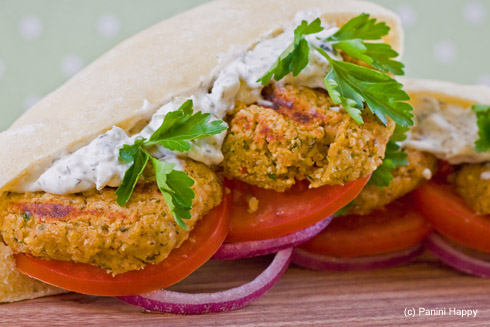 I actually won a giveaway! Among the bonanza of all kinds of Mediterranean dips and chips that recently arrived on my doorstep (thanks to the Foodie BlogRoll and Cedars Mediterranean Foods) were two big tubs of tzatziki – you know, the Greek cucumber-yogurt dip. I wasn't quite sure how I would use up these delicious, but perishable, gifts until I came across Sandy's enticing recipe for Baked Falafel on Eat Real. Three thoughts came to mind: 1) what a perfect complement for tzatziki,  2) I'll bet I could grill that and 3) I'll bake my own pita breads too!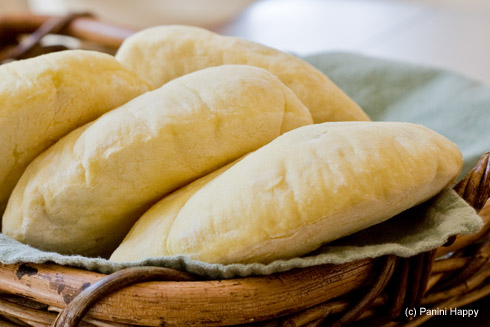 On that last point, I don't think I've mentioned yet that I'm participating in the Bake Your Own Bread (BYOB) challenge this year. The goal is to bake all of our own baked goods (or at least as many as possible) from scratch in 2009. Of course, I still find myself buying bread every so often, but I've definitely been baking at home more than ever. The aromas in this kitchen have been just heavenly!
My pita breads (pictured above) took so little time to make. With a batch of ABin5
Italian semolina dough ready in the fridge, all I had to do was heat the oven, shape the dough and bake for 7 minutes. Watching them rise was like observing time-elapsed photography – they puffed up quite a bit! They came out so soft and spongy inside, a night-and-day difference from the store-bought kind I'm used to.
Making my own falafel was also an easy and satisfying experience. Frying gives traditionally prepared falafel a wonderful crunchy exterior; fortunately, so does grilling. The patties were dense enough to hold their shape on the grill but they still had a nice light texture (no hockey pucks here!). I added chipotles for some smoky heat – they're not traditional, but I just love the flavor. Plus, the cool, creamy tzatziki takes the edge off the spiciness. These falafel were super-easy to make, quick enough for a weeknight dinner and quite delicious.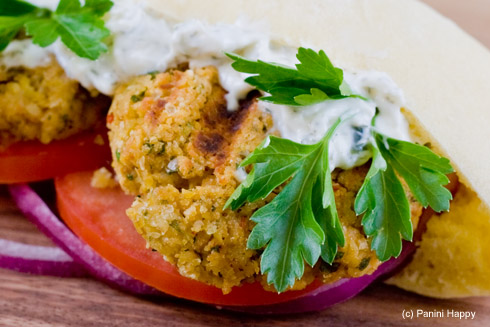 [print_this]
Grilled Chipotle Falafel
Adapted from the Baked Falafel recipe on Eat Real
Serves 4
INGREDIENTS:
2 cloves garlic, quartered
1/4 cup coarsely chopped fresh cilantro
1/4 cup coarsely chopped fresh flat-leaf parsley or mint
1 15 oz can chickpeas, drained and rinsed
1/2 cup plain coarse bread crumbs
1 to 2 tablespoons freshly squeezed lemon juice
1 teaspoon baking powder
1 teaspoon ground cumin
1/2 teaspoon kosher salt
1 to 2 chipotle peppers in adobo sauce, minced
Coarsely ground black pepper to taste
Olive oil for brushing
For serving:
4 pita breads
Tomato, thinly sliced
Red onions, thinly sliced
Parsley
Tzatziki (you can buy this already prepared or make your own)
DIRECTIONS:
Place garlic, cilantro, parsley or mint, chickpeas, and bread crumbs in the bowl of a food processor. Pulse a few times to chop and blend ingredients.
Sprinkle 1 tablespoon lemon juice over chickpea mixture and pulse a few more times. Sprinkle baking powder, cumin, salt, chipotles, and black pepper over mixture and pulse until the chickpea mixture reaches a workable paste-like consistency. Add an additional tablespoon of lemon juice if it seems very dry.
Preheat the panini grill to medium-high heat (375 degrees).*
Using a large tablespoon, scoop balls of dough into your palms and form them into patties. Set aside on work surface while you form the remaining mixture.
Brush olive oil onto the bottom grate of the panini grill. Place falafel patties onto the grill and brush more olive oil directly onto the patties. Close the lid so that the upper grate is touching the patties without compressing them. Grill for 7-9 minutes until the patties are crispy on the outside and grill marks appear.
Serve in pita bread with tomatoes, red onions, parsley and tzatziki.
* No panini grill? I recommend following Sandy's original Baked Falafel recipe.
[/print_this]