Today's post is sponsored by the new Windows Phone 7.
If MTV's Cribs ever visited our house I would have to dash over to block their cameras from filming the fridge. No meticulously organized shelves full of Vitamin Water and Heineken here. At any given moment, we've got half a dozen little Tupperware containers of last night's roast chicken, steamed veggies for the baby, half a block of Gruyère, that hummus experiment – a random assortment of odds and ends just begging to be combined into a new meal. Like, say…panini?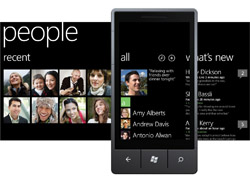 In conjunction with the launch of the Windows Phone 7, the folks at Microsoft are coordinating with me and 57 other food and lifestyle bloggers (see the official rules for a list of all the participating bloggers) to give away their new smartphones to our readers and challenged us to write a post on the theme of "doing more with less". I'll share with you how I turned leftover cornbread and pulled pork into Pulled Pork Cornbread Panini with Caramelized Onions and Pepper Jack in a minute. First, here are the details on the giveaway.
To enter the Windows Phone 7 giveaway:
Leave a comment on this post, sharing your favorite way to use up leftovers.
You can enter once per day until the contest ends on Monday, November 29, 2010. (For even more chances to win, I'm giving away another phone on Cooking On the Side)

One entry on this blog will be selected at random to win a brand-new Windows Phone 7. Please note that the phone will ship within 8-10 weeks.
The official rules can be found here.
* * * * *
We've talked before about repurposing leftovers into tasty panini. It's one way I "do more with less" when it comes to cooking. You can see all of the different panini I've grilled from leftovers here. That actually reminds me that it's almost time to give you my annual set of Leftover Thanksgiving Turkey panini recipes. It gets more and more challenging to come up with new ideas each year…what ever will I make? I digress.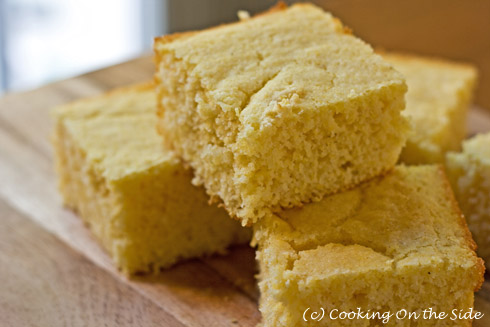 If the above photo looks familiar it's because I'm featuring this Cornbread on my other blog, Cooking On the Side, right now. I'd toyed with the idea of making cornbread panini in the past, but it wasn't until I came across this post on Healthy Food for Living that I became convinced it would actually work. My version with pulled pork and caramelized onions (more leftovers!), along with pepper jack cheese, reminded me a bit of tamales. My initial concern was that the whole thing would crumble on the panini press, but they actually held together well. That said, when it came to actually eating them this was a knife-and-fork affair. 🙂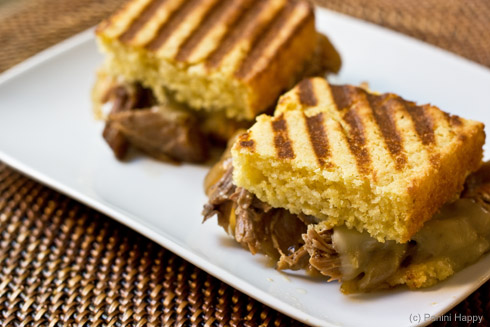 [print_this]
Pulled Pork Cornbread Panini with Caramelized Onions and Pepper Jack

Since we're using leftovers, this is more of a guideline than a real recipe. The bottom line is: cornbread makes tasty panini. Have fun experimenting with it!
INGREDIENTS:
Cornbread (you can find a classic recipe on Cooking On the Side)
Pepper jack cheese (2 slices for every piece of cornbread)
Pulled pork (this Perfect Pulled Pork recipe on Kevin & Amanda's Recipes is excellent)
Caramelized onions (this slow cooker method is convenient; alternatively, I've included another method below)
DIRECTIONS:
Preheat the panini grill to medium-high heat.
Split your cornbread pieces in half lengthwise, creating a top and bottom. Lay a slice of cheese inside the bottom half (this will help keep some of the moisture from seeping into the bread). Top it with pulled pork, caramelized onions and a second slice of cheese. Close the sandwich with the top half of cornbread.
Grill for 3 to 4 minutes until the cheese is melted and the cornbread is toasted. Be careful not to apply too much pressure to the sandwich so it remains intact. Grab some knives and forks, serve immediately and enjoy!
Caramelized Onions
In a skillet over medium-high heat, add 4 tablespoons of olive oil and 4 thinly-sliced medium onions and stir vigorously to avoid scorching. Season with salt and pepper. Continue stirring until the onions have a deep brown color. Reduce the heat and continue to cook until the onions are soft, 30 to 45 minutes.
[/print_this]


This giveaway is brought to you by the new Windows Phone 7. Less tech tired. More tech trendy: Learn about Windows Phone online and see it in person at local T-Mobile stores today.