From the moment I first saw one of these Cakewich pans on the Cook Republic blog I could not wait to get my hands on one (thanks to one-click mobile ordering and Amazon Prime, I had one within 48 hours). Bake a pound cake that looks like a giant peanut butter and jelly sandwich? Too much fun!
GIVEAWAY ALERT! Before I show you how my first Cakewich baking experience went, I wanted to let you know that I'm giving away two Cakewich silicone baking pans over on my other blog, Cooking On the Side. It's that blog's 2nd birthday today, so I'm celebrating!
Okay, let's see how this Cakewich worked out…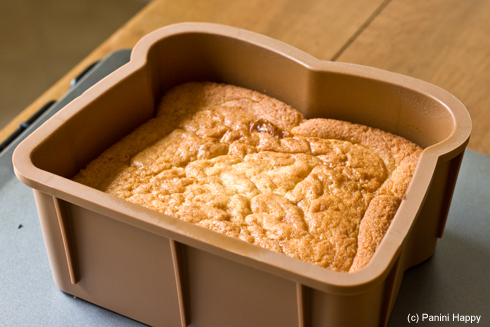 The package provides a recipe for a white pound cake to bake in the pan. This recipe, it turns out, is awesome. I was unsure of how the texture would be, given that it uses only egg whites and no yolks, but it came out super-moist and flavorful.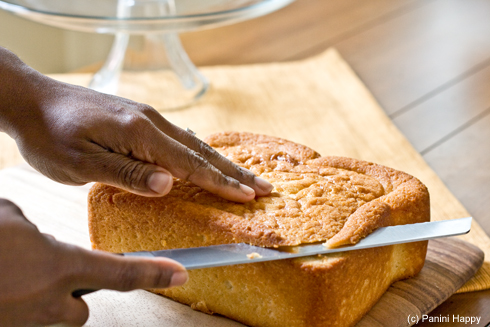 Once it was completely cool, my nervousness kicked in. You have to slice off the top of the cake, to reveal the "sliced bread" and then cut the rest of the cake down the middle horizontally to create the top and bottom sandwich slices. I did my best to maintain my composure and just went sloooowly, checking all sides as I slid my knife through the cake. Eeeeeeee…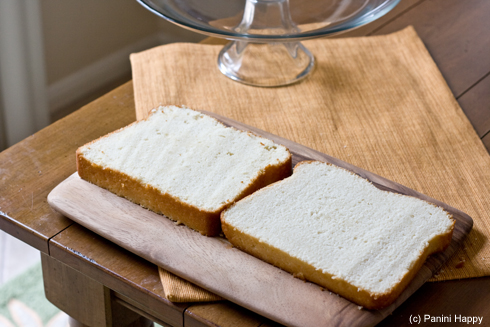 Whew! They came out evenly (for the most part). I'm still amazed at how much these look like real bread slices.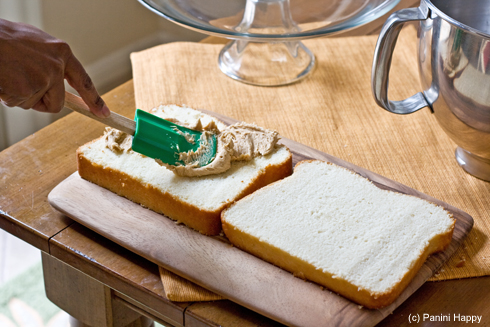 I was so excited to finally spread on the peanut butter frosting that I neglected to first move the cake up to the cake stand. It would be a much better idea to assemble the cake directly on the cake stand – do as I say, not as I do.
This is just regular strawberry jam, you don't add anything to it. Makes this cake seem even more like a real PB&J.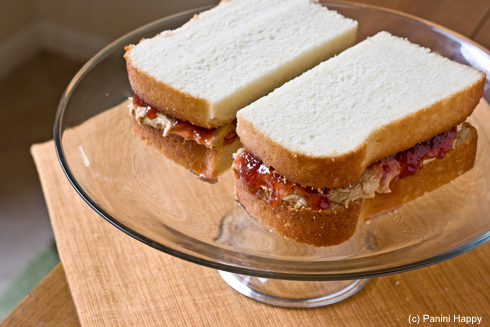 There it is – a giant peanut butter and jelly sandwich cake! I was so pleased with this cake, it was just as much fun as I'd hoped. And it really does taste like a PB&J…like the best one you've ever had in your life.
Want to bake your own Cakewich? You can find the pans on Amazon…or try your luck in my giveaway on Cooking On the Side!