That's quite a beast, isn't it?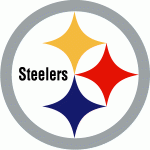 If you've never been to Pittsburgh you're probably thinking I've finally gone Panini Delirious.  But if you're from the 'burgh, this behemoth featuring a sirloin beef patty, Provolone cheese, french fries, cole slaw and tomatoes might remind you of a popular local favorite – the Pitts-burgher Cheese Steak at Primanti Bros.  With the the Super Bowl coming up this Sunday I'm making panini in honor of each of the participating teams.  Today's is for the Pittsburgh Steelers (Cardinals fans can relax – I'll be talking about y'all tomorrow!).
To help me come up with a proper tribute to the Steelers, I consulted my good friend Kurt, born and raised in Pittsburgh and a die-hard Steelers fan.  Lucky for me, his favorite 'burgh food happens to be a sandwich!  He described the cheese steak from Primanti Bros.:
"It's essentially a whole meal piled onto a sandwich…with your french fries and cole slaw stacked on top. The most popular version (their #2 best seller…#1 being beer) is their cheese steak sandwich.  They have Tabasco sauce at all their restaurants and it's the perfect "garnish" for the sandwich (since it's so starchy, the hot sauce offsets it with a little zip).  Very, very yummy.  FWIW, they serve Primanti Brothers sandwiches at Heinz Field (the football stadium).  It's a VERY Pittsburgh kinda place."
It was too over-the-top to resist. It needed just a few modifications to work on a panini press.  Primanti Bros. uses soft Italian bread for its sandwiches but to avoid having all those juicy toppings saturate the bread during grilling I switched to a sturdier French batard.  Also, rather than grill the entire sandwich at once I pressed just the beef patty, cheese and fries first and then added in the cole slaw and tomato at the end (not unlike the McDLT of the '80s if anyone remembers that!).
A sandwich with this much stuff on it has got to be good.  And it was. I was really amazed that I was able to cut this thing in half with most everything staying intact!  Folks in Pittsburgh definitely don't mess around when it comes to sandwiches.  Wishing them the best of luck (and the same amount of luck to Arizona :-)) on Sunday!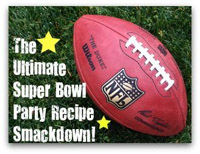 P.S. I'm entering today's sandwich into The Ultimate Super Bowl Party Recipe Smackdown over at The Recipe Girl.
P.P.S. You can read what my Adopt-a-Blogger "parent", Curt of Bucky's Barbecue and Bread, thought about the original Primanti Bros. cheese steak.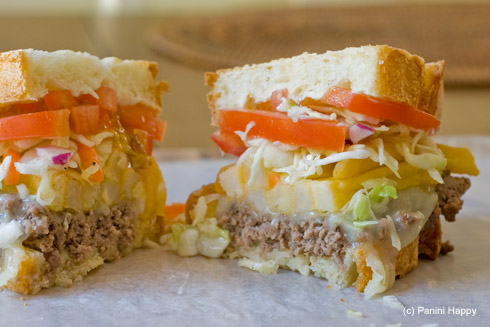 Pittsburgh-Style Cheese Steak Panini
NOTE: The cole slaw portion of this recipe is adapted from the Food Network
Serves 6
INGREDIENTS:
1 package frozen french fries
1/4 cup red wine vinegar
2 tablespoons sugar
2 tablespoons vegetable oil
1 16 oz. package shredded cole slaw mix
1-1/3 lb. ground sirloin
Garlic powder
12 slices white artisan bread (I used a French batard), about 1/2″ thick
6 slices Provolone cheese
2 tomatoes, thinly sliced
Salt and pepper
DIRECTIONS:
Bake frozen french fries according to package directions.
While fries are baking, prepare the cole slaw: In a large bowl, combine vinegar and sugar.  Stir in oil.  Add cabbage to dressing and season with salt and pepper.  Toss to combine, adjusting seasoning as needed.  Set aside in the refrigerator.
Preheat the panini grill to high heat (400 degrees).
Line a jelly roll pan or cookie sheet with waxed paper. With a rolling pin, roll out meat to 1/4″ thickness, roughly in a rectangular shape.  Divide into 6 rectangular burgers.  Season with salt, pepper and garlic powder and carefully transfer the burgers to the grill (you will probably need to do this in two batches).  Grill 3-4 minutes until cooked through.
Turn off the panini grill, clean the grates, and reheat the grill to medium-high heat (375 degrees).
For each sandwich, layer a burger, a slice of cheese and a handful of fries on top of a slice of bread.  Top with another slice of bread and grill 4-5 minutes until cheese is melted and bread is toasted.  Remove the top bread, add cole slaw and tomatoes to the sandwich.  Replace the bread on top.  Cut the sandwich in half, serve immediately and enjoy!