You know the classic caprese, right? Ripe red tomatoes, fresh mozzarella and basil – it's one of my favorite combinations, for a salad or panini. How about a caprese using fresh summer peaches?
The flavor affinities are all there. According to The Flavor Bible (which I often consult in new taste situations such as this – I talked more about this fantastic book last summer), peaches are known to taste great with basil, cream and salt among numerous other things. In my version I kept the basil, which seems to just love so many other summer fruits, like strawberries and watermelon. I used homemade fresh mozzarella, representing the "cream" flavor (and, yes, I'll soon post about my cheesemaking travails!). Last year's annual peach panini taught me that peaches love salty pork too, so I included some prosciutto for good measure.
This combination really worked for me. Like tomatoes, peaches are also sweet and a touch acidic so their flavor affinities are actually pretty similar. Peaches are definitely sweeter so, to me, they gave the overall sandwich a brighter, fresher taste. I could see trying this with pineapple as well. If you try it, let me know!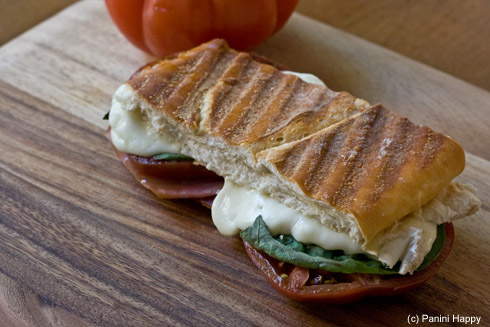 I made a "regular" heirloom tomato one for my husband, the purist. It was pretty fantastic too.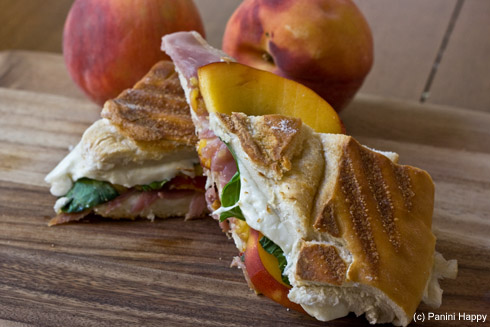 [print_this]
Peach Caprese Panini
Makes 2 panini
INGREDIENTS:
1/2 loaf Italian bread (e.g., filone, ciabatta)
2 slices prosciutto
1 ripe peach, pitted and sliced
4 oz. fresh mozzarella, sliced
4-6 fresh basil leaves
Olive oil for brushing
DIRECTIONS:
Preheat the panini grill to medium-high heat.
Split the bread crosswise into two pieces (I typically make them about 3″ wide). Halve the pieces lengthwise so you have tops and bottoms.
For each sandwich: Lay a slice of prosciutto onto the bottom half of bread. Top with peach slices, fresh mozzarella and basil leaves. Close the sandwich with the other half of bread. Brush a little olive oil on top, if desired.
Grill for 4 to 5 minutes until the cheese is melted and the bread is toasted. Cut in half, serve immediately and enjoy!
[/print_this]