Fruitcake isn't typically high on my holiday wishlist, but after trying out today's Panettone Panini with Prosciutto and Mozzarella I think that may have to change.
I was first introduced to panettone, the Italian fruitcake, around this time last year when I interviewed Martha Stewart's executive director of food and entertaining, Lucinda Scala Quinn on my other blog, Cooking On the Side. Among the many ideas Lucinda offered for serving panettone was an off-the-cuff suggestion of making panini out of it with prosciutto and mozzarella. I waited all year for the next holiday season to come around to give this unique combination a try.
If someone gave you a fruitcake for Christmas this year, you've got to try this. The sweet candied fruits in the panettone just love being paired with the salty prosciutto. It's an absolute flavor blast, I loved it. These sandwiches would probably be just as good cold, but if you grill them you get the benefit of that nice stretchy mozzarella in the middle. I definitely have a newfound appreciation for fruitcake!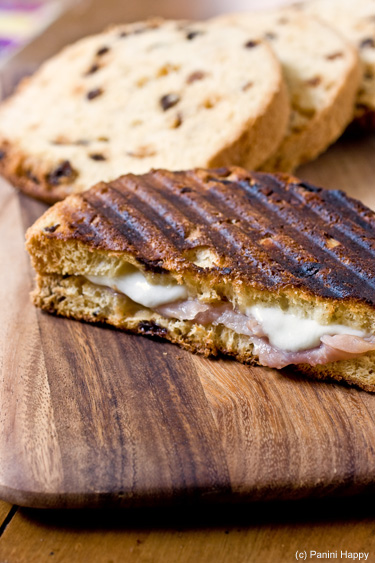 [print_this]
Panettone Panini with Prosciutto and Mozzarella
Prep time: 10 minutes | Cook time: 8 minutes | Total time: 18 minutes
Yield: 4 panini
INGREDIENTS:
1/2 (17.5 ounce)

panettone sliced into 1/2-inch thick rounds*

4 ounces

sliced prosciutto

8 ounces

sliced water-packed fresh mozzarella, patted dry
DIRECTIONS:
Preheat the panini grill to medium high heat.
For each sandwich: Cut a slice of panettone down the middle to create top and bottom semi-circle halves. Lay 1/4 of the prosciutto on one panettone half. Top the prosciutto with two or three slices of cheese. Close the sandwich with the other panettone half.
Grill the panini until the cheese is melted and the panettone is toasted, 3 to 4 minutes.
* You typically might serve a panettone in wedge slices but for making sandwiches, which require slices of even thickness, I recommend cutting the loaf crosswise into 1/2-inch thick rounds.
[/print_this]