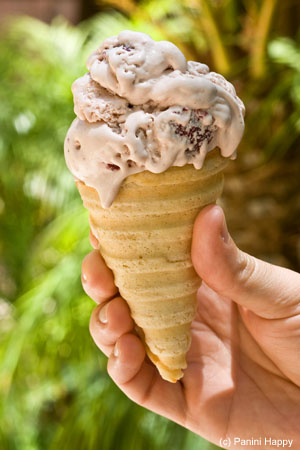 This one is worth screaming from the rooftops. YOU CAN MAKE ICE CREAM CONES WITH YOUR PANINI MAKER! Easily! With no special ingredients! And they're good!
Get ready for your inner child to leap with joy once that familiar sweet, cookie smell you love from the ice cream parlor wafts about your kitchen. If you've ever watched the ice cream folks make cones, all they do is place some batter on a shallow waffle iron, press out the batter and shape the cone. It finally occurred to me…couldn't we do the same thing on a panini press? The answer is: absolutely.

For the cone batter, I looked to this super-helpful post on the Cupcake Project blog.  Stef offered tips for pressing and rolling ice cream cones on a traditional waffle cone maker as well as a link to pastry chef Gale Gand's cone batter recipe on the Food Network website. You probably already have most of the ingredients on hand: heavy cream, vanilla, powdered sugar, flour, cinnamon, nutmeg and cornstarch. That's it.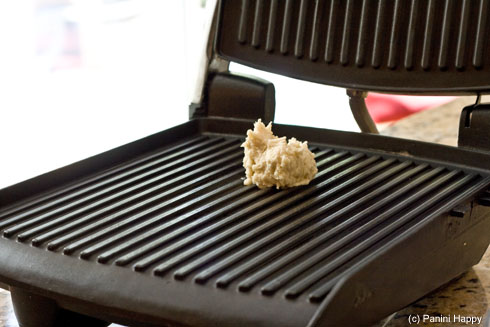 I made up a batch of the cone batter, applied a dollop to the panini grill (a heaping tablespoonful seemed about right), closed the lid, and waited anxiously for a little over a minute.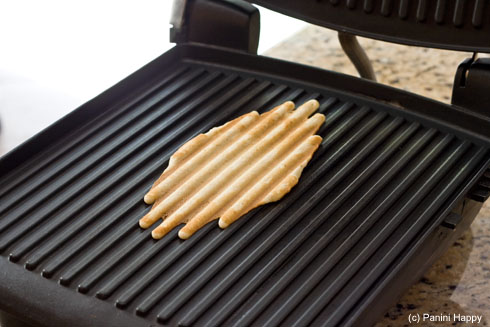 This amoeba-with-ridges may not resemble the perfectly round discs that a regular waffle cone maker produces, but keep the faith…it'll be worth it.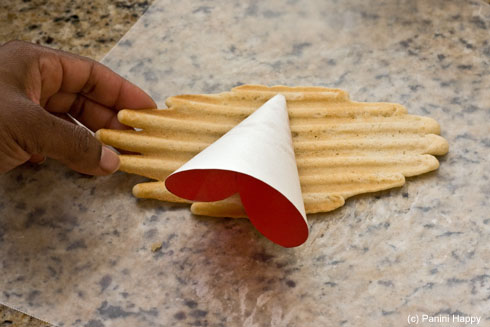 It was easy enough to make my own cone mold. All I did was draw a big circle on the back of an old file folder (in truth, I traced the outside of a roll of blue painter's tape), cut it out and taped it into a cone shape. For those of you without a roll of blue painter's tape, I've made a little template for you.
At this point, the cone is very hot off the press. Be tough! You've got to work quickly to shape your cone before it cools (like less than 10 seconds). Position your mold in the center of the cone, leaving a little space at the edge…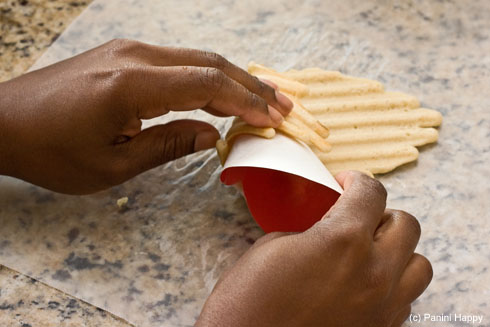 …to allow the cone to fold over on itself at the bottom without leaving a hole. You know that ugh feeling when the drip-drops of ice cream on your sneakers let you know there's a hole in your cone.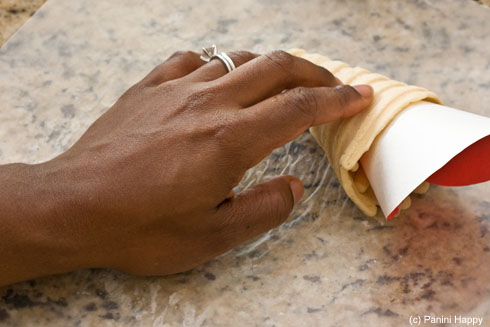 The cone miraculously sticks itself together and, after about 10 seconds or so, holds itself in place for good.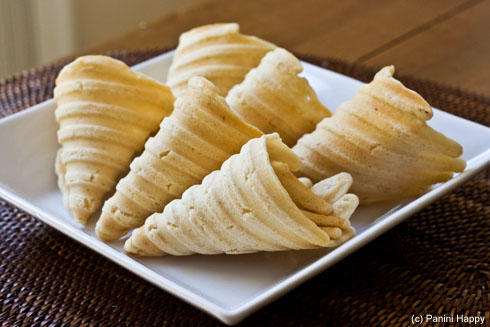 Hooray – ice cream cones!
By the way, they are actually really good ice cream cones. You get big vanilla flavor along with hints of spice from the cinnamon and nutmeg. They're crisp just like they should be. It turns out that the amoeba shape that the panini grill produces, once rolled, actually makes a more even-edged ice cream cone than the traditional waffle cone maker. Ha! So maybe this way is even better. 🙂
I hope you'll all be grilling off tons of ice cream cones this weekend – and while you're at it, go ahead and fill them with some incredible Homemade Strawberry Ice Cream!
[print_this]
Make Your Own Ice Cream Cones on a Panini Press
Adapted from Gale Gand's Waffle Cone recipe on the Food Network website
Prep time: 40 min (including rest time) | Cook time: 30 min | Total time: 1 hr 10 min
Yield: 14 ice cream cones
INGREDIENTS:
1 cup

heavy cream

1 1/2 teaspoons

vanilla extract

1 1/2 cups

powdered sugar

1 1/2 cups

all-purpose flour

1/4 teaspoon

ground cinnamon

Pinch

ground nutmeg

1 tablespoon

cornstarch
DIRECTIONS:
In a medium bowl with a whisk or electric mixer, whip the cream and vanilla together until it is mousse-like. Sift the remaining dry ingredients together in another bowl. Add the dry ingredients to the cream and stir to make a batter. Let the batter sit for 30 minutes.
Preheat the panini grill to medium high heat (about 375°F).
For each ice cream cone:
Place a heaping tablespoonful of batter onto the grill and close the lid, completely pressing the batter. Grill for about 90 seconds or until the pressed cone is browned but still malleable; it will be an oblong shape. Carefully transfer the pressed cone to a cutting board or piece of waxed paper.
Position your cone mold (download a template and instructions for making a mold here) in the center of the pressed cone, leaving about 1/2″ of space between the long edge of the pressed cone and the pointed end of the cone mold.
Working quickly and carefully (the cone will be very hot!), roll the pressed cone around the cone mold to shape it.
Leave the cone on the mold for about 10 seconds to set the shape.
NOTE: After some testing on different grills, it seems that this recipe works a little better on grills like the Breville Panini Press where the grates close a bit more tightly together. The Cuisinart Griddler doesn't close quite as tightly, so it gives somewhat thicker cones.
[/print_this]