You need the moody backdrop of a brisk, misty, gray Seattle day to truly appreciate an amazing grilled cheese sandwich, I've come to realize. Trudging through the bustling, crowded stalls of Pike Place Market during the Saturday afternoon rush last weekend with my new friend Christie from Pepper Lynn, I saw a beacon of light shining from Beecher's Handmade Cheese across the street. Grilled cheese to the rescue.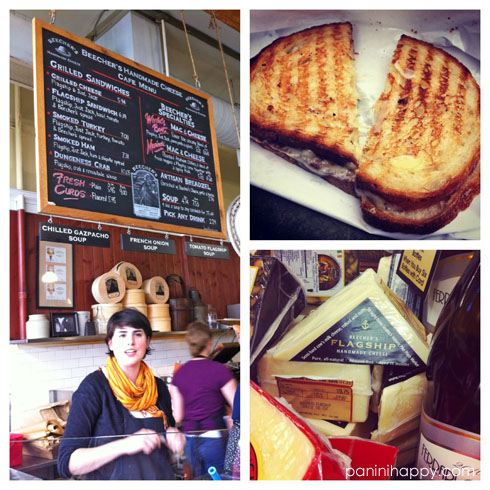 Beecher's and its award-winning Flagship aged cheddar cheese were familiar to me both through a reader's recommendation in my Great American Sandwich Guide as well as from the episode of Oprah where Gayle King explored her favorite mac and cheese dishes around the country (yes, there was a time in my life when I watched a whole lot of Oprah). Their simplest grilled cheese sandwich and a bowl of tomato soup (with cheese croutons) sounded like the best thing in the world to me at that moment so I ordered them.
And loved them. So much so that within a day of returning home to San Diego I found a block of Beecher's in my local grocery cheese department and grilled myself another sandwich so I could experience more of that incredibly sharp, tangy, nutty fabulousness. A few days later I dared to go one step further and gave the sandwich a sweet and crunchy honey walnut butter crust (and posted a photo on Instagram and Facebook – people loved it!). So I'm happy to share my Honey Walnut-Crusted Aged Cheddar Panini recipe with you today, along with a few more scenes from my recent escape to Seattle.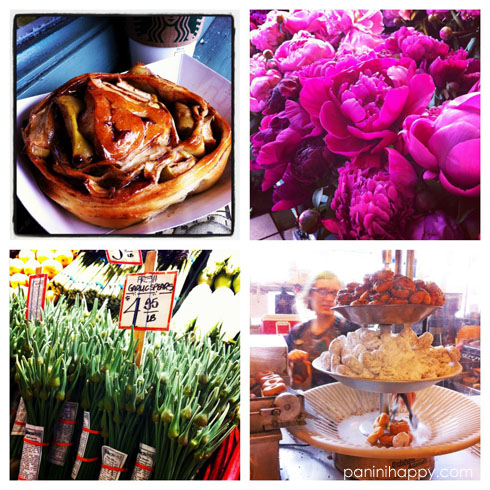 There is so much more to see and do at Pike Place Market than I had time for on this trip – the fresh seafood, the produce and flowers, little eateries, you name it. It was absolutely packed on Saturday at lunchtime (especially with the extra 500 of us BlogHer Food conference attendees descending on the place) but I had a window of opportunity to sprint back down there early the next morning before heading to the airport. The atmosphere was much calmer at that hour. I stopped in to the original Starbucks store for a tall Pike Place blend (of course) and picked up an incredible, sticky sweet apple cinnamon roll from the Russian bakery everyone raved about that weekend, Piroshky Piroshky.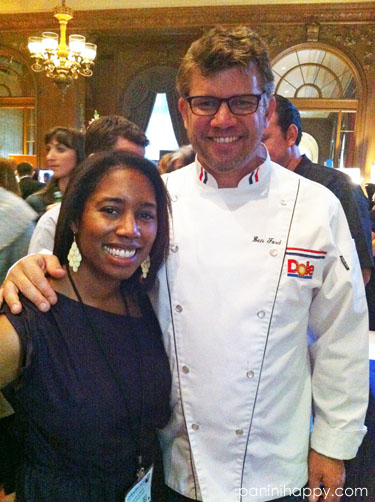 Another real highlight of the trip was the chance to chat at length with two chefs whom I admire. It made my day when chef Ben Ford from Ford's Filling Station in Los Angeles remembered me from last year's BlogHer Food conference in Atlanta! As we were catching up he mentioned that he's in the process of writing his first cookbook, just like I am. He's got a team of people working with him to produce it, it sounds like it's going to be fabulous.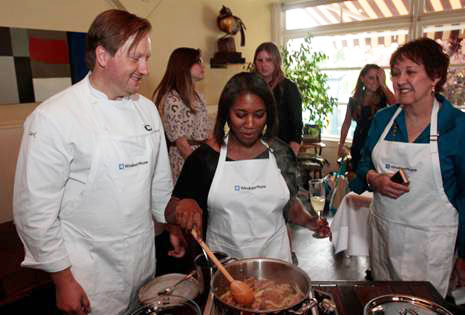 Over at Lark Restaurant in Seattle's Capitol Hill neighborhood I got to meet and cook with James Beard award-winning chef/owner John Sundstrom and blogging friends at an event sponsored by Windows Phone. We do plenty of eating at these conferences but we almost never get to cook together so this was a special treat. Chef Sundstrom was an incredibly gracious host (he's in the process of publishing a cooking app and ebook, the funding for which has become a success story for the website Kickstarter).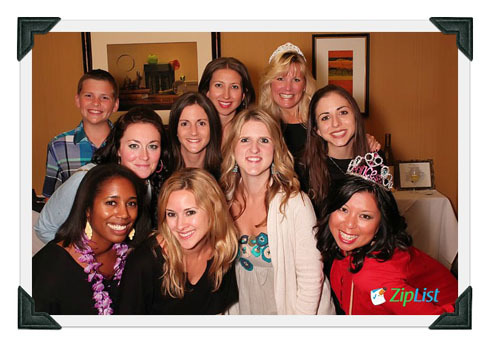 And finally…the most important reason I make the time to attend these conferences is for the chance to reconnect with so many of the bloggers I've gotten to know over the years as well as meet new friends face-to-face. We took the above photo with the photo booth at the Ziplist party – you may recognize these ladies and boy (thanks to Amanda for grabbing the pic out of the machine!): Back Row: Brooks (Recipe Boy), Tara (Unsophisticook), Lori (Recipe Girl); Middle Row: Jessica (How Sweet It Is), Maria (Two Peas and Their Pod), Amanda (Kevin & Amanda) Shaina (Food For My Family); Bottom Row: Me, Bev (Bev Cooks), Jaden (Steamy Kitchen).
All in all, it was a terrific trip but it's always great to be back home. If you can find the Beecher's cheese in your local grocery store you must make these panini, and if not you're sure to love them with other aged cheddar brands as well. Enjoy!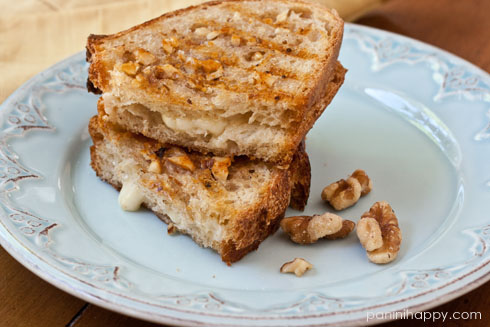 [print_this]
Honey Walnut-Crusted Aged Cheddar Panini
Prep time: 10 minutes | Cook time: 10 minutes | Total time: 20 minutes
Yield: 4 panini
INGREDIENTS:
Honey Walnut Butter:
1/4 cup

shelled walnuts, finely chopped

4 tablespoons

butter, room temperature

1 tablespoon

honey
Panini:
8 slices

rustic white bread

1/2 pound

sharp aged cheddar, thinly sliced
DIRECTIONS:
In a small bowl, combine the chopped walnuts, butter and honey and mix it all together until it's well combined.
For each sandwich: Spread a layer of Honey Walnut Butter on two slices of bread. Flip over one slice of bread and top it with 1/4 of the cheese. Close the sandwich with the other slice of bread, butter side up.
Grill the panini, two at a time, until the bread is toasted and the cheese is melted, 4 to 5 minutes.
[/print_this]