What is the "ultimate" peanut butter sandwich? I've been pondering this question ever since I found out that "Sandwich" was the theme for The Peanut Butter Boy's next Great Peanut Butter Exhibition. As a panini blogger, I ought to have a point of view on this, right? Well, here it is: heaps of homemade peanut butter – lightly sweetened with honey – and delectably sweet caramelized bananas spread upon freshly baked homemade white bread, grilled nice and crispy on the panini press. Sweet and savory, gooey and messy – it's the ultimate peanut butter panini.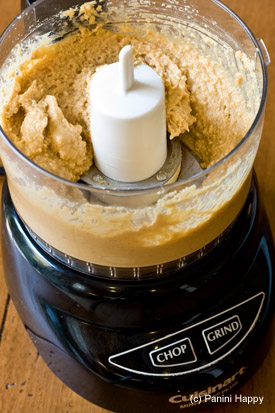 It's funny, I would have thought that becoming a mom would have led me to look for more time-saving shortcuts in the kitchen but these days I really seem to be drawn to making more things from scratch. Making my own peanut butter took only a few minutes longer than just opening a jar of Skippy and the results were so worth it. And fun! It was actually a bit captivating to watch a bowl of roasted peanuts whirl and release their natural oils, crushing down into a rich, spreadable peanutty paste. Even though it tasted great with just a little salt I went ahead and added a touch of honey for some sweetness. When you make your own, you can have it any way you like.
Homemade peanut butter deserves to be enjoyed on homemade bread. As I mentioned in my last post, I'm doing my best to bake most of my own bread this year. For these panini, I made the Soft, American-Style White Bread from Artisan Bread in Five Minutes a Day and I'm proud to say it was nothing at all like any bread with colorful polka dot packaging we may have enjoyed in our childhoods. A good amount of butter both in the dough and brushed on top gave a soft, smooth texture and, of course, great flavor. Hey, I didn't say this was the "lowest calorie" peanut butter sandwich!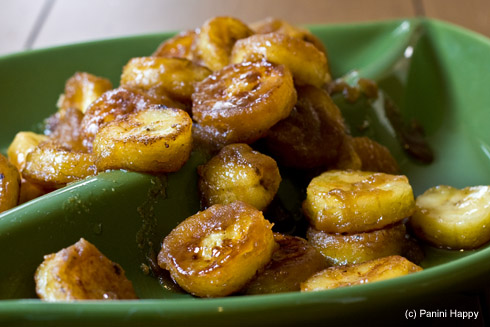 When it comes to caramelizing the bananas, you may find you'll want to make some extras because it's pretty darn tempting to pop a whole lot of these little buttery, candied discs in your mouth before you've had a chance to build any panini. I'll admit I ate quite a few of them.
There you have it – one deliciously indulgent recipe for peanut butter and caramelized banana panini. If it's not the "ultimate", then I'll be really excited to taste what is!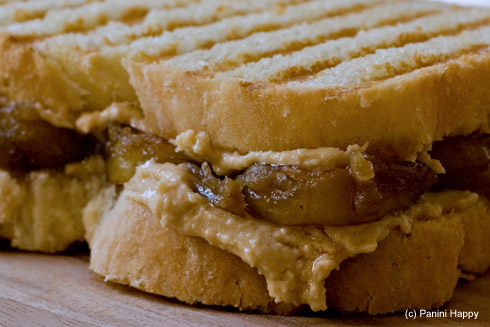 Homemade Peanut Butter & Caramelized Banana Panini
Serves 4
INGREDIENTS:
Peanut Butter (adapted from Joy the Baker)
1 1/2 cups roasted unsalted shelled peanuts
1 teaspoon honey
1/4 teaspoon salt
Caramelized Bananas (adapted from Simmer Till Done)
3 bananas, slightly green, not quite ripe, sliced crosswise into 1/4″ slices
3/4 cup light brown sugar
2 tablespoons unsalted butter
dash of cinnamon
8 slices good-quality white bread
1 tablespoon unsalted butter, melted
DIRECTIONS:
Place peanuts, honey and salt in the bowl of a food processor with blade. Make sure the lid is on tight and turn on the food processor. Nuts will transform from coarse to finely ground then begin to form a paste. Scrape the sides of the bowl as needed. Process until the peanuts resemble a thick, but mostly smooth, and shiny peanut butter, about 4 minutes. Set aside.
Place a large non-stick frying pan over medium-high heat. When hot, sizzle one tablespoon of butter in the pan for a few seconds, then add bananas. Allow bananas to brown for about 30 seconds without stirring or moving them. Use a heat-proof spatula to turn bananas over, then add brown sugar, cinnamon, and remaining tablespoon of butter. Shaking pan to keep bananas moving, cook about one minute more, until sugar is melted and bananas are caramelized, but still solid. Remove from heat.
Preheat the panini grill to medium-high heat (375 degrees).
For each sandwich: Brush melted butter onto the outer sides of two slices of bread and spread a generous amount of peanut butter on the inner sides. Arrange a single layer of caramelized bananas on one of the slices of bread and close the sandwich with the other slice. Grill 2-3 minutes until the bread is toasted and golden grill marks appear. Serve immediately – with a tall glass of cold milk – and enjoy!