It was just a matter of time before I tried to make my own cheese on this blog. There are few things more satisfying to me than making something from scratch with my own two hands. I guess that's why I was also drawn to activities like knitting, sewing, painting, carpentry – and, of course, cooking – from an early age. Even if my end result isn't 100% professional quality (and it rarely is), homemade has that "something special" that always trumps store-bought in my mind.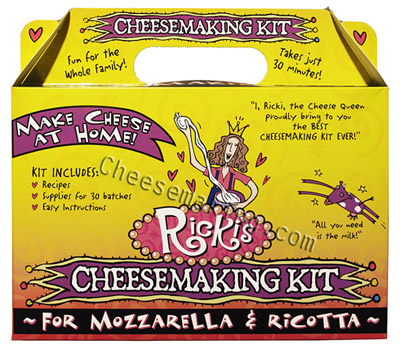 Domenica Marchetti's story about her experiences making fresh mozzarella with her 12-year old daughter on the Washington Post's All We Can Eat blog sparked my interest in giving it a try. I ordered the cheesemaking kit she recommended, and I've had so much fun with it that I've decided to order another to give away to one lucky reader – be sure to read (or just scroll) all the way to the end of this post to enter. [THE CONTEST IS NOW CLOSED]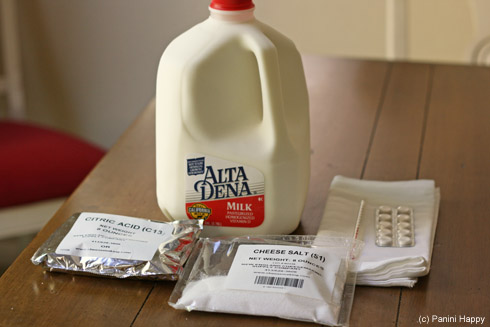 It turns out you need few special ingredients – citric acid and rennet – to make mozzarella, and this is where the kit comes in. It includes both ingredients, as well as a handy thermometer (there's a bit of temperature-taking involved in the cheesemaking process), cheese salt and a cheesecloth (you use this for ricotta, which you can also make with this kit). They give you enough for, like, 30 batches of cheese.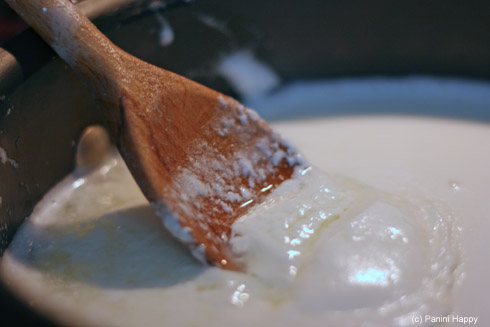 While the kit supplies you with the necessary special ingredients you're on your own for the household staples, namely water and milk. Oddly enough, find the "right" water and the "right" milk is actually the hardest part of the whole process!
The water needs to be free of chlorine. I had no idea how to determine this so I just went with my regular tap water in my first batch…and didn't yield any curds. After learning from Mr. Google that you can remove chlorine from water by leaving it out in the open for 24 hours, I gave it a second try and got curds – hooray!
The rest of the cheesemaking process went smoothly, I sampled my finished homemade cheese (yum!) and proceeded to store it in a container of water like you get at the store…without reading and heeding the kit's advice to store it in plastic wrap. By the next day it had largely disintegrated.
Pouting ensued…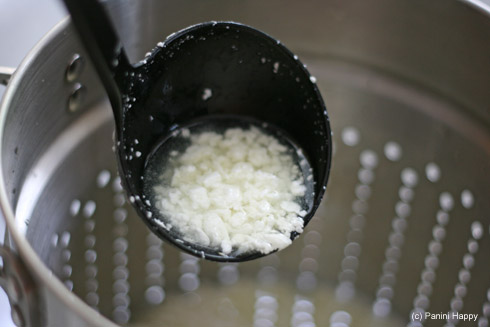 My third attempt at cheesemaking was looking like the charm. I had my de-chlorinated water, made my cheese, loved how it came out, stored it properly. I'd mastered fresh mozzarella…go me! I was all proud of myself and excited to share my photos on Panini Happy. Then I went back to Domenica's original post and I couldn't help but notice that her curds looked a whole lot different than mine. Not tiny little clumplets, but big, soft, shiny clumps.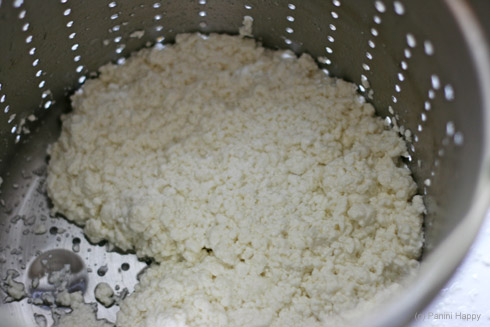 That sinking feeling in my stomach got even worse as I looked at her stretched curds looked – all long and soft. More taffy, less play-doh.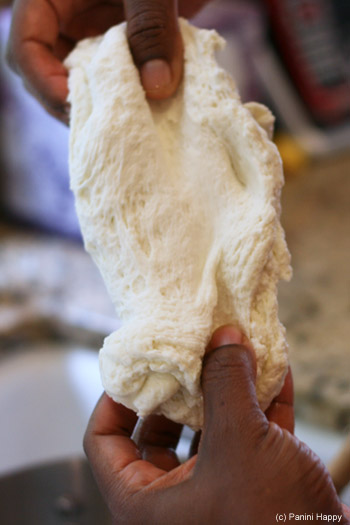 I think the issue might be with the other "regular" ingredient, the milk. There's much guidance on the kit's website about choosing milk and the importance of not using the ultra-pasteurized kind. I used Alta Dena, which appears on their "good milk" list but I think next time I'll spring for some of the pricey local creamery milk and see if I have a different result.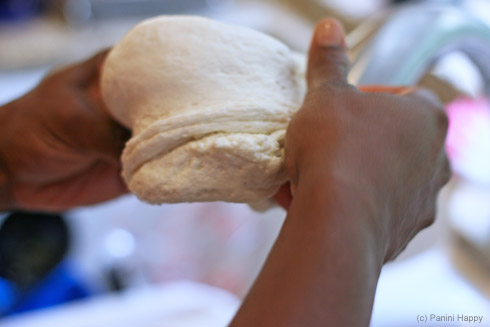 I decided to share my photos anyway…as evidence that, like I said before, DIY projects don't always come out perfectly. There's often a good deal of trial and error (and trial…trial…error…error…error) before you're a pro.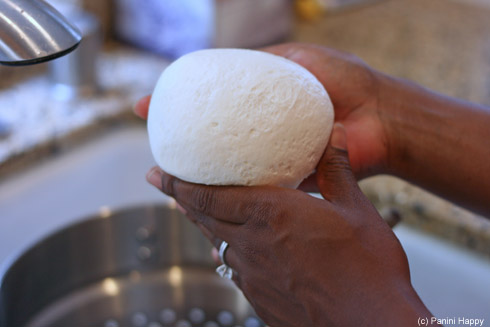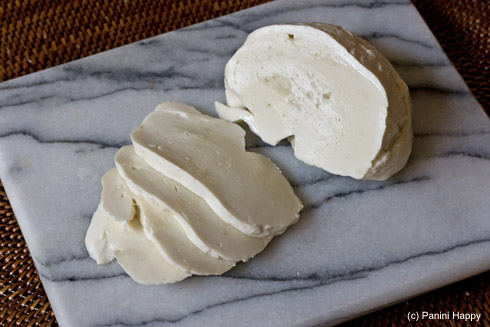 This whole learning process has been such a fun experience – and I still have 27 more tries left on this kit! I was thrilled with my end result. It looked and tasted like fresh mozzarella cheese. It was creamy, a little bit salty and melted beautifully on my Peach Caprese Panini. I was proud enough to photograph it on my special marble cheese board. 🙂
And now for the giveaway…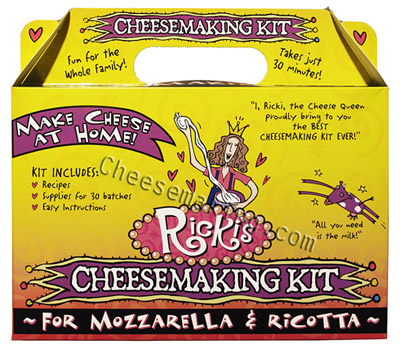 I'm sharing the cheesemaking fun! I'll send one Panini Happy reader a 30 Minute Mozzarella & Ricotta Cheesemaking Kit like the one I used (even the box is fun!).
TWO ways to enter the Cheesemaking Kit Giveaway: [THE CONTEST IS NOW CLOSED]
Leave a comment on this post – What is your favorite dish that uses fresh mozzarella? If you've got a link to recipe, feel free to include it!
Leave a comment on the "It's GIVEAWAY Time!" post on the Panini Happy Facebook page (there's another question to answer over there)
You can answer once in each place for a total of two entries. The giveaway closes on Monday, July 19, 2010 at 12:00 PM PDT. Each entry will be assigned a number and one winner, selected at random via random.org, will be announced on Tuesday, July 20, 2010. Due to shipping costs, this giveaway is open to readers with U.S. only.
* This is not a sponsored giveaway. It is funded 100% by yours truly.