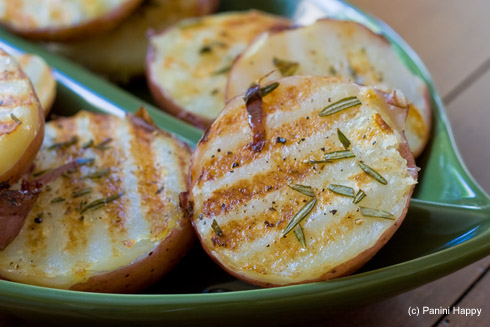 Do you have a favorite go-to potato dish? For the past year, mine has been rosemary potatoes. I make them as a side for almost everything and the leftovers are fabulous for breakfast.
Roasting used to be my main preparation method…that is until I fell head over heels for the "crashed" variety (as made popular last summer by The Pioneer Woman Cooks). I just love sinking my teeth through that crispy, salty exterior to get to the soft fluffy goodness on the inside.  And with the olive oil and rosemary…so savory and wonderful!
The only slight drawback to these otherwise perfect potatoes is that between the boiling, smashing and roasting it take upwards of an hour to get them on the table. No problem on a weekend, but for a midweek dinner it's a little more time than many of us can devote. How could I speed up the cooking time while still keeping the outside nice and crisp and the inside nice and soft? Hmmm…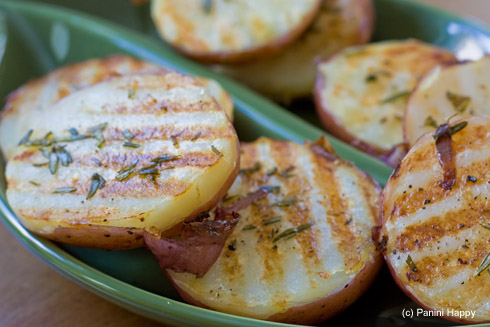 Yeah, I didn't need to think too hard on that one – the good ol' panini grill comes to the rescue once again! I still boiled the potatoes first to keep them really soft inside but instead of smashing (crashing) them I very carefully sliced them in half. Then I basted on the olive oil and sprinkled on my coarse salt, freshly ground black pepper and chopped fresh rosemary. Grilled them cut-side down to crisp them up and get those lovely grill marks and voilà!  I shaved at least 15 minutes off the cooking time and got the same flavors and nearly the same texture. I'll call that success!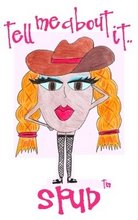 P.S. I'm entering this recipe into Noble Pig's Potato Ho Down for February. Check out the roundup of potato recipes on Noble Pig on Wednesday, February 18, 2009.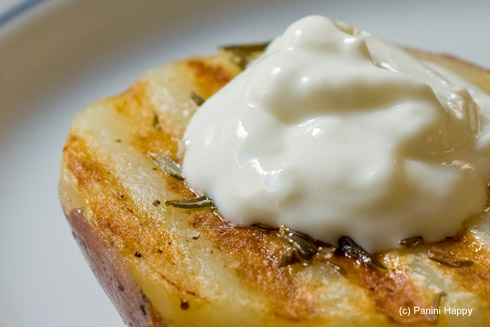 Grilled Rosemary Potatoes
Serves 4
INGREDIENTS:
4 red potatoes
Olive oil
Coarse sea salt
Freshly ground black pepper
2 tablespoons chopped fresh rosemary
Sour cream (optional for garnish)
DIRECTIONS:
Add potatoes and 1 teaspoon of salt to a large pot of cold water.  Bring to a boil and cook potatoes until they are fork tender, about 20 to 25 minutes depending on the size of the potatoes.
Preheat the panini grill to high heat.
Carefully slice each potato in half (they will be steaming hot!) and lay them on the cutting board cut-side up. Brush olive oil onto each potato and sprinkle each with salt, pepper and rosemary.
Place each potato cut-side down onto the panini grill. Brush more olive oil onto the skin-sides of the potatoes, sprinkle on more salt and pepper and close the grill lid so that the grates touch the potatoes without compressing them. Grill for 5-7 minutes until the potatoes are crisped and golden grill marks appear.  Serve immediately and enjoy!