You saw this one coming. After my visit to the Grilled Cheese Truck I felt compelled to try my hand at recreating that Cheesy Mac & Rib sandwich on the panini grill. The task was made a whole lot easier once I found out the recipe was published in Food Network magazine this month as part of a feature about National Grilled Cheese Month. All I had to do was decide on which macaroni and cheese and pulled pork recipes I would use, the rest was mostly a matter of careful assembly.
And speaking of careful assembly…how cute is this little make-your-own Grilled Cheese Truck?! Ever since I downloaded and pasted this thing together my three-year old has embraced "grilled cheese truck" as her new favorite pretend game. "Everybody wait in line! The Grilled Cheese Truck is almost here!" Fisher-Price, are you listening? Little People Food Truck. You're welcome.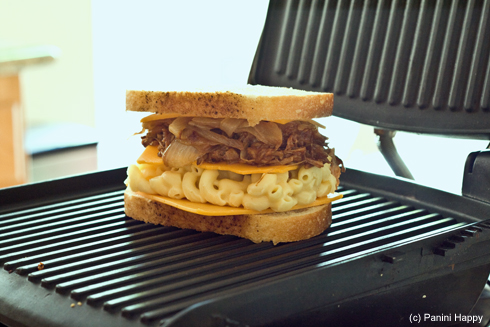 After piling on my "slice" of chilled mac and cheese, barbecue pulled pork, caramelized onions and sharp cheddar cheese I was staring at one tall sandwich! I have no idea how the Grilled Cheese Truck folks manage to flip theirs. Maybe they don't fill it quite as high. I toyed with the idea with just making these in a skillet as directed in the recipe but once I realized how precarious flipping it would be, the panini grill seemed like the easier way to go.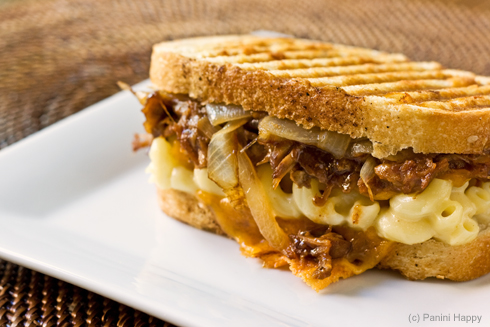 As I previously mentioned, this sandwich is a fantastic – albeit extremely caloric – concept. My version tasted remarkably like the original. The bread was a little less crispy, but I just couldn't bring myself to use the mayonnaise or nearly as much butter as the Truck does (an entire stick for 4 sandwiches?!). I also opted to use sourdough instead of buttermilk bread as I needed something a little sturdier to stand up to the panini grill. Other than that, I kept it pretty much the same. If you can't make it to LA to track down the Truck, this recipe will get you pretty close.
[print_this]
Grilled Mac & Cheese with BBQ Pulled Pork
Adapted from the Grilled Mac & Cheese with Pulled Pork recipe from The Grilled Cheese Truck on FoodNetwork.com
Prep time: 10 min | Cook time: 20 min | Total time: 30 min
Yield: 4 sandwiches
INGREDIENTS:
4 tablespoons

unsalted butter, divided

4 cups

prepared macaroni and cheese, warmed

2

onions, thinly sliced

Kosher salt and freshly ground pepper

1 cup

barbecue sauce

2 cups

prepared pulled pork

8 slices

sourdough bread

12 slices

sharp cheddar cheese (about 6 ounces)
DIRECTIONS:
Spread the macaroni and cheese in an 8-inch-square baking dish to about 3/4 inch thick. Cover with plastic wrap and chill until firm, about 45 minutes. Cut the macaroni and cheese into squares that are slightly smaller than the bread slices.
Meanwhile, melt 2 tablespoons butter in a skillet over medium heat. Add the onions and cook, stirring, until caramelized, about 20 minutes. Season with salt and pepper.
Combine the barbecue sauce and pulled pork in a saucepan over low heat and cook until warmed through, about 5 minutes.
Preheat the panini grill to medium-high heat.
Melt the remaining 2 tablespoons butter and brush on one side of each bread slice. Flip over half of the bread slices; layer 1 slice of cheddar, 1 macaroni-and-cheese square and another slice of cheddar on each. Top each with one-quarter of the pulled pork and caramelized onions and another slice of cheddar. Top with the remaining bread slices, buttered-side up.
Working in batches, cook the sandwiches until the cheese melts and the bread is golden, about 5 minutes.
[/print_this]