My sisters and I would always urge our mom to start at the deli when we accompanied her to the supermarket growing up. Actually, we referred to it "The delicatessen!",  another one of those words (like "pocketbook", "dungarees" and "tunafish") that my family brought over to California from New York. Whatever you want to call it, we loved the counter for one reason: the samples. My mom would buy the cold cuts for the week (we knew this as "lunch meat") and inevitably the clerk would run a few extra slices for us to snack on. This would buy my mom a few minutes of calm while she attempted to shop with three kids in tow.
It was during one of these childhood delicatessen sampling sessions that I first tried Jarlsberg cheese. It had holes and a cool name that started with a "j" even though it sounded like it should start with a "y". It wasn't bright yellow, square shaped and individually-wrapped and no one in my Girl Scout troop had ever heard of it. This was some fancy cheese. And I declared it as my favorite.
As we get ready to wrap up National Grilled Cheese Month, I wanted to share my recipe for Grilled Jarlsberg with Shaved Asparagus and Lemony Arugula Pesto as well as a Grilled Cheese Kit Giveaway (including a skillet, cheese, grater and cookbook!), courtesy of Jarlsberg USA. Read on for both! [THE GIVEAWAY IS NOW CLOSED]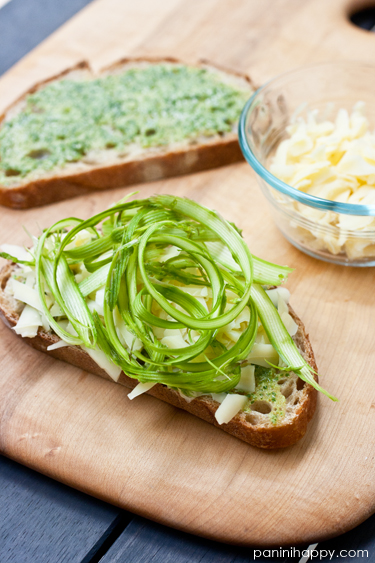 Jarlsberg is one of those Alpine-style cheeses that Gina Freize from Venissimo Cheese told me were the best melters out there. It gets nice and stretchy when it melts and the mild, nutty flavor pairs well with so many other foods. I thought I'd give my Jarlsberg grilled cheese sandwich some springtime flair with wispy blades of shaved asparagus and a homemade arugula pesto, with just enough lemony acidity to cut the richness of the cheese. My favorite cheese from childhood parlayed into my grown-up palate – I loved it!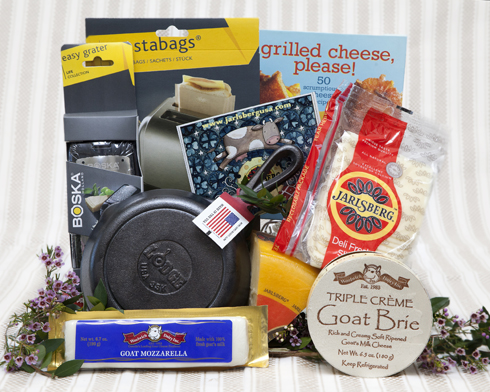 ** Win a Grilled Cheese Kit! **
Jarlsberg USA would like to send a fabulous Grilled Cheese Kit (valued at $75) to one lucky Panini Happy reader – it includes:
Here are five ways to enter, you can do any or all of them (please leave separate comments for each entry):

The giveaway will close on Sunday, April 29 at noon PDT. [THE GIVEAWAY IS NOW CLOSED] I will use random.org to select one winner and announce the winner in this post. I will contact the winner via e-mail – if I don't receive a response within 5 days I will draw another name. My apologies to international readers, the prize can only be shipped to continental U.S. addresses (not Alaska or Hawaii).
**UPDATED 5/1/12: Congratulations to our winner, #110 Ray!
[print_this]
Grilled Jarlsberg with Shaved Asparagus and Lemony Arugula Pesto
Prep time: 20 minutes | Cook time: 10 minutes | Total time: 30 minutes
Yield: 4 panini
INGREDIENTS:
Arugula Pesto:
2 large cloves

garlic

1/3 cup

walnuts

2 cups

fresh baby arugula

2/3 cup

extra virgin olive oil

2/3 cup

grated parmesan cheese

1 tablespoon

grated lemon zest

1 tablespoon

freshly squeezed lemon juice

Coarse salt and black pepper
Panini:
8 slices

rustic bread

8

thick asparagus spears, thinly shaved with a vegetable peeler

8 ounces

Jarlsberg cheese, shredded

2 tablespoons

salted butter, room temperature
DIRECTIONS:
Using a blender or food processor, blend the garlic and walnuts for a few seconds until they're the texture of a coarse meal. Add the baby arugula. Continue to blend, drizzling in the olive oil until the pesto is completely puréed. Add the cheese, lemon zest and lemon juice and blend until they are fully mixed in.
Transfer the pesto to a small bowl, taste it and season with salt and pepper as needed. Let the pesto stand at room temperature for an hour to let the flavors combine.
Heat the panini maker according to the manufacturer's directions.
For each sandwich: Spread a few teaspoons of pesto on two slices of bread. On one slice of bread add a few tablespoons of shredded cheese. Top the cheese with a small handful of shaved asparagus (about 2 spears' worth) and more cheese. Close the sandwich with the other slice of bread, pesto side down. Spread a little butter on top.
Grill the panini, two at a time, until the cheese is melted and the bread is toasted, 4 to 5 minutes.
NOTE: This recipe makes more arugula pesto than you'll need for these panini. You'll love it on lots of other sandwiches, pastas, pizzas – anywhere you'd enjoy a bright punch of flavor. Store any extra in a tightly covered glass or plastic container in the refrigerator for 4 to 5 days or freeze it for up to 2 months.
[/print_this]
Today's post was sponsored by Jarlsberg USA. I was compensated for my time, however my opinions are, as always, my own.