Oh yes, I did!
Grilling brownies on the panini press – it works!  They may be a little flatter than typical brownies, but they're still soft and chocolatey and warm and the perfect platform for dessert panini.  I grilled these up with some slightly tart frozen yogurt inside, the most wonderful blueberry balsamic syrup (thanks, Dragon's Kitchen!), a sprinkling of chopped nuts and some freshly whipped cream.  My sister, husband and I agreed – these little brownie sandwiches were insanely delicious!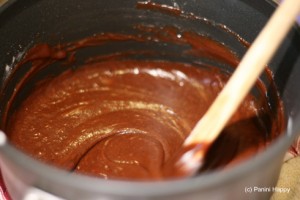 So why not just bake brownies the normal way?  Well, of course I definitely could have.  But they wouldn't be done in just 5 minutes!  And once you smell brownies baking in your kitchen, who wants to wait?  Certainly no one in my household.  Plus, the fact that they're a little height-challenged is actually a good thing – we could justify eating two of them without feeling like complete gluttons (just partial ones :-)).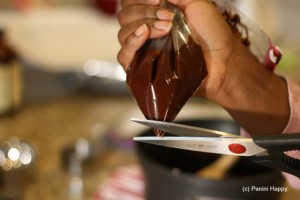 Unless you enjoy having a lot of sticky chocolate stuff all over your hands, arms and shirt I wouldn't recommend my initial approach of piping.  I made a ridiculous mess in transferring the batter from my mixing bowl to my plastic bag.  And then once I was done piping…um, there didn't seem to be an "off" switch!  Brownie just kept spilling out uncontrollably.  Nope, spooning the batter onto the grates is a much better way to go – nice and simple, plus you can lick the spoon.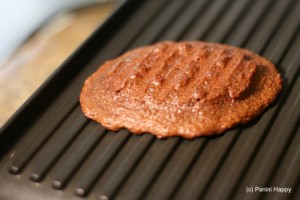 Blueberry balsamic syrup…I need a moment…I can hardly begin to describe just how addictive this stuff was!  It's almost like when you're enjoying a fantastic homemade caramel sauce and you just have to scrape every last drop from the bottom of your bowl.  Except that it's blueberry sauce.  It's sweet and acidic and syrupy and just the best thing I can imagine to serve with chocolate brownies and vanilla frozen yogurt (yes, even better than caramel!).  I adapted the recipe from a delicious one I recently saw on Dragon's Kitchen.
UPDATE: I've entered this sandwich into the SnackShots #6: Sandwich blog event.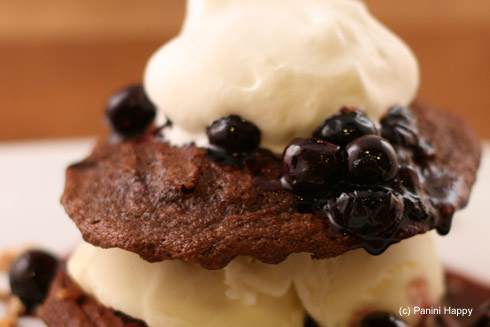 Grilled Brownie Sundae Panini
Serves 4
INGREDIENTS:
Blueberry Balsamic Syrup:
3 tablespoons sugar
2 tablespoons balsamic vinegar
1 cup blueberries
Brownies:
1/4 cup sugar
1 tablespoon butter
1 tablespoon water
1/2 cup semi-sweet chocolate chips
1 egg, slightly beaten
1/2 teaspoon vanilla
1/3 cup flour
1/8 teaspoon baking soda
Sundae Toppings:
Vanilla frozen yogurt or ice cream
Whipped cream
Chopped nuts (optional)
DIRECTIONS:
In a small saucepan, bring the blueberry balsamic syrup ingredients to a boil.  Stir for one minute and remove from heat.  Set aside.
Preheat panini grill to 300 degrees.
Cook sugar, butter and water in a medium saucepan over low heat, stirring constantly, until mixture boils.  Remove from heat.  Immediately stir in chocolate chips, stirring until melted.  Stir in egg and vanilla until blended.  Combine flour and baking soda; add to chocolate mixture.
Spoon brownie batter onto the panini grill in 8 equal portions (depending on the size of your grill, you may need to do this in batches).  Close the lid of the grill, leaving about 1/4″ of space between the brownies and the upper grates.  Grill for 5 minutes or until a toothpick inserted in the center of a brownie comes out clean.  Carefully remove brownies from the grill (they will be a bit soft).
To assemble each sundae sandwich: Scoop frozen yogurt on top of one brownie.  Sprinkle nuts on top of the frozen yogurt.  Close sandwich with another brownie.  Drizzle blueberry balsamic syrup over the top and finish with a dollop of whipped cream.