You can't pinch this blog – I'm wearing my St. Patrick's Day green this week! There's nothing especially Irish about these Grilled Asparagus Tartines with Fresh Ricotta, Pesto and Scallions, but they usher in spring with plenty of bright green color, crunchy texture and fresh flavor.
And, by the way, that's homemade ricotta on there!
Ever since my mozzarella cheesemaking escapade I've been eager to try making ricotta. Everyone says it's way better than the packaged stuff, and they were so right. The homemade ricotta actually tasted more like milk and less like salt compared to the kind I usually buy. Texture-wise, it was softer – closer to a really small-curd cottage cheese. A recipe for 5-minute ricotta I found on Serious Eats called for just milk, vinegar and salt – I couldn't resist giving it a try. It doesn't make much – just half a cup – but it's enough to provide a creamy base for these terrific tartines.
This was the most fresh-tasting little sandwich snack I've had in a while. I made them in full sandwich size, but you could easily make a mini crostini version and serve them as green springtime appetizers. Enjoy!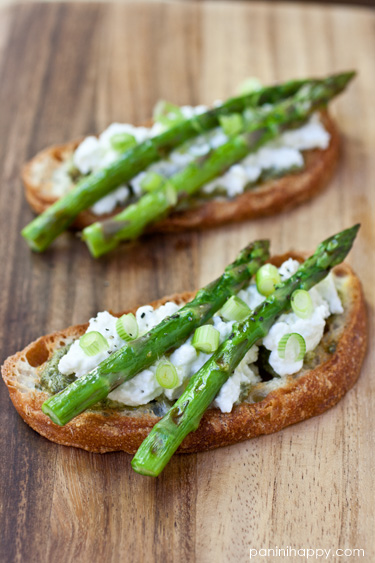 [print_this]
Grilled Asparagus Tartines with Fresh Ricotta, Pesto and Scallions
Prep time: 10 minutes | Cook time: 5 minutes | Total time: 10 minutes
Yield: 4 tartines
INGREDIENTS:
1 pound

asparagus

2 tablespoons

extra virgin olive oil, divided

Coarse salt and pepper

4 slices

ciabatta or other crusty rustic bread

1/4 cup

basil pesto

1/2 cup

ricotta cheese

1

scallion, chopped
DIRECTIONS:
Heat the panini maker according to the manufacturer's directions.
Rinse the asparagus and break the ends off of each spear (if you hold onto each end and bend the spear it will naturally break in the right place). Discard the ends.
In a large bowl, toss the asparagus in 2 teaspoons of the olive oil and season with salt and pepper. Grill the asparagus for about 3 minutes until they're tender and grill marks appear.
Drizzle another 2 teaspoons of the olive oil over the ciabatta slices and grill the bread until it's toasted with grill marks, about 2 minutes.
Spread about a tablespoon of pesto onto each slice of ciabatta. Spoon on a few tablespoons of ricotta and top it with grilled asparagus (you'll have extra asparagus – you can save it to enjoy on its own, add it to a salad or pasta, or just make more tartines!) and a sprinkling of chopped scallions. Finish the tartines by drizzling the remaining 2 teaspoons of the olive oil over the top and grinding on a little black pepper.
[/print_this]