If you overheard a triumphant yelp coming from my kitchen yesterday afternoon that was me, elated over the fact that I finally figured out how to grill duck breast on the panini maker with crispy skin!
It practically became a mission. I grilled duck breast after duck breast – skin side up, skin side down, high heat, low heat. Over and over again I got the same result – quickly cooked meat with a rubbery fat cap on top. The financial expense was starting to add up (duck breast isn't cheap). Defeated, I was ready to put this idea aside and move on. I had one final duck breast left and I went for a Hail Mary pass – cooking the duck skin-side down with the grill open in hopes that this approach would give the duck a chance to render its fat without cooking the meat too fast.
After six or seven minutes I peered under the duck to find the result that had been eluding me thus far: browned, crispy skin! I flipped the duck breast, closed the lid, and the other side finished cooking several minutes later.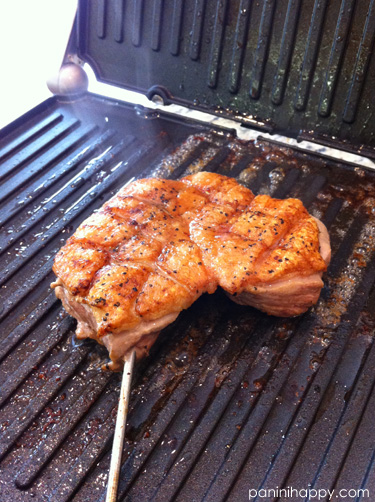 High fives all around!
After all of the effort that went into figuring out the technique to grill the duck just how I wanted, it only seemed fitting to use it in an extra special sandwich. My husband came up with the concept for Grilled Duck Breast Club Panini – slices of that succulent duck breast, layered with strips of smoky bacon, fresh tomatoes and arugula, and creamy Brie. It's a decadent combination for sure, but I doubt you'll have any trouble finding someone willing to split one of these with you.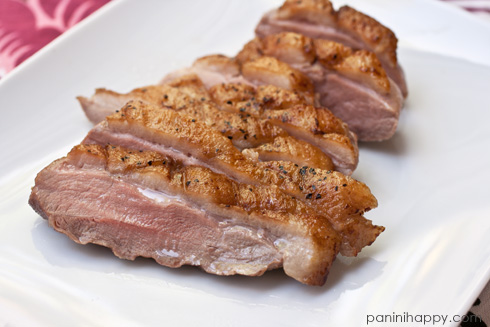 I wish I'd taken some step-by-step photos to show you how to score the duck breast but, as I mentioned, I didn't know this was going to work! My friend Sommer from A Spicy Perspective has a great tutorial on her blog, as well as a stovetop cooking method I'd recommend in the event you have a panini maker that doesn't allow you to adjust the temperature (it's important to grill at lower heat in order to render the fat without overcooking the meat).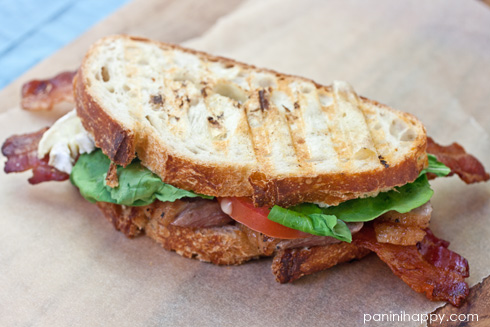 [print_this]
Grilled Duck Breast Club Panini
Prep time: 15 minutes | Cook time: 20 minutes | Total time: 35 minutes
Yield: 4 panini
INGREDIENTS:
2 boneless, skin-on duck breasts

Coarse salt and black pepper

8 slices

sourdough bread

2 tablespoons

mayonnaise

8 strips

cooked bacon

1/2 cup

baby arugula

2

medium tomatoes, sliced thinly

4 ounces

Brie, sliced
DIRECTIONS:
Heat the panini maker to medium-low heat. *
With a sharp knife, score the fat layer on the duck breasts by carefully slicing through it until you hit the meat (don't slice through the meat). Make several slices, about an inch apart, in a crosshatch pattern.
Season the duck generously on both sides with salt and pepper.
Open the panini maker lid and lay one or both duck breasts on the grill (work in batches if only one will fit) skin side down. Leaving the lid open, grill the duck until much of the fat has rendered and the skin is browned and crispy, 6 to 7 minutes. Using tongs, flip the breast(s) over and close the lid. Grill for another 3 to 4 minutes until the meat is cooked through to an internal temperature of 150°F. Transfer the duck to a clean cutting board and allow it to rest for 10 minutes before slicing it across the grain. NOTE: Exact grilling time may vary greatly across different types of grills. Just observe the duck and, ideally, your meat thermometer in order to monitor its doneness.
Raise the heat on the panini maker to medium. It's up to you whether you'd like to scrape down the grill at this point – I like the extra crispy crunch the residual duck fat adds to the panini so, just this once, I prefer to hold off on cleaning until the end.
For each sandwich: Spread a few teaspoons of mayonnaise on one slice of bread. Top it with two slices of bacon, 1/4 of the duck, a small handful of arugula, a few slices of tomato and a few slices of Brie. Close the sandwich with a second slice of bread.
Grill the panini until the cheese is melted and the bread is toasted, 4 to 5 minutes.
* If your panini maker doesn't allow you to adjust the temperature, I wouldn't recommend using it to grill duck breast. You'll probably want to cook your duck on the stovetop or purchase it already cooked. To render the duck's fat slowly it's important to be able to cook it over lower heat – the default heat setting on a panini maker without temperature adjustment may be too high to achieve this.
[/print_this]