Okay, I know some folks will take one look at this post and sigh…tomatoes in February, Kathy?? Yes, I know summer is typically tomato season in most places, but Roma tomatoes are actually available year-round (at least here in San Diego). I can't help it if I have a craving for Slow-Roasted Tomatoes on panini (and pasta and pizza) in the middle of winter. I'll tell you one benefit to making these now versus in the summer – now seems like a much nicer time of year to entertain the idea of having the oven on for several hours!
And it did not bother me in the least that the large Romas I bought took an extra hour to shrivel down and concentrate their sweet-herby-garlicky flavors. As with almost anything you roast slowly in the oven, it filled the house with the most inviting aromas…as if I had a big pot of marinara simmering all morning.
When they were all done I packed them in a tupperware with a little extra olive oil and I've been pulling a few out every few days. You'll see my Roasted Tomatoes, Fresh Mozzarella and Basil Panini later this week. I'll also be adding them to the weekly pizza we have at our house. If there are any left over by the time we get to spaghetti night on Friday, I have a feeling some roasted tomatoes will be making an appearance there as well. 🙂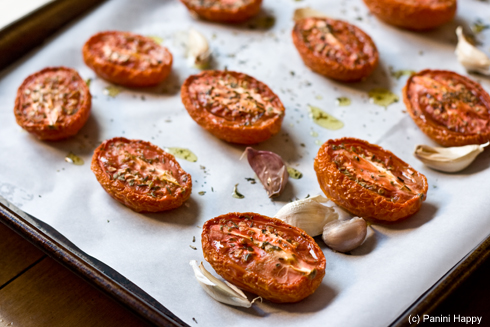 [print_this]
Slow-Roasted Tomatoes
From Smitten Kitchen
Cherry, grape or small Roma tomatoes
Whole gloves of garlic, unpeeled
Olive oil
Herbs such as thyme or rosemary (optional)
Preheat oven to 225°F. Halve each cherry or grape tomato crosswise, or Roma tomato lengthwise and arrange on a parchment-lined baking sheet along with the cloves of garlic. Drizzle with olive oil, just enough to make the tomatoes glisten. Sprinkle herbs on, if you are using them, and salt and pepper, though go easily on these because the finished product will be so flavorful you'll need very little to help it along.
Bake the tomatoes in the oven for about three hours. You want the tomatoes to be shriveled and dry, but with a little juice left inside–this could take more or less time depending on the size of your tomatoes.
Either use them right away or let them cool, cover them with some extra olive oil and keep them in the fridge for the best summer condiment, ever. And for snacking.
[/print_this]