There is something incredibly satisfying about setting a whole chicken into a big pot, filling it with water, rice and aromatics, and turning on the flame. Slowly but surely something wonderful and comforting will emerge from these simple ingredients. It will truly be just what the doctor ordered.
I was drawn to the Chicken Soup with Rice recipe in the new Weelicious Lunches cookbook, by my friend Catherine McCord from Weelicious, because it reminded me of the soups I remember eating at home or in my lunchbox thermos when I was a little kid. Catherine's is particularly appealing because it's all-the-way from scratch – its therapeutic powers are unleashed from the moment those amazing aromas begin to fill your kitchen!
To accompany the soup (okay, I forgot to add the parsley at the end!), I made Apple, Smoked Gruyere and Prosciutto Mini Panini – just some sweet and savory crunchy nibbles to round out your comfort meal. Read on for the recipes for both!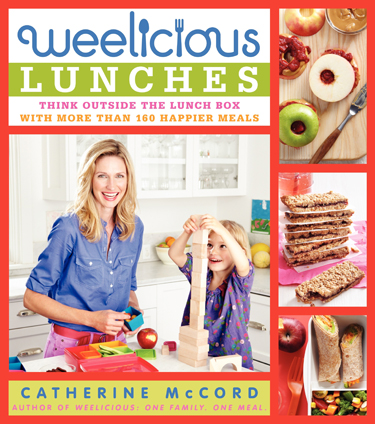 Just like with the first Weelicious cookbook (you'll remember it from last year), I stuck post-it flags all over Weelicious Lunches as it is FULL of simple, creative ideas for packing healthy lunches that my kids will actually eat (including Roasted Chickpeas – see below!). It's guaranteed to get anyone out of their lunchbox rut – at least it did for me!

A big bowl of Chicken Soup with Rice is a fabulous meal in itself, but if you're like me and you like a smaller cup of soup with a crunchy bread-y item on the side, may I suggest Apple, Smoked Gruyère and Prosciutto Mini Panini. They may sound a little fussy, but I promise you they're not. All that's involved are slices of baguette, apples (I prefer sweet ones like Honeycrisp for this), smoked Gruyère (or regular Gruyère, if that's easier to find) and prosciutto. Soup and a sandwich…always a winning combination!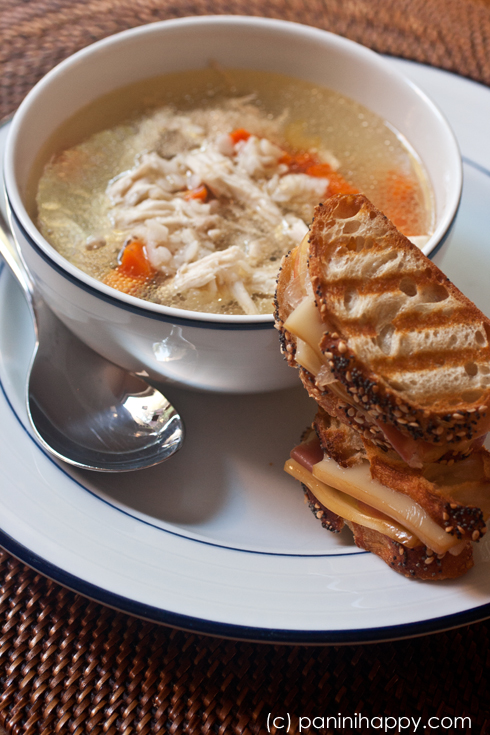 [print_this]
Chicken Soup with Rice
Prep time: 15 minutes | Cook time: 1 hour 20 minutes | Total time: 1 hour 35 minutes
Yield: 6 to 8 servings
INGREDIENTS:
1 (4-pound)

whole chicken

3/4 cup

long-grain brown rice

4 quarts

cold water (enough to cover the chicken)

4 teaspoons

kosher salt

1

small onion, peeled and halved

1

bay leaf

3

carrots, peeled and diced

3

celery stalks, diced

2 tablespoons

finely chopped parsley
DIRECTIONS:
Place all the ingredients except the parsley in a large soup pot and bring to a boil over high heat. Skim the foam and fat off the surface of the soup as necessary as it's coming to a boil.
Cover, reduce the heat to a simmer, and cook for 1 hour.
Turn off the heat, remove the halved onion, bay leaf, and chicken from the pot, and let cool.
Discard the skin and bones from the chicken and cut or shred the meat into small pieces.
Add the chicken and parsley to the soup, reheat, and serve.
Apple, Smoked Gruyère and Prosciutto Mini Panini
Prep time: 15 minutes | Cook time: 15 minutes | Total time: 30 minutes
Yield: 16 mini panini
INGREDIENTS:
1

seeded

French baguette, sliced into 32 slices

8 ounces

smoked Gruyère cheese, thinly sliced

1

medium apple, peeled, cored and thinly sliced

6 slices

prosciutto
DIRECTIONS:
Heat the panini press to medium-high heat.
For each mini-sandwich: Layer cheese, an apple slice, 1/3 slice of prosciutto and more cheese on a baguette slice. Close the sandwich with a second baguette slice.
Grill four panini at a time (or more if your press allows enough space), with the lid closed, until the cheese is softened and the baguette is toasted, 4 to 5 minutes.
[/print_this]