I couldn't resist the chance to fire up my parents' grill while we were visiting in Arizona over spring break last week. The weather was in the 80s, which is just balmy for the desert. Since we're continuing to celebrate Grilled Cheese Month here on Panini Happy, I thought it would be the perfect opportunity to go ahead and grill some cheese.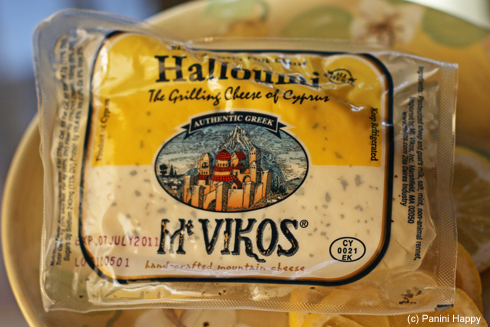 Have you tried halloumi cheese? It's one of a number of "grilling cheeses" out there, with a high melting point that allows you to easily fry or grill it. It's a traditional cheese of Cyprus, typically made from a combination of goat's and sheep's milk. It's on the salty side – kind of reminds me of feta, but firmer and malleable.
I found an incredibly simple, flavorful Grilled Halloumi and Lemon recipe from Gourmet with grilled lemons and a lemon-garlic-olive oil marinade. The lemons really seemed to mellow out the saltiness. The bite of the lemons themselves was also mellowed from the grilling process as well as a tiny bit of sugar in the marinade. I gave the dish a little sprinkle of oregano to finish it off. Talk about fresh tasting "grilled cheese"!
Now, I should mention that the grill got a little hotter than I'd intended so the cheese stuck to the grates a bit. I'm sure all I'll need to do next time is brush some extra olive oil onto the grates before grilling and turn the heat down some. I'll definitely be making this again soon!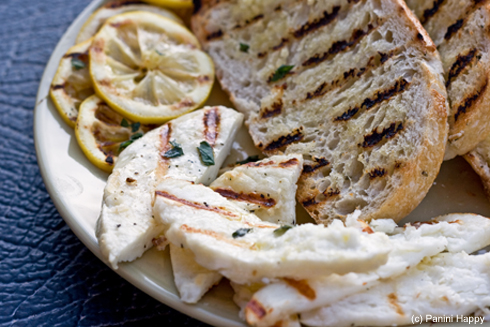 [print_this]
Grilled Halloumi and Lemon
From the Grilled Haloumi and Lemon recipe on Epicurious.com
Prep time: 20 min | Cook time: 20 min | Total time: 40 min
Yield: 4 servings
INGREDIENTS:
2

lemons

1/2 pound

Halloumi cheese

1

large garlic clove

1/4 teaspoon

salt

1/4 teaspoon

sugar

1/4 cup plus 2 tablespoons

olive oil

4

(3/4-inch-thick) slices peasant or country-style bread

2 tablespoons

finely chopped fresh dill (or oregano)
DIRECTIONS:
Prepare a gas grill for direct-heat cooking over moderately high heat.
Cut 8 thin slices from lemons, then squeeze enough juice from remainder to measure 2 tablespoons and put in a bowl.
Halve cheese diagonally, then cut each triangle, cut side down, into 1/3-inch-thick slices.
Mince garlic and mash to a paste with a pinch of salt using side of a large heavy knife, then add to lemon juice. Whisk in salt and sugar until dissolved, then add 1/4 cup oil, whisking until combined.
Separately toss lemon slices and cheese each with 1/2 tablespoon dressing.
Brush both sides of bread with remaining 2 tablespoons oil.
Grill bread, cheese, and lemon slices on grill rack, covered, turning over once (use a metal spatula to scrape under cheese to loosen before turning), until bread is toasted (2 to 3 minutes total), grill marks appear on cheese (3 to 4 minutes total), and lemons begin to wilt (4 to 6 minutes total).
Whisk dill into remaining dressing. Divide bread among 4 small plates and top with cheese and lemon slices. Drizzle with dressing and serve immediately.
[/print_this]