I was doing a little holiday shopping in Williams-Sonoma last week and couldn't help but take a looksie over at their panini-related offerings (got to keep up with what's out there!). They were promoting a cookbook called Panini Express: 70 Delicious Recipes Hot Off the Press
. I picked it up, and as I leafed through the gorgeously-photographed pages I knew I wanted to review this book and give away a copy on Panini Happy. [THE CONTEST IS NOW CLOSED]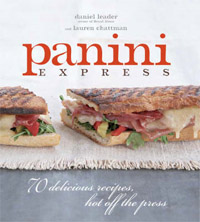 The sandwiches presented in Panini Express are relatively simple in nature but they're hardly basic. The emphasis is on high-quality ingredients, whether they are homemade (the book features recipes for five breads and fourteen homemade condiments) or store-bought. Similar to those in Tom Colicchio's 'wichcraft
, which I blogged about earlier this year, these are "artisan-type" sandwiches for those who enjoy savoring each flavor and texture – not as much for the school lunch set. That is, unless your school-ager has a penchant for Comté, Cooked Ham & Ratatouille or Duck Confit with Apricot Jam, Dijon Mustard and Shaved Fennel.
There is not a single sandwich in this book I wouldn't love to sample, but the one I chose to make this week was the Caesar Shrimp & Arugula. The concept is essentially a shrimp Caesar salad in sandwich form. Shrimp is grilled on the panini press, tossed in a homemade Caesar dressing and grilled on ciabatta with arugula and shaved Parmesan. This is an example of what I meant by simple, but not basic – the panini were easy to prepare while the flavors were complex, well-balanced and wonderful. I wish I'd been able to take the time to bake my own ciabatta rolls – a recipe is included in the book – but I was more than satisfied with how these came out using store-bought bread. See the recipe below, following the giveaway details.
There are some truly special panini in this cookbook and whether you end up actually preparing all of them or just a select few you'll at least find them to be mouth-watering and inspiring when it comes to your own panini-making at home.
How to Enter the Panini Express Cookbook Giveaway:
[THE CONTEST IS NOW CLOSED] Leave a comment on this post mentioning one food item you usually prefer to make from scratch (or, if you're store-bought all the way, you can mention that too!). One person will be selected at random to receive my review copy of Panini Express.
One entry per person, please – the giveaway closes on Monday, December 21, 2009 at 12:00 PM PST. The winner will be announced on Tuesday, December 22, 2009. My apologies to my international readers, I can only ship the book to U.S. addresses due to shipping costs.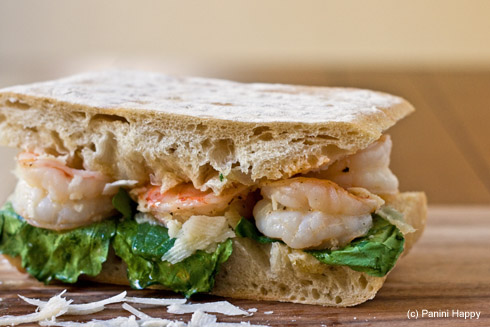 Caesar Shrimp & Arugula Panini
From Panini Express: 70 Delicious Recipes Hot Off the Press
Serves 2
INGREDIENTS:
3/4 pound large shrimp (about 18), peeled and deveined
5 tablespoons extra virgin olive oil
Salt and freshly ground pepper to taste
2 tablespoons fresh lemon juice
1 garlic clove, put through a garlic press
2 flat anchovies, mashed
1 teaspoon Dijon mustard
2 ciabatta rolls
1 cup arugula, washed and dried
1 ounce Parmesan cheese, shaved with a vegetable peeler
DIRECTIONS:
Heat a panini or sandwich press according to the manufacturer's instructions.
Toss the shrimp with 1 tablespoon of olive oil and sprinkle with salt and pepper. Place them on the press, pull the top down, and grill until cooked through and pink, 2 to 3 minutes. Remove from the press and transfer to a bowl. Let cool slightly.
Combine the remaining 1/4 cup of olive oil, the lemon juice, garlic, anchovies and mustard in a small bowl until well mixed. Pour the dressing over the shrimp and toss to coat.
Split each roll in half. Pull some of the crumbs out to make room for the fillings. Arrange the arugula on the bottom halves of the rolls. Arrange the shrimp on top of the arugula. Drizzle any dressing remaining in the bowl over the shrimp. Arrange the cheese on top of the shrimp. Top the sandwiches with the top halves of the rolls.
Put the sandwiches on the press, pull the top down, and cook until they are browned and crisp, 3 to 6 minutes, depending on how hot your machine is. Carefully remove from the press and serve immediately.