I have about a handful of "kitchen kindred spirits" and my friend Ree Drummond (aka The Pioneer Woman) is one of them. Virtually every time she shares a recipe on her blog (or Food Network show, or cookbooks!) it's a dish I not only want to eat (like, right away), but I also want to enjoy it with people I love (ideally, in a picturesque ranch setting).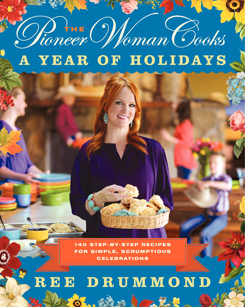 Suffice it to say Ree's newest cookbook, The Pioneer Woman Cooks: A Year of Holidays, is full of comforting recipes I'm anxious to share around the table. In her signature step-by-step photo style, Ree celebrates her favorite occasions throughout the year, from Hoppin' John on New Year's Day to every dish you need for an incredible down-home Thanksgiving. It's going to be a popular holiday gift this year, for sure!
THREE lucky Panini Happy readers will WIN SIGNED COPIES of The Pioneer Woman Cooks: A Year of Holidays! Read on for the giveaway, Ree's recipe for Broccoli-Cheese Soup, and my Broccoli Cheddar Panini recipe (inspired by the soup!). [THE GIVEAWAY IS NOW CLOSED.]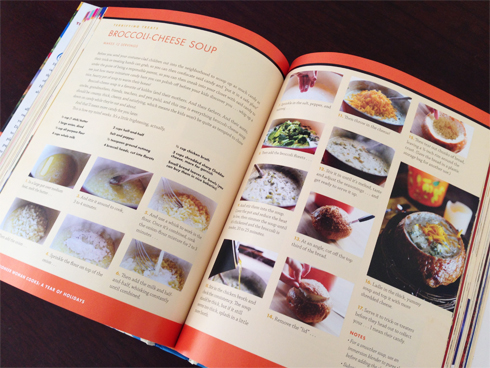 Since this is a panini press blog, I thought I'd put my own panini spin on one of the mouthwatering dishes in this cookbook. Ogling the Broccoli-Cheese Soup in a bread bowl, I began to ponder how those same ingredients might taste as a sandwich. The broccoli, cheddar and sourdough were a given – to give it more of a "soup" feel I added in some sautéed onions. Oh my goodness – yes! You'll find the recipes for the both the soup and the panini at the end of this post.
**Win an AUTOGRAPHED COPY of The Pioneer Woman Cooks: A Year of Holidays (THREE WINNERS)!! [THE GIVEAWAY IS NOW CLOSED.]

To enter: Leave a comment on this post, sharing your favorite dish to cook (or eat!) for a celebration

OPTIONAL Bonus Entry: Get on the Panini Happy email list to stay up to date on the latest panini press recipes, tips, giveaways and more. Be sure to leave a separate comment to let me know you've subscribed. (Existing subscribers, just leave a separate comment to let me know you're already on the list)
The giveaway will close on Wednesday, November 27, 2013 at 12:00 PM PST. I will use random.org to select three winners and announce the winners in this post. I will contact the winners via e-mail – if I don't receive a response within 5 days I will draw another name. My apologies to my international readers, the prize can only be shipped to U.S. addresses.
**UPDATE 12/2/13: Congratulations to our winners – #56 Ritika, #88 Karen Sue and #20 MaryBeth!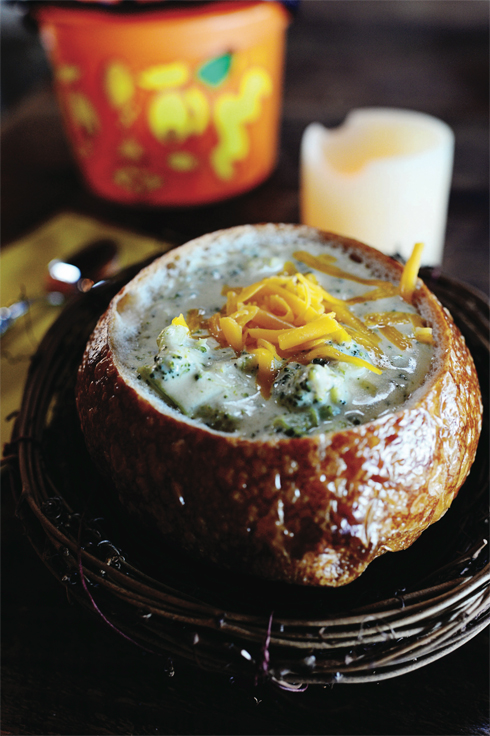 [print_this]
Broccoli-Cheese Soup
From The Pioneer Woman Cooks: A Year of Holidays, by Ree Drummond. Reprinted with permission.
Prep time: 15 minutes | Cook time: 40 minutes | Total time: 55 minutes
Yield: 12 servings
INGREDIENTS:
1/2 cup (1 stick)

butter

1

large onion, diced

1/3 cup

all-purpose flour

4 cups

whole milk

2 cups

half-and-half

Salt and pepper

1/2 teaspoon

ground nutmeg

4

broccoli heads, cut into florets

1/2 cup

chicken broth

3 cups

shredded sharp Cheddar cheese, more for garnish

Small bread loaves for bowls (you can buy them in nice bakeries)
DIRECTIONS
In a large pot over medium heat, melt the butter, then add the onion, and stir it around to cook, 3 to 4 minutes.
Sprinkle the flour on top of the onion and use a whisk to work in the flour. Once it's combined, cook the onion-flour mixture for 2 to 3 minutes. Add the milk and half and half, whisking constantly until combined.
Sprinkle in the salt, pepper, and nutmeg. Add the broccoli florets and stir them into the soup. Cover the pot and reduce the heat to low, then simmer the soup until
it's thickened and the broccoli is tender, 20 to 25 minutes.
Stir in the chicken broth and check the consistency. The soup should be thick, but if it still seems too thick, splash in a little more broth.
Then throw in the cheese! Stir it in until it's melted, taste and adjust the seasonings . . . and get ready to serve it up.
At an angle, cut off the top third of the bread. Remove the "lid". Tear out chunks of bread, leaving a ½-inch rim around the crust. (Save the bread in a plastic storage bag for another use.)
Ladle in the thick, yummy soup and top it with more shredded cheese.
Serve it to trick-or-treaters before they head out to collect your . . . I mean their candy.
[/print_this]
[print_this]
Broccoli Cheddar Panini
By Kathy Strahs, PaniniHappy.com
Prep time: 20 minutes | Cook time: 10 minutes | Total time: 30 minutes
Yield: 4 panini
INGREDIENTS:
1 tablespoon

extra virgin olive oil

1

large onion, halved and thinly sliced

4 tablespoons (1/2 stick)

butter, at room temperature

8 slices

sourdough or other rustic white bread, sliced from a dense bakery loaf

8 ounces

sharp cheddar, sliced

3/4 cup

cooked, chopped broccoli florets
DIRECTIONS:
Heat the olive oil in a large skillet over medium heat. Add the onions and cook, stirring frequently, until they're translucent and browned, about 10 minutes.
Heat the panini press to medium-high heat.
For each sandwich: Spread butter on two slices of bread to flavor the outside of the sandwich. Flip over one slice and top the other side with cheese, onions, broccoli and more cheese. Close the sandwich with the other slice of bread, buttered side up.
Grill two panini at a time, with the lid closed, until the cheese is melted and the bread is toasted, 4 to 6 minutes.
[/print_this]