This past weekend I decided to recreate the short rib panini I'd been hearing so much about around town. Port wine braised beef with aged cheddar and onion marmalade – it sounded unbelievable. They serve them at Nine-Ten, an upscale restaurant at the Grande Colonial Hotel in nearby La Jolla, and have been described as "a delectable infusion of flavor" and "the best panini I've ever eaten". That was all the convincing I needed.
Dare I say I have a new favorite?
"This definitely isn't bland!" was my husband's immediate reaction upon taking his first bite. He meant that in a good way, we love big flavor. After simmering in Cabernet Sauvignon, garlic, thyme, beef stock and other aromatics for 2-1/2 hours the short ribs are succulent. Your mouth gets a good pucker from the sweet and tangy balsamic onion marmalade, also cooked extra-slowly to coax out every flavor note possible. Finally, a blanket of melted aged cheddar contributes a pleasantly sharp, butteriness to each bite.
Now I'm even more curious about the original version of this sandwich. As soon as I can get myself over to Nine-Ten (and I'm hoping it'll be very soon!) I'll definitely bring you a follow-up post. In the meantime, please enjoy the Panini Happy version!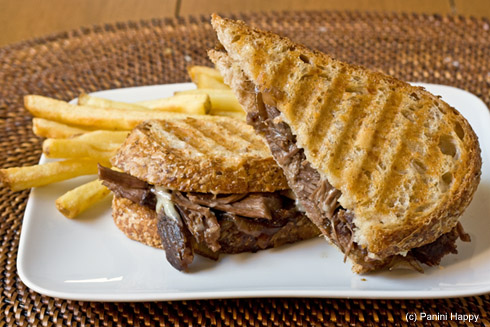 Braised Short Rib Panini
Inspired by the Short Rib Panini served at Nine-Ten Restaurant in La Jolla, California
Serves 6
INGREDIENTS:
12 slices sourdough bread
Balsamic Onion Marmalade (see recipe below)
Braised Short Ribs (see recipe on my other blog, Cooking On the Side)
12 ounces, shredded aged cheddar
2 tablespoons melted butter for brushing
DIRECTIONS:
Remove the short rib meat from the bone. Shred the meat with a fork and toss in the braising liquid.
Preheat the panini grill to medium-high heat.
For each sandwich: Add a generous amount of balsamic onion marmalade and shredded short rib meat on top of a slice of bread. Top with about 1/4 cup of aged cheddar and close the sandwich with a second slice of bread. Brush a little melted butter on top.
Grill for 4 to 5 minutes until the cheese is melted and bread is toasted with grill marks. Slice in half, serve immediately and enjoy!
Balsamic Onion Marmalade
From 'wichcraft, by Tom Colicchio with Sisha Ortúzar
Makes 2 to 3 cups
INGREDIENTS:
1 tablespoon vegetable oil
4 medium onions, thinly sliced (about 8 cups)
Kosher salt and freshly ground black pepper
1/3 cup sugar
2/3 cup balsamic vinegar
DIRECTIONS:
Heat the oil in a large skillet over medium heat until it slides easily across the pan. Add the onions, salt and pepper and cook, stirring occasionally, for about 20 minutes, until the onions are soft. Add the sugar and reduce the heat to medium-low. Cook, stirring frequently, for about 10 minutes, until the onions appear dry. Add the vinegar and reduce the heat to low. Continue cooking, stirring occasionally, for about 1 hour, until the onions are soft and dry.
Serve warm or at room temperature. Store the marmalade in the refrigerator. It will keep for several weeks.