"It's a Lunchables for foodies!"
My husband's reaction to the cheese and salami plate I painstakingly assembled the other day was spot on. This was definitely my idea of an excellent lunch: a platter full of six types of salami, three amazing cheeses, sweet honeycomb, spicy mustard, marcona almonds (forgot to include in the photos – oops!) and grilled slices of baguette with olive oil. Positively grazeworthy!
Read on for my tips for putting together a fabulous cheese and salami plate, plus a salami GIVEAWAY from Columbus Salame.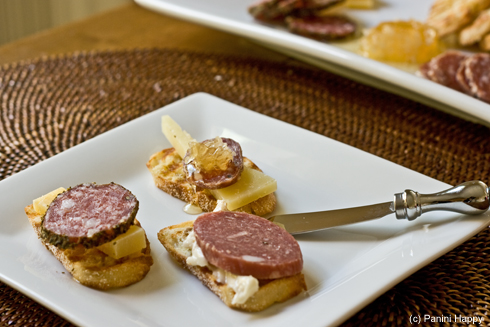 When it came to building this cheese and salami plate, I just let my palate be my guide. To start, I had the six different salami that the folks at Columbus Salame had sent me in a nice wooden tasting box. That was a bonanza! From there, I filled the platter with tastes I liked, with special attention to variety. Our favorite combination: the hot All Natural Pepper salame (rolled in a bazillion freshly cracked peppercorns) with manchego and sweet honeycomb. Unbelievable. We also loved the Toscano salame with soft Taleggio and Dijon mustard.
Here are a few tips for assembling your own cheese and salami plate:
Choose a variety of cheeses. I went with buttery Spanish manchego, because it's my all-time favorite and it appeared on Columbus' list of pairing inspirations. Taleggio is soft and robust, so I thought that would offer a nice contrast to the firm aged manchego. The Mahon Reserva, suggested by the girl behind the counter at Venissimo Cheese (definitely seek recommendations from your local cheese shop – even the cheese counter clerk at your regular grocery store has probably tasted a lot of cheeses and can offer some ideas) was bold, smoky and porky.
Select a few different types of salami. Mine happened to all be from the same brand, but you could always mix things up and try a few whose flavors sound interesting to you. Some are spicy, herb crusted, aged – there really is a good variety out there.
Add sweet and spicy condiments. Half of the fun of a plate like this, at least for me, are all the little condiments on the side. I've recently fallen in love with honey comb and marcona almonds to accompany cheese and salami. Also hot mustard, olives and roasted red peppers are among my favorites.
And then there's the bread. Grilled baguette slices with a little olive oil brushed on make fabulous crunchy vessels for all of your little salami- and cheese-topped bites.

Serve at room temperature. According to Columbus, salami should be served at room temperature, about 20 to 30 minutes out of the refrigerator. The same goes for cheese.
* * *
Win a Columbus Salame Tasting Box!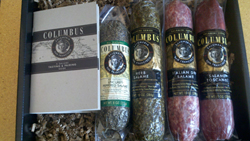 The Tasting Box  includes:
Herb Salame
Toscano Salame
Italian Dry Salame
All Natural Pepper Salame
Tasting & Pairing Guide
Here are four ways to enter, you can do any or all of them (please leave separate comments for each entry): [THE GIVEAWAY HAS CLOSED]
Leave a comment on this post telling us your favorite cheese or salame.
"Like" Panini Happy on Facebook
Follow me @paninikathy on Twitter
The giveaway will close on Monday, May 30, 2011 at noon PDT. I will use random.org to select one winner to receive a Columbus Salame Tasting Box and announce the winner in this post. Due to shipping costs, the prize can only be shipped to U.S. addresses.
**UPDATE 5/31/11 – Congrats to our winner – #8, Lauren at Keep It Sweet!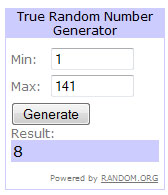 Thanks to Columbus Salame for providing the tasting boxes for this review and giveaway.