Truth be told, you don't need much more than a good pan to make panini. That said…I've found some simple, inexpensive tools that have made panini-making a whole lot easier (and tastier!) for me over the years. Today I'd like to share with you my 8 Essential Panini Tools – what they're good for and why I use them.
Plus, one lucky reader will have the chance to win ALL 8 TOOLS, thanks to OXO (worth more than $100!). The giveaway details are at the end of this post!
* * *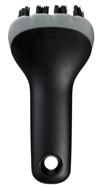 Silicone Grill Brush
Many grills come equipped with their own grill scraper, but for those that don't, you will probably find a silicone grill brush very helpful when it comes time to clean your panini press. The soft-yet-firm bristles make it easy to scrape up the cooked-on bits that can get trapped between the grates without damaging the nonstick coating.
* * *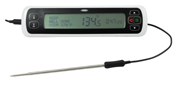 Meat Thermometer
If you're going to grill meats on your panini press, I highly recommend using a meat thermometer. It's the easiest and most reliable way to ensure that meat is cooked to the desired temperature. With the OXO model I have, it's easy for me to set the temperature (it comes with preset USDA and chef recommendations), insert the probe into the meat I'm grilling, place the meat on the panini press, close the lid, and wait until the thermometer beeps to tell me that the meat is done. It eliminates all of the guesswork, and I don't lose any heat by having to open the lid repeatedly to check for doneness.
* * *

Cheese Plane
You can, of course, buy pre-sliced cheese but it tends to melt and layer more easily when you slice it yourself. A basic cheese plane or slicer is relatively inexpensive (this one, from OXO, sells for $10). You want one that is comfortable to grip, and with a metal blade that can stand up to slicing firmer cheeses without bending itself out of shape.
* * *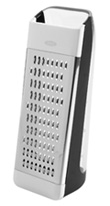 Cheese Grater
Yes, slicing your own cheese is usually best, but I do grate some cheeses, especially Parmesan and other harder cheeses that take longer to melt. Go for a good quality cheese grater with sharp blades and a non-slip grip. You can also use the grater for zesting lemons and limes as well as for finely grating garlic and onions.
* * *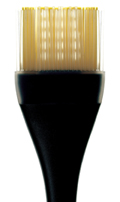 Silicone Basting Brush
For brushing olive oil onto bread, vegetables, black bean patties, and more, a silicone basting or pastry brush is a useful tool. It distributes oil evenly and goes right into the dishwasher for cleanup.
* * *

Serrated Knife
A sturdy serrated knife will allow you to slice through your panini cleanly without placing undue pressure on your ingredients. I alternate between using a bread knife, like the one pictured here, and an offset type which you'll often see used in cafés and restaurants. An offset design allows you to bring the knife all the way down to the cutting board without your knuckles getting in the way.
* * *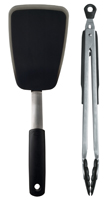 Silicone Spatula and Tongs
Everything you place on the grill has to come off at some point. For this task, you'll want a silicone spatula and silicone tongs. They easily lift your food without causing any damage to the nonstick surface of the panini press. These are probably the two cooking tools I use most often in my kitchen.
* * *
** WIN ALL 8 ESSENTIAL PANINI TOOLS, FROM OXO!! **
OXO would like to send one lucky Panini Happy reader a set of all 8 of my Essential Panini Tools (valued at more than $100).
To enter: Leave a comment on this post, telling us your favorite go-to cooking tool.
The giveaway will close on Monday, June 24, 2013 at 12:00 PM PDT. I will use random.org to select one winner and announce the winner in this post. I will contact the winner via e-mail – if I don't receive a response within 5 days I will draw another name. My apologies to my international readers, the prize can only be shipped to U.S. addresses.
Many thanks to OXO for providing the prize for this giveaway. I was not compensated in any way, and my opinions are, as always my own. Panini Happy receives a portion of the purchases made via the Amazon affiliate links in this post – many thanks for your support!