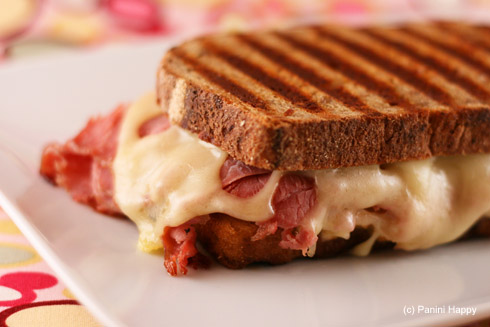 You guys really got me thinking about Reubens.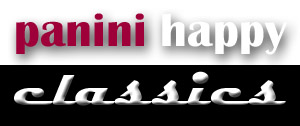 I couldn't help but notice how many folks cited a Reuben as the best sandwich they ever had in their panini grill giveaway entries.  I don't often think about Reubens – in fact, I'm actually pretty new to them.  The Reuben I had last St. Patrick's Day at my husband's favorite deli just might have been my very first one.  I must admit it was excellent!  Just the sight of all of that bright pink, salty corned beef piled on top of mouthwateringly-acidic sauerkraut, with Thousand Island dressing and melted Swiss cheese on rye…you know you're in for a flavor explosion.
Reubens are usually grilled, so to make them on the panini grill is really a no-brainer.  I can't believe I didn't make one last spring during my Panini Happy Classics series (I'm adding it now!).  While pushing my daughter in her stroller the other day, I contemplated ways I might be able to tweak the sandwich a little – like using smoked chicken or turkey breast instead of corned beef, or marinated artichokes in place of sauerkraut.  They might have been good sandwiches, but they just wouldn't be Reubens.  So, for once, I left well enough alone and made a very traditional, non-messed-with, classic Reuben sandwich.  It's no wonder you guys like this one so much.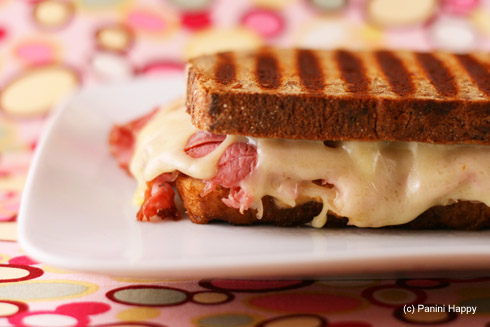 Classic Reuben Panini
INGREDIENTS:
Butter, melted
Rye bread
Thousand Island dressing
Sauerkraut, drained
Corned beef, thinly sliced
Swiss cheese
DIRECTIONS:
Preheat the panini grill to medium-high heat (375 degrees).
Brush melted butter onto two slices of bread.  On one slice (non-buttered side), spread a layer of Thousand Island dressing.  Top with a generous amount of sauerkraut (be sure to drain as much liquid as possible) and corned beef, and two slices of Swiss cheese.  Place the other slice of bread (buttered side up) on top to form the sandwich.
Grill sandwich for 5-6 minutes until cheese is melted and grill marks appear.  Serve immediately and enjoy!