Under the shade of an umbrella, reclined in a beach chair with my sandy legs outstretched, in view of coconut trees, paddle surfers and my little kids who are splashing at the edge of the lagoon…this is my paradise. And paradise was reality last week when my family traveled to Hawaii!
I've got a slew of fun island highlights from the trip to share with you — including a recipe for Grilled Banana Bread with Caramel Sauce and Haupia (aka coconut sauce) — so grab yourself a mai tai, sit back and experience a little tropical getaway for a few minutes. 🙂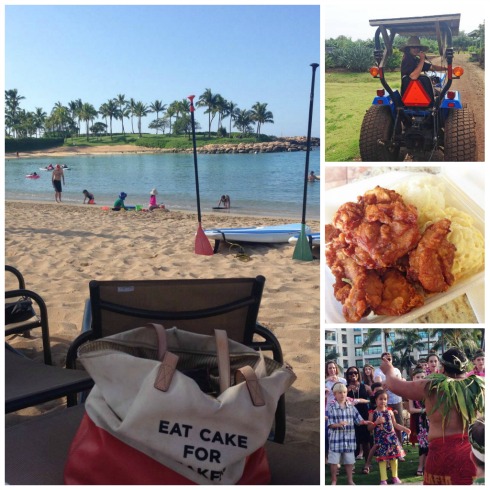 Aloooooha! We spent six gorgeous days on Oahu, sunning, swimming, exploring and — of course — eating. We stayed at two resorts in Ko Olina — Marriott's Ko Olina Beach Club and Disney's Aulani — which is on the southwestern side of the island, about 45 minutes from Honolulu. Both resorts are predominantly comprised of villas (complete with a full kitchen and in-unit laundry) which makes it a whole lot easier to travel with the kids than a regular hotel room. The kids enjoyed their nightly "slumber party" in their pull-out beds in the living room, and I was able to run a load of sandy swimsuits in the washer every day. Very convenient!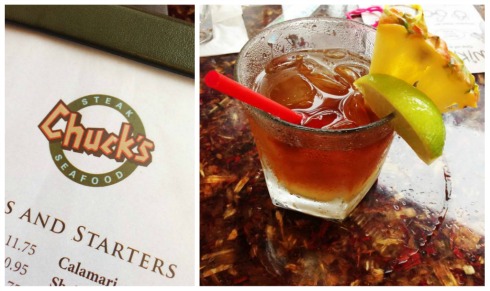 After a long six-hour flight from San Diego, we drove out to the Marriott, dropped off our luggage and headed straight to dinner. We opted to try out the main sit-down restaurant on the property, Chuck's Steak and Seafood. First order of business…mai tai!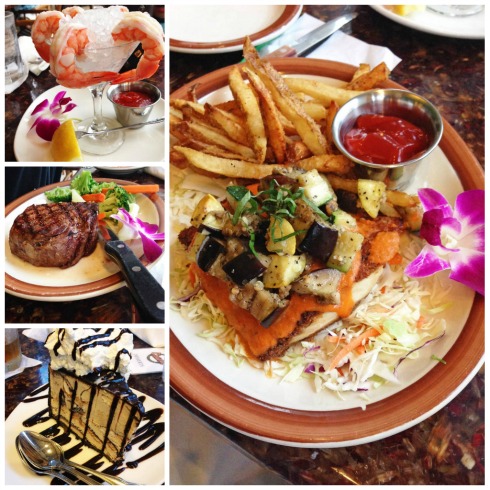 For our appetizer, we shared a shrimp cocktail (my kids loved the enormous shrimp!). I ordered the mahi mahi for my main with the chef's "tropical treatment", which entailed panko crust, a sweet-ish sauce and grilled zucchini, yellow squash and eggplant on top. Mike got the sirloin and we all shared a mud pie for dessert (who are we to say no to a towering ice cream pie with hot fudge and whipped cream!).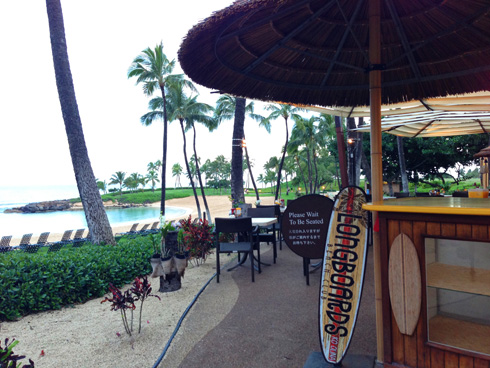 As happens when we travel westward, our kids were up well before sunrise the next morning, so we were the first guests to arrive at Longboard's for breakfast. I'm actually a little glad we were out there so early — it was so incredibly beautiful and serene (child hijinks notwithstanding).
Sigh…I miss this view already! We actually ate breakfast here for both mornings that we were at the Marriott. Longboard's offered a nice breakfast buffet — my 4-year old's was free with a paid adult buffet. My daughter decided to order the banana macadamia nut pancakes with caramel syrup — we all helped her finish those off. 🙂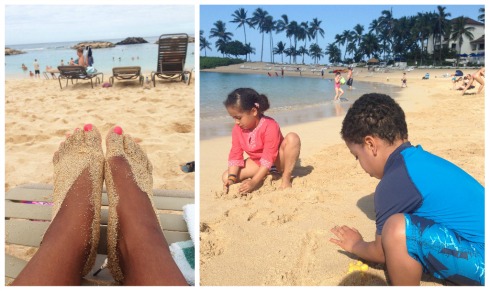 Of course, we spent plenty of time at the Ko Olina lagoons — they're man made, so they're a little artificially perfect, but it was really nice to be able to relax in calm, shallow water and brown sugar-like sand.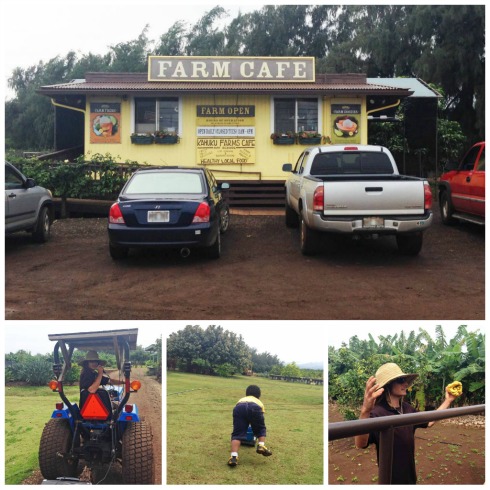 We love the beach, but we also love to explore when we're on vacation. One day we drove for about an hour out to Kahuku Farms, at the northern tip of Oahu, to take their smoothie tour. A tractor, driven by one of the farmers, pulled us on a wagon ride through the farm where we learned how they grow papayas, apple bananas, mangos and other fruits for commercial sale. The tour ended with a smoothie from the farm — yum!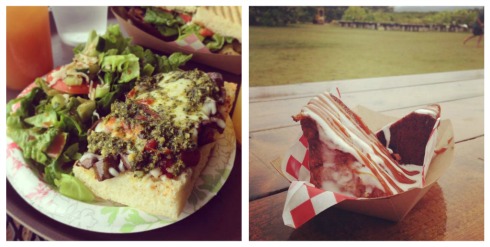 In addition to growing produce to sell to stores, Kahuku Farms also grows most of the ingredients for its farm café. The vegetable pizza, on the left, was divine — the eggplant, zucchini, tomatoes and hydroponic lettuce were all grown on the property. On the right is their Grilled Banana Bread with Caramel Sauce and Haupia, the incredible dessert I mentioned at the beginning of this post. The drizzle of caramel and coconut sauce on top take the enjoyment of warm banana bread to a whole new level. I could not (and did not!) wait to recreate this one at home, grilling on the panini press, so be sure to see my recipe at the end!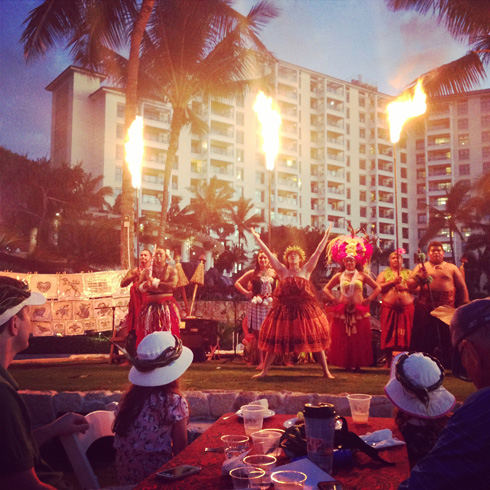 A luau is always a must-do for us in Hawaii, and I can honestly say the Fia Fia Luau at the Marriott is the best one I've seen so far. Between the pre-show, buffet dinner (there's also a special buffet for kids — mine appreciated the mac and cheese!) and main event, we were in for nearly 4 hours' worth of festivities (did I mention this is also at sunset at the beach — gorgeous!). Chief Sielu was charismatic and he and his dancers were incredibly multi-talented. I don't think I breathed at all during the fire knife segment!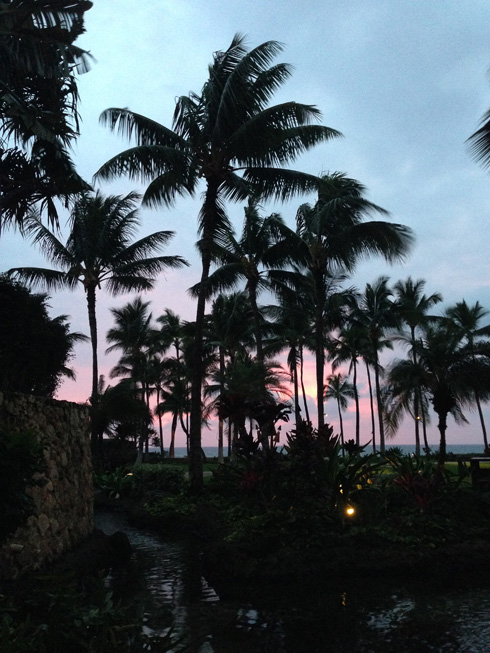 Believe it or not, I've only described just the first two days of our weeklong trip! Suffice it to say we enjoyed an incredibly fun, beautiful week in Hawaii. I'll share about the rest of the trip, at Disney's Aulani, on my other blog, Cooking On the Side, along with another Hawaiian recipe (just as soon as my musubi-maker arrives, hint hint!). For now, enjoy some incredible Grilled Banana Bread!
[print_this]
Grilled Banana Bread with Caramel Sauce and Haupia
Inspired by the Grilled Banana Bread with Caramel Sauce and Haupia served at Kahuku Farms in Kahuku, Hawaii
Prep time: 5 minutes | Cook time: 5 minutes | Total time: 10 minutes
Yield: 8 servings
INGREDIENTS:
DIRECTIONS:
Heat the panini press to high heat.
Slice the banana bread into 1-inch thick slices.
Lay the banana bread slices (as many as will fit comfortably) on the grill and close the lid so that the upper grate makes gentle contact with the surface of the banana bread, without pressing it. Grill the banana bread until it's toasted with grill marks, about one minute.
Drizzle each slice with warmed caramel and haupia.
[/print_this]
A special "mahalo" to Marriott's Ko Olina Beach Club for hosting our meals and luau during our stay!