If Cheddar Bacon Panini with Caramelized Apple-Onion Chutney sounds like something you'd love to sink your teeth into, I hope you'll vote for it (be sure to scroll all the way down and click the big blue "Vote" button!) in The National Sandwich Day Challenge!
In celebration of National Sandwich Day, which is coming up on November 3, Arnold/Oroweat Bread is hosting The National Sandwich Day Challenge. They've asked four bloggers – including myself – to create the best sandwich we can imagine, incorporating their sliced bread. I'm usually not one to enter into competitions where voting is involved, but this is a sandwich challenge – Panini Happy has to represent, right?
For my entry, I grilled my idea of the ultimate autumn grilled cheese: sharp aged cheddar and thick-cut bacon with a sweet and tangy (with a touch of heat!) homemade caramelized apple-onion chutney on Oroweat's extra-sour rye.
You can find the recipe and vote for your favorite once per day on Facebook (they do require you to "like" Arnold/Oroweat first) until 12:00 AM EST on October 29. Thanks for your support!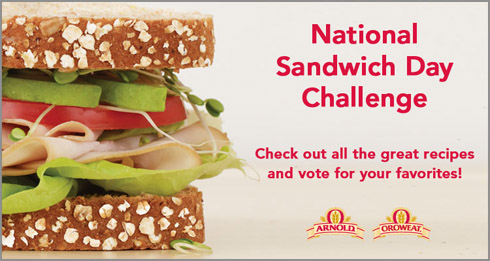 This post is one in a series sponsored by Arnold/Oroweat Bread, for which I have received compensation, but my opinions are always my own.