The delicate, bright yellow flowers that squash produce before developing into the full vegetable are not only gorgeous to look at, but also edibly fabulous when filled with cheese. I procured some fresh squash blossoms this weekend from the renowned Chino Farm, filled them with goat cheese, herbs, shallots and garlic, tempura-fried them and nestled them onto sourdough bread with a sprinkling of some stretchy mozzarella. Squash Blossom Grilled Cheese was outrageously good.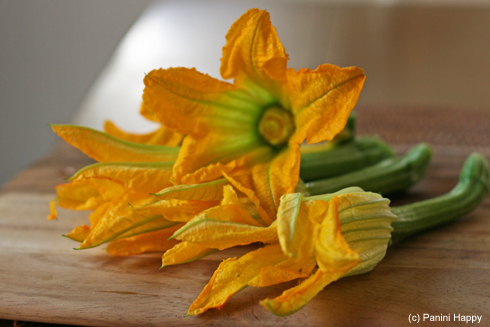 Squash blossoms are just starting to emerge in the farmers markets around here, it's still a little early in the season. My husband and I finally tried them for the first time at a restaurant about a month ago – I've been dreaming about how I could translate them into grilled cheese ever since.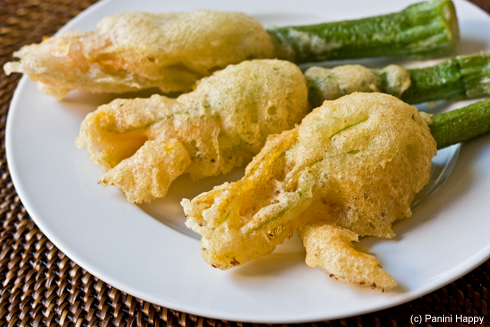 The squash blossom grilled cheese concept is actually not too big of a leap. Squash blossoms are quite often stuffed with goat cheese or ricotta as appetizers (the tempura squash blossom appetizers I used for this sandwich, pictured above, are light as can be with huge fresh herb flavor). And, as I've been reading, squash blossom quesadillas are especially popular in Oaxaca, Mexico.
You can taste absolutely everything that goes into this sandwich. The squash blossom, which is fried for just one minute, retains its gentle texture as well as the crunch of the tempura. The herbed goat cheese flavors remind me a bit of my Green Goddess Grilled Cheese, minus the lemon or anchovies. I added just a little bit of stretchy mozzarella cheese to bring it all together in the sandwich and brushed olive oil on the bread to make it extra crispy.
There's a bit of prep involved with this one, but wow, it's worth it!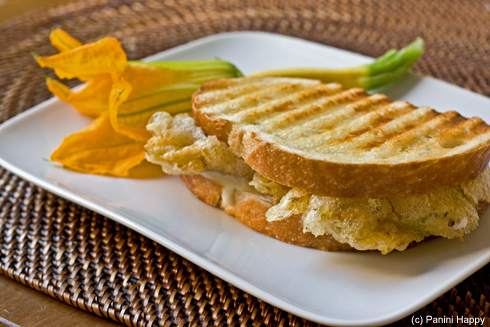 [print_this]
Squash Blossom Grilled Cheese
Adapted from the Tempura Squash Blossoms with Herbed Goat Cheese recipe on the Earthbound Farm website.
Prep time: 50 min | Cook time: 20 min | Total time: 1 hr 10 min
Yield: 6 sandwiches
INGREDIENTS:
Squash Blossom Filling:
1 tablespoon

olive oil

2

shallots, peeled and minced

1 tablespoon

fresh garlic, minced

1 tablespoon

chopped fresh tarragon

1 tablespoon

fresh thyme leaves

1 tablespoon

chopped fresh basil

1 tablespoon

snipped fresh chives

6 ounces

plain goat cheese

Salt and freshly ground pepper, to taste
Tempura Batter:
1 1/2 cups

soda water, plus more if necessary

1 cup

unbleached all-purpose flour

1/2 cup

cornstarch

1 tablespoon

baking powder

1 teaspoon

cayenne pepper
12

fresh squash blossoms

6 ounces

shredded mozzarella cheese

12 slices

sourdough bread

Canola oil, for frying

Olive oil, for brushing
DIRECTIONS:
Heat the 1 tablespoon of olive oil in a small skillet over low heat. Add the shallots and garlic, and cook until the moisture has mostly evaporated and the onions have just begun to caramelize. Cool mixture to room temperature.
Place the herbs and goat cheese in the bowl of a mixer (or a mini-prep food processor, as I did) and blend at low speed until the herbs are evenly distributed. Add the shallot-garlic mixture and blend again. Taste and adjust seasoning as desired.
Carefully rinse each squash blossom thoroughly and pat dry. Transfer herbed cheese to a plastic ziploc bag, cut off one corner, and pipe some of the herbed cheese into each blossom. Set aside.
Combine the cornstarch and 1/2 cup of soda water in a small bowl and whisk to blend. Set aside.
Whisk together the flour, baking powder, and cayenne pepper. Add the remaining cup of soda water and stir to blend. Whisk in the cornstarch mixture. Cover the bowl with plastic wrap and set aside for 10 minutes.
Fill a deep frying pan or pot with 2 inches of canola oil and heat to 350°F over medium-high heat.
Dip each blossom into the tempura batter. Transfer gently to the hot oil and cook until golden brown, about 1 minute. Transfer blossoms to paper towels to absorb excess oil. Season with salt and pepper, to taste.
Preheat the panini grill to medium-high heat.
For each sandwich: Sprinkle a small amount of mozzarella cheese onto a slice of bread. Add two tempura squash blossoms. Sprinkle with more mozzarella and close the sandwich with a second slice of bread.
Brush olive oil on top and grill for 3 to 5 minutes until the mozzarella is melted and the bread is toasted.
[/print_this]