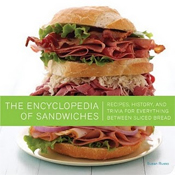 Writing The Encyclopedia of Sandwiches gave my friend, Susan Russo of Food Blogga, the opportunity to comb the country – even the world – to catalog every sandwich imaginable. The recipes in this cute square-shaped book are alphabetized from A to Z (actually, to W – there doesn't appear to be any sandwiches in the world that start with the letter Z :-)), with notes on their historical and cultural significance. It covers everything from the tried-and-true lunch box standard Bologna Sandwich to a "designer" Artisanal Grilled Cheese recipe from Chef Mark Peel of LA's Campanile made with burrata, fried garlic, roasted cherry tomatoes, chick peas, salsa verde and prosciutto. Wow!
In the "P" section of the book, there's a page dedicated to Prosciutto sandwiches which, of course, caught my attention. Among the variations, Susan suggests to "make a panini by spreading basil pesto on Italian bread and filling it with prosciutto and fresh mozzarella cheese." That's the kind of suggestion that sends me right to the grocery store for ingredients.

What can I say – this is a simply great sandwich. It's a lot like eating a slice of pizza. In fact, I'm pretty sure I've made a pizza with these exact ingredients before. Super savory prosciutto and pesto with stretchy fresh mozzarella – I could eat this sandwich for days (in fact, I did!).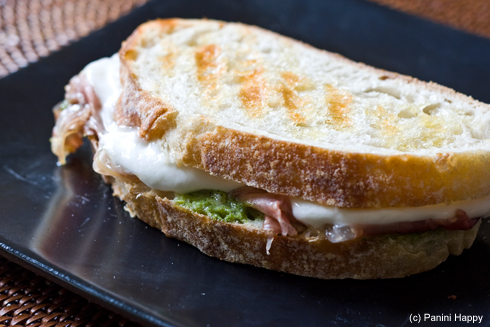 [print_this]
Prosciutto, Pesto & Fresh Mozzarella Panini
Inspired by the suggestion for panini with prosciutto, pesto and fresh mozzarella in The Encyclopedia of Sandwiches.
Prep time: 5 min | Cook time: 7 min | Total time: 12 min per sandwich
Yield: 4 panini
INGREDIENTS:
8 slices

Italian bread

4 ounces

prepared basil pesto

1/4 lb.

thinly sliced prosciutto

8-12 slices

fresh mozzarella

Olive oil, for brushing
DIRECTIONS:
Preheat the panini grill to medium-high heat.
For each sandwich: Spread about an ounce of pesto onto one slice of bread. Top with 1/4 of the prosciutto and 1/4 of the mozzarella. Close the sandwich with a second slice of bread.
Brush a little olive oil over the top slice of bread. Grill for 5 to 7 minutes, until the cheese is melted and the bread is toasted. Serve immediately.
[/print_this]