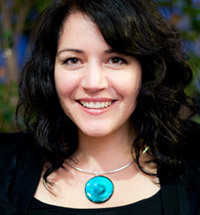 Did you know that panini in Italy aren't quite the same as they are in the U.S.? That they're not always grilled? Or that they're typically very simple, with just two or three ingredients?

I interviewed my friend Sara Rosso, an American expat living in Milan who blogs about food at Ms. Adventures in Italy and recently started the Eye on Italy podcast, for her insights on how Italians do panini.
In the U.S., sandwiches we know as "panini" are typically grilled and feature cheese. What are they like in Italy?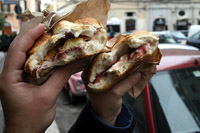 Well, a panino in Italy is just a sandwich, panini being the plural. They come in hundreds of varieties, just like in the U.S., but they are usually very simple. No widespread use of sauces, mountains of ingredients or "build your own" variety in most cases. Also, the main types of sandwiches are pretty common throughout the country, usually there are 2-3 ingredients in each panino (prosciutto crudo + tomatoes + mozzarella, bresaola + arugula + parmesan shavings, etc.) and they aren't always grilled. To be more precise, in most bars/lunch spots the worker will usually ask if you want the sandwich reheated "da riscaldare?" or "lo riscaldo?" and then the panino is usually heated between two smooth plates of metal, so the tell-tale grill marks are usually absent from panini in Italy, though it's flatter as a result.
Also, there is a special type of panino called a "toast" which is always made the same way – prosciutto cotto, ham, and cheese, on "white bread" which is always reheated alla piastra (the hot plate). It's a very very simple sandwich, sometimes a snack for children.
What kind of bread is typically used?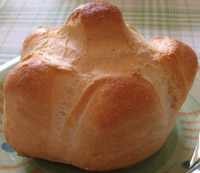 Many times it's a semi-hard roll similar to a baguette, called a "francesino" (little French), but only 4-6 inches long and not with a strong crust like a baguette. I visited a Italian breadmaker and rolled some of these out with him. Another popular shape is a rosette (rosetta or tartaruga in Italian), but really panini can be made on any type of bread – focaccia, ciabatta, panino arabo (a white, flour-dusted and little-to-no crust bread), etc. It's up to the sandwich maker.
These days, every corner café and grocery store freezer section sell some form of "panini". Their popularity is at an all-time high in the U.S. Are they as trendy in Italy right now?
You would never get a panino from the freezer section in Italy; they don't even sell them. You might find some pre-made panini in vending machines in train stations, but stay far away from them – only for the truly desperate. 🙂 Panini of course are available throughout Italy and show no signs of going out of style. Panini are usually eaten at lunchtime as opposed to dinnertime.
Are panini presses common household appliances? If not, what do people use to make them? Any noteworthy techniques?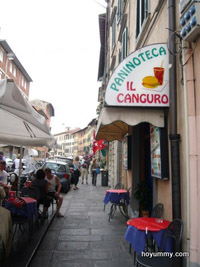 Not at all. Usually when one eats a panino a casa (at home) they won't have a heated sandwich. Usually this is reserved for when you purchase a panino at a bar or a paninoteca (eating place that specializes in sandwiches). A panino is a functional lunch; an on-the-go option and is supposed to be simple and easy.
What are some classic Italian panini?
Aside from the three I previously mentioned, panini can come in all types but it really depends on the place. A paninoteca specializes in panini and should have an extensive menu of ingredients and combinations. A regular bar will probably have 5-10 types of panini, from prosciutto crudo + fontina to brie and prosciutto cotto or just salami or mortadella with no extra ingredients. Often a breaded chicken patty is a non-pork option, or grilled vegetables and cheese is the vegetarian choice other than the "caprese" sandwich of just tomatoes and mozzarella. Turkey and sliced chicken breast are rare, though turkey as a lunchmeat is more popular in Italy than chicken. Some other special ingredients used on panini may be soft goat cheese, olive pâté, or mushrooms, or possibly even artichoke hearts. One of my favorite lunchmeats that is not widely found in Italy is praga – a smoked ham.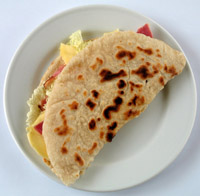 An alternative to a classic panino is a piadina. Piadine are flat, almost tortilla-like bread that is from the Emilia Romagna region. They are made with lard. Technically they are not considered panini, but piadine have their own category. They are almost always grilled / heated up – just think of eating a sandwich made with a cold tortilla – yuck! Most of the same ingredients in a normal panino would be put in a piadina; just the bread changes.
Are there any paninotecas you'd recommend to someone visiting Milan?
Italy is the anti-chain restaurant country, so most are single/one-off locations that do panini well. But in Milan there is Panino Giusto, a chain which has been around for 30 years, now with several locations around and outside of Italy. Their panini aren't the best I've had, though they are pretty good.
Many thanks again, Sara, for whetting our appetites for Italian panini! Follow Sara on Twitter @rosso or check out Ms. Adventures in Italy and Eye on Italy for more tasty travels through Italy.