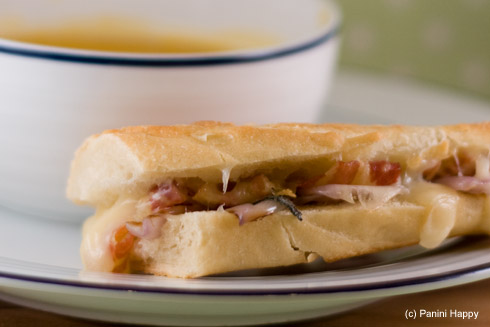 If I tell you that today's Pancetta, Fontina & Caramelized Shallots Panini recipe was inspired by Rachael Ray, I imagine some of you will perk up a little while others will scroll quickly to the next item in your RSS reader. She's kind of got that polarizing effect on folks.  Myself, I'm a Rach fan. No, I don't love every 30-minute meal (still shaking my head over the concept of bread gnocchi) and some of the cutesy catchphrases can grate at times (notice that I've tried my hardest never to use the word "sammie" on this blog!). But I gotta respect her for the honest, upbeat, creative and successful person that she is.  She works hard and she's got a whole lot to show for it.  So, yeah, I'm a fan.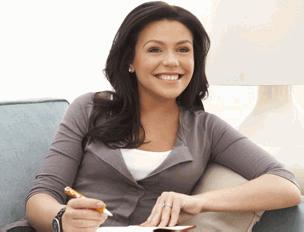 A few weeks ago during the cooking segment on her talk show Rachael grilled Fontina and sage panini to pair with her Beef and Barley Stoup (again with the words!).  I've been thinking about that savory Fontina and sage combo for weeks.  And while I don't do "stoup" I've really been loving butternut squash soup this season.  So when I finally grilled my own version of Fontina and sage panini yesterday to go with butternut squash soup I took a flavor cue from Andrea at Andrea's Recipes and added in some crispy pancetta and sweet caramelized shallots.  Deluxe grilled cheese for sure!
Pancetta, Fontina & Caramelized Shallots Panini
INGREDIENTS:
Shallots, peeled and halved lengthwise
Olive oil
Pancetta, thinly sliced
French baguette, halved lengthwise
Fresh sage, coarsely chopped
Fontina cheese, thinly sliced
DIRECTIONS:
Preheat the panini grill to medium-high heat (375 degrees).
Toss shallots with olive oil to coat and place cut-side down onto the panini grill. Close the lid and grill for 6-7 minutes until caramelized. Leave the residual shallot-infused oil on the grates – it will add great flavor once you grill the sandwich. Alternatively, you could roast the shallots on a rimmed baking sheet in an oven or toaster oven at 400 degrees for 15-20 minutes.
Meanwhile, cook the slices of pancetta – either in a toaster oven broiler pan at 375 degrees for about 5 minutes or in a skillet over medium-high heat until the fat renders and the pancetta is crispy.
Place 3-4 shallot halves on the bottom baguette (fan out the layers to cover the bread).  Sprinkle sage on top of the shallots.  Add pancetta and Fontina and close the sandwich.  Grill for 5-6 minutes until the cheese melts.  Serve immediately and enjoy!