It's pretty much an ongoing panini party over here at Panini Happy, so I thought it might be fun to share some ideas for hosting your own panini party at home. It's one of the easiest parties to throw – all you need is a good variety of sandwich ingredients, some sides, a panini maker and fun people who are willing to get creative at the grill. On a random weekday morning I recently transformed my kitchen table into a full-on panini bar. I donated a panini party for our preschool auction fundraiser so this was a dry run for when the couple who won redeems their prize. Believe me, lunch at our house this week has been excellent. Read on for my suggestions for setting up your own panini bar and other things to keep in mind when you're planning a panini party.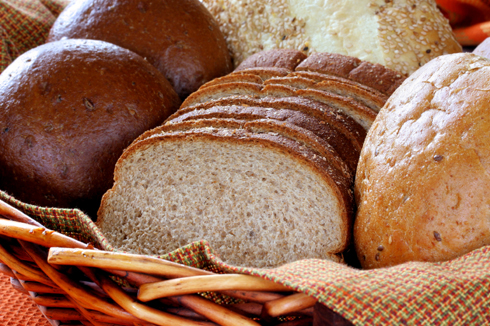 Bread
Begin your panini assembly line with the sandwich foundation: the bread. Select a variety of good quality artisan breads – OR – keep things simple and just go with one type of bread. Trader Joe's sells par-baked "panini rolls" that go well with almost any kind of sandwich. To help move things along in the line, you may want to pre-slice the bread ahead of time.
Bread Ideas:
panini rolls
baguettes
ciabatta
sliced sourdough Condiments:
Once they've got their bread, your guests will want to spread on some interesting condiments. Mayonnaise and mustard are standard, but don't stop there. Take a look around your fridge and pantry for other spreads that might taste great on a sandwich. Be sure to include sweet, savory and/or spicy options.
Condiment Ideas:
Mayonnaise (experiment with mixing in different flavors, such as fresh basil, cilantro, garlic, lemon, chipotle, sriracha, hoisin, etc.)
Mustard (Dijon and whole grain are good choices)
Marmalade
Fig preserves
Pepper jelly
Olive tapenade
Pesto (can be made with lots of different herbs – e.g., basil, arugula, parsley, mint) Meat
Meat options for your panini bar can run the gamut from deli ham to salami to carved turkey. The important thing is to know your audience. If they love Italian cured meats, spring for some good prosciutto, sopressata and mortadella. People who prefer leaner meats will appreciate sliced or carved turkey and chicken. Three to five different meats will give your guests plenty of options to mix and match.
Meat ideas:
Ham
Turkey (sliced or carved)
Chicken (sliced or carved)
Salumi (e.g., prosciutto, sopressata, mortadella, salami)
Bacon
Roast beef
Pork loin Cheese
Unlike a typical party cheese platter, where you might offer a variety of textures, for panini it's important to choose cheeses that melt well. I went with sliced cheeses because they're what I had on hand, but for maximum meltability it would even be better to set out colorful bowls filled with shredded cheese. I'd start with sharp cheddar, Brie and fresh mozzarella – people love those cheeses – and, depending on the size of your party, add one or two more that you like.
Cheese ideas:
Sharp cheddar
Gruyère
Fresh mozzarella
Brie
Provolone
Goat cheese
Asiago pressato Other Goodies
This is a party – give your guests a few goodies to make their sandwiches extra special! If you've got vegetarians in the crowd, you'll want to make sure this platter features plenty of meat-free options.
Ideas for Other Goodies:
Fresh, sundried or oven-roasted tomatoes
Avocado
Fresh, caramelized or pickled onions
Roasted bell peppers
Arugula
Watercress
Marinated artichokes
Toasted walnuts or pecans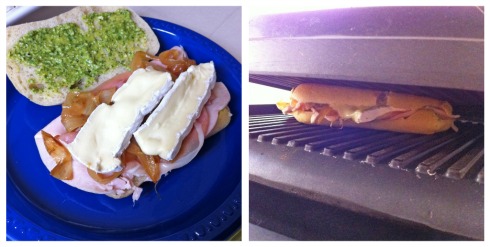 Panini Maker
Last, but absolutely not least – the grill. If you've got room on your ingredients table (and easy access to an electrical outlet) to set up a panini maker at the end of the line, that's perfect. If not, you can always create a grilling station elsewhere in the room. On most panini makers you can grill up to four sandwiches at a time, but things will probably move more smoothly if you've got more than one grill going (chances are one or two of your guests will be able to bring an extra panini maker or George Foreman grill).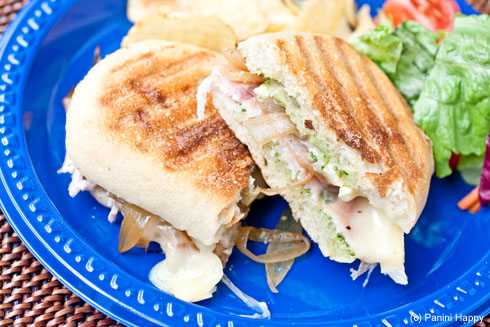 And Finally…
Jot down a list of what you're planning to include in your panini bar, then give the list a once over to make sure the items mix and match well (i.e., if you've got Nutella in the lineup, make sure there are complementary ingredients like bananas or strawberries as well). When I host the panini party for the auction winners I also plan to bring little recipe cards with suggested sandwich combinations printed on them, based on the ingredients I'll have on hand.
A few Panini Happy readers weighed in on Facebook with their best tips for hosting panini parties. Alissa, who is a real-life friend of mine, commented, "I have other sides available such as a colorful salad, yummy potato chips or potato salad, or a nice pot of soup." Gavin added, "I've hosted more than a dozen [panini parties], usually combined with a movie. I generally have a set recipe for everyone, and it is fun to experiment with themes and ingredients." Thanks for sharing your advice, Alissa and Gavin!
Have you hosted a panini party?  Please feel free to share your experience in the comments.