I love everything about holiday gift-giving, from selecting the perfect item to wrapping it to watching the expression on the recipient's face when they finally open it up (I'm aiming for a grin!). I'm always on the hunt for more ideas, so in the event you're in the same boat I thought I'd share my annual top picks for cooks and other food lovers.
* * *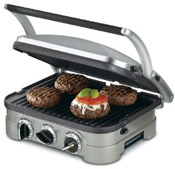 For Everyone: A Panini Maker
This is Panini Happy, we have to include a panini maker on the list, right? Seriously, it's a terrific gift for anyone, even those who don't consider themselves to be cooks. I received my first panini maker as a Christmas gift and look at me now! 🙂 Two nice ones to consider are the Cuisinart 5-in-1 Griddler (Amazon ~$95) and the Breville Panini Press (Williams-Sonoma ~$100) (this model was one of Oprah's Ultimate Favorite Things this year). For more help on choosing a grill, check out my Panini Press Buying Advice.
* * *
For Sunday Dinner Gourmets: Comforting Cookbooks
We may lead super-busy lives during the week but when the weekend rolls around it's our chance to pull out the cookbooks and take the time to prepare more elaborate, fabulous meals. If Santa doesn't bring me Dorie Greenspan's new Around My French Table (Amazon ~$25) (hint, family!) on Christmas morning I will be ordering it right after breakfast. Every review I've read, every dish I've seen prepared on other food blogs puts this book at the top of my personal wish list this year. I haven't been this anxious for a cookbook since my excitement over Thomas Keller's Ad Hoc at Home (Amazon ~$30). My sister had to drive all over town to find me a copy but she managed to get one before it sold out last year. His roast chicken recipe has become my new go-to (in fact, I'm making it again tonight!). One more fun suggestion for folks who like to use their crock pot: Indian Slow Cooker (Amazon ~$14). Author Anupy Singla spoke at the BlogHer Food conference this year (I had a chance to meet her afterward) and once she mentioned this book of Indian recipes for the slow cooker I dashed to buy it from the book table minutes later!
* * *
For Budding Chefs: Wooden Food Toys

After watching me grill "pa-nee-nee" for almost 3 years, I wonder if my daughter is ready to try her own hand at sandwich making…perhaps with the super-cute Melissa and Doug Wooden Sandwich-Making Set (Amazon ~$16)? We're already huge Melissa and Doug fans in our house. Judging from the amount of time my two kids play with the Deluxe Ice Cream Parlor Set (Amazon ~$21) and the Bake and Decorate Cupcake Set (Amazon ~$15) I think I'm going to have some very eager helpers in the kitchen before too long.
* * *
For Someone Deserving a Break: A Single-Serve Coffee Maker
I used to think those popular single-serve coffeemakers weren't worth buying. Who would ever want to brew just one cup of coffee? Um…evidently, I would, or so I learned after I started using the Tassimo (Amazon ~ $170) about a month ago. It takes less than a minute to brew a fresh cup of coffee, including the time to set up the machine. I now make coffee and cappuccinos whenever I feel like it (it's so fast!) and my husband has become a fan of the hot chocolate. I see now why these coffee makers have been touted as great gifts for the past few years. Besides the Tassimo, you might also consider the Keurig Special Edition Home Brewing System (Amazon ~ $130) and the Breville Single-Serve Coffee Maker (Williams-Sonoma ~ $250).
* * *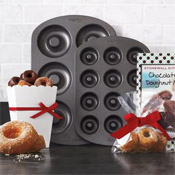 For Bakers: Doughnut Baking Pans and Mixes
Every single time I see baked doughnuts pop up on food blogs and in magazines I'm so tempted to run out and buy a pan. I stop myself, because Lord knows I don't need to be eating doughnuts! It's the kind of item that's hard to justifiably purchase for yourself…but if you were to receive it as a gift? Well, who wouldn't love doughnuts (you can even make gluten-free ones!)! A great gift combo would be a Wilton Doughnut Baking Pan (Sur La Table ~ $10-$11) along with Stonewall Kitchen Doughnut Mixes (Sur La Table ~$9) (either Cinnamon Sugar or Chocolate sound perfect!).
* * *
For the Whole Gang: Holiday Recipe Minibook Cards
There are so many fun options for holiday cards these days! I love these Holiday Recipe Minibook Cards (Minted, as low as $3.44/card) – along with family photos you can share your favorite recipes in a beautifully-designed little booklet. You can order as few as 15, so it's a great option for a personalized gift for a group.
* * *
For the Bubbly Personality: iSi Twist 'n Sparkle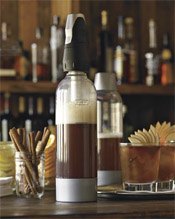 I do love an effervescent beverage – sparkling water, sodas, champagne. I've thought about buying a carbonator to try to make my own, but most I'd seen were a little more expensive than I could justify. However, this iSi Twist 'n Sparkle (Williams Sonoma ~ $50) looks to be a lot more my speed. You can easily add "sparkle" to almost any beverage. How fun it would be to explore all the bubbly possibilities!
* * *
For the Ladies Who Lounge: Munki Munki Slice of Pie Pajamas

She's sure to have "visions of sugar plums" dancing in her head while resting in these snuggly flannel pajamas – sugar plum pie, that is! I put these Munki Munki Slice of Pie Pajamas (Nordstrom ~ $70) on my wishlist the moment I saw them in the Nordstrom catalog. They are so cute and cozy-looking and they actually come in five other designs besides pie too. My sisters and I are known to gift each other with PJs at Christmas (if either of you guys have made it down to the end of this post, medium!).