Just when I think I've tried every possible technique for making sandwiches on this blog I find a new concept that begs me to try it. Have you ever brushed wine inside a grilled cheese sandwich? I was browsing the recipe section of the Panera Bread website when I saw a recipe for Grilled Gruyère on Asiago Cheese Bread calling for dry white wine to be brushed inside the bread. That idea was new to me. And highly appealing.
In a way, it's not so different from drizzling vinegar or vinaigrettes on a sandwich – it just adds flavor. Come to think of it, wine and cheese are the most natural pairing on the planet. We all should have been drizzling wine on grilled cheese all along!
In case you're up for giving it a try – or you just want to choose a wine to fill your glass along with your grilled cheese – I found a helpful cheese pairing tool to help guide your choices. Here are a few great-for-grilling cheeses and their recommended wine counterparts: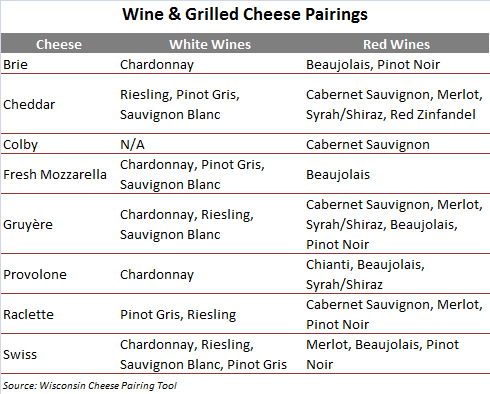 I swept chardonnay inside my bread on this Grilled Gruyère sandwich and that extra, surprising little hint of flavor was wonderful. But lest I lead you into thinking this sandwich was all about the wine, that definitely was not the case. The Gruyère itself is the true star, as well it should be. The wine, Dijon mustard, onions and tomatoes only enhance the flavor of the cheese. The Asiago bread itself, which I picked up from Panera, lent some salty-nutty flavor as well and was perfect for grilling.
While this sandwich isn't actually available on the menu at Panera, you can find the recipe for it as well as many other innovative off-the-menu items on their website.
This is the third and final post in a series sponsored by Panera Bread. While I have been compensated for writing this post, the opinions expressed are, as always, my own.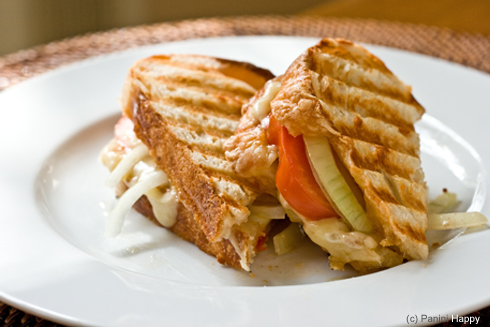 [print_this]
Grilled Gruyère on Asiago Cheese Bread
Adapted from the Grilled Gruyère on Asiago Cheese Bread recipe on the Panera Bread website
Prep time: 10 min | Cook time: 16 min | Total time: 26 min
Yield: 4 sandwiches
INGREDIENTS:
1 ounce

dry white wine

Dijon mustard

4 ounces

Gruyere cheese, sliced

1/2

small onion, thinly sliced

Freshly ground black pepper, to taste

8 slices

Asiago cheese bread (such as from Panera Bread)
DIRECTIONS:
Preheat the panini grill to medium-high heat.
For each sandwich, moisten the bottom piece of toasted bread with wine using a pastry brush or your fingertips. Next, spread mustard on bottom piece of bread, then add one fourth of the cheese, tomato, and onion. Grind a generous amount of pepper over the sandwich and top with another slice of bread.
Grill for 3 to 4 minutes until the cheese is melted and the bread is toasted. Serve immediately and enjoy!
[/print_this]