I'm starting to come around on salads. Historically, I haven't been much of a salad person but this summer we've been enjoying them for dinner at least once a week. Salads, I've finally realized, hold more possibilities than just convenient leafy receptacles for all the items I'm looking to clear from the refrigerator crisper.
I spent a bit of time conceptualizing today's Grilled Peach Salad with Toasted Pecans, Blue Cheese and Honey Balsamic Syrup, debating in my mind between toasted and candied pecans, blue cheese or goat cheese, arugula or no arugula. I was really happy with how it all materialized on the plate. I caramelized sweet, juicy peaches on a hot panini grill, then arranged them over a bed of mildly peppery baby arugula, filled them with a few dabs (not too much!) of tangy, creamy Point Reyes Original Blue and a smattering of toasted pecans and finally drizzled them with honey balsamic syrup.
Yes, I think I can definitely get used to salads. 🙂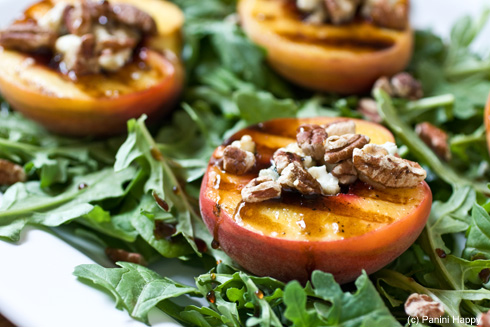 [print_this]
Grilled Peach Salad with Toasted Pecans, Blue Cheese and Honey Balsamic Syrup
Prep time: 15 minutes | Cook time: 20 minutes | Total time: 35 minutes
Yield: 6 servings
INGREDIENTS:
1/2 cup

chopped pecans

1/2 cup

honey

1/4 cup

balsamic vinegar

1/4 teaspoon

dried thyme

1/8 teaspoon

black pepper

Pinch

kosher salt

2 tablespoons

melted butter

3

peaches, halved and pitted

5 ounces

baby arugula

2 ounces

blue cheese, crumbled
DIRECTIONS:
Preheat an oven or toaster oven to 350°F. Spread the pecans on a baking sheet and toast in the oven for 4-6 minutes until they are aromatic. Set them aside to cool.
In a small saucepan, heat the honey, balsamic vinegar, thyme, black pepper and salt over medium heat. Stir to dissolve the honey and bring the mixture to a boil. Reduce the heat to medium-low and simmer, stirring occasionally, until the mixture is slightly thickened and syrupy, about 10 minutes. Remove from the heat and let the honey balsamic syrup cool a bit – it will continue to thicken as it cools.
Preheat the panini grill to high heat.
Brush a little melted butter on the cut sides of the peaches. Place the peaches on the grill, cut side down. Close the lid so that the upper grates are hovering just above the peaches or just very lightly touching them. Grill the peaches until they are softened and grill marks appear, about 4 to 5 minutes.
Arrange the peaches cut side up over a bed of arugula on a serving platter. Top with toasted pecans and blue cheese and drizzle with honey balsamic syrup.
[/print_this]