Happy New Year, everyone! I hope you had a great time over the holidays. Mine were spent relaxing, eating and catching up with a whole lot of family, which is my favorite way to celebrate (really!).
I thought I'd kick off 2012 with putting something a little on the lighter side on the panini maker – Grilled Angel Food Cake with Lemon Curd. Something really cool happens when you grill angel food cake: the outside gets ever-so-gently crisped and practically dissolves on your tongue like cotton candy. It transforms an otherwise average, store-bought cake into something far more appealing…especially when you top it with some sweet-tart homemade lemon curd.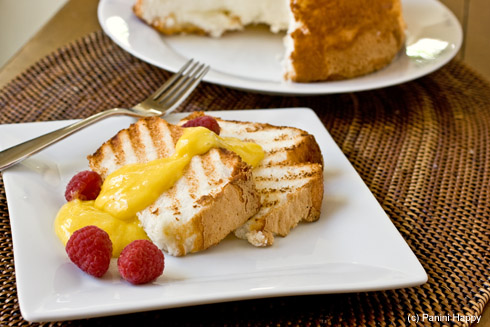 Truth be told, I did plan to bake my own angel food cake. I made two attempts, actually. Both attempts didn't quite work out – the first time I omitted a step and the second time I was so cautious about overstirring the egg whites that I actually didn't mix it well enough. For those who are keeping track, that was a total of 20 egg white casualties. On the positive side, I did end up with plenty of egg yolks to make this fabulous lemon curd. I still have 15 more yolks on hand…I'm entertaining ideas for ways to use them!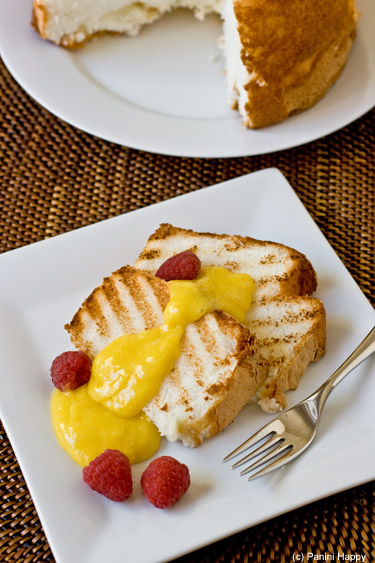 [print_this]
Grilled Angel Food Cake with Lemon Curd
Prep time: 10 minutes | Cook time: 30 minutes | Total time: 40 minutes
Yield: 4 servings
INGREDIENTS:
5

egg yolks

3/4 cup

granulated sugar

2 tablespoons

fine lemon zest (from about 2 lemons)

1/3 cup

lemon juice (from 1 1/2-2 lemons)

5 tablespoons

unsalted butter, cubed and chilled

8

1-inch slices angel food cake, store-bought or homemade*

1/2 pint

fresh raspberries
DIRECTIONS:
Fill a medium saucepan with an inch of water and bring it to a simmer over medium high heat (if you have a double-boiler, heat an inch of water in the lower saucepan).
Meanwhile, whisk together the egg yolks and sugar in a medium heat-proof bowl (or the upper saucepan of your double-boiler) until it's smooth. Whisk in the lemon juice and zest until the mixture is smooth.
Once the water is simmering turn down the heat to low and place the bowl on top of the saucepan; the bowl should not touch the water (if you're using a double-boiler, assemble the upper and lower saucepans). Whisk the egg mixture continually until it thickens, about 15 minutes. It should be thick enough to coat the back of a wooden spoon.
Remove the saucepan from the heat and stir in each cube of butter one at a time, allowing each addition to melt before adding the next. Transfer the curd to a bowl. If you're not ready to serve the curd immediately, press a layer of plastic wrap on the surface of the curd to prevent a skin from forming and chill it in the refrigerator until you're ready to use it.
Preheat the panini grill to high heat.
In batches, add the angel food cake slices to the grill. If your grill allows you to adjust the height of the upper plate: Close the lid so that the upper plate is resting on the cake without pressing it. Grill the cake slices until they're toasted with grill marks, about a minute. Alternatively, you can leave the grill open and grill the cake slices for about 90 seconds per side.
Serve the grilled angel food cake with a few spoonfuls of lemon curd and fresh raspberries.
* If you bake your own angel food cake from scratch, save the yolks to make the lemon curd.
[/print_this]