Maybe it's because I blog about sandwiches or because I shop often for toys but I've started noticing quite a lot of sandwich toys on the market these days. I enlisted the help of my 4-year old daughter and 2-year old son to help me test out four fun-looking sandwich toys I've come across lately. If you've got any food-loving children (or kids at heart) on your holiday shopping list you'll definitely want to look into these. PLUS…
**Win These Sandwich Toys!**
At the end of this post you'll have the chance to enter to win the toys that I've featured – from brands including Melissa & Doug, Green Toys, Gamewright and Handstand Kids. Read on!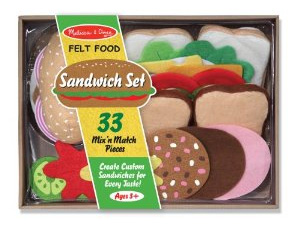 We love Melissa & Doug food toys in our house – their Melissa & Doug Felt Food – Sandwich Set (retail $19.99) was just as much fun as their sushi, ice cream and cupcake sets. There are quite a number of mix-and-match "ingredients" to this set – 33 in all. An adult (like myself) may look at the pieces and perceive them as vaguely resembling real food but with a child's (like my daughter's) imagination they are as real as can be. My daughter started out assembling sandwiches that she regularly eats – PB & J, turkey and cheese – and then ventured into more creative territory involving the fried egg and pickles. She also enjoyed wearing the red onions like bracelets.
Although my two-year old is a little young for this toy (recommended for ages 3+) he enjoyed picking up each of the felt pieces and had learned all of their names ("bwead!") after a week of playing with them.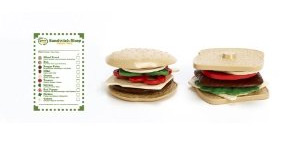 The Green Toys Sandwich Shop (retail $16.99) is an especially good choice for very young toddlers, ages 2 and up. It's got about half the number of pieces as the Melissa & Doug set – fewer to get lost around the house – and since they're made with food-safe recycled plastic they can withstand the chomping, whacking and hurling that kids this age tend to inflict on their toys. The set comes with all the fixins for a very well-dressed hamburger or deli sandwich. An added fun detail is the pack of order forms that lets the kids take your sandwich order just like at a real sandwich shop and then attempt to create the requested sandwich (you can even print out additional forms from their website).
Older children may prefer the greater breadth of ingredient options that the Melissa & Doug set offers, while the Green Toys set features fewer but more realistic, durable and "green" components.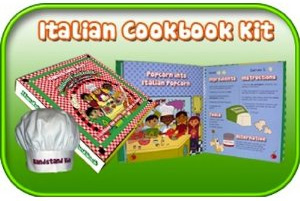 Even though it's primarily a cookbook, I've included the Handstand Kids Italian Cookbook Kit (retail $25.00) on my list of top sandwich toys because 1) it contains a panini recipe so kids can actually make a real sandwich and 2) it comes with a little chef hat and is creatively packaged in a pizza box. My daughter loves to go into the pantry – where I keep all of my cookbooks – pull out this little pizza box, don the chef hat and plop down her cookbook to browse the recipes and stories.
This is definitely not your typical super-simple recipe cookbook for kids. I had to separate seven eggs and fold in whipped whites to execute the Torta al Cioccolato (chocolate cake) with my little girl! Most of the recipes aren't nearly that involved, but I mention it to demonstrate the kit's commitment to the food and the cultures it represents (the company makes Mexican and Chinese kits as well). Many of the ingredient names are actually written in Italian, which my daughter picked up right away as we were cooking and thought was fun ("When do we add the zucchero?").
The kit is geared mainly for school-aged children, but it grabbed the attention and interest of even my preschooler.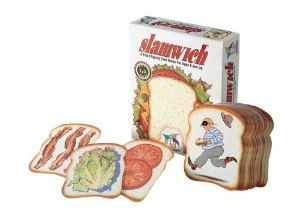 With it's bread-shaped playing cards, Slamwich (retail $9.99) caught my attention one day at our local toy store. It's definitely the sort of card game I would have loved playing as a kid with my sisters. It's fast paced, you're looking for cards to appear in a certain sandwich stacking order, there's lots of card-slapping and yelling out of "slamwich!" and "stop thief!". There's a little bit of a learning curve when it comes to understanding the rules at first (it's designed for kids 6-11 so it's not that complicated) but I easily simplified the play to allow my 4-year old to enjoy it as well. She even made little "sandwiches" with the beautifully illustrated cards.
There's also a special Collector's Edition of this game (I haven't played this version yet), which comes with new cards and is packaged in a pretty cool metal lunch box.
* * *

It's a BIG Sandwich Toy Giveaway! [THE GIVEAWAY IS NOW CLOSED]
Here's your chance to win the Melissa & Doug Felt Food – Sandwich Set, Green Toys Sandwich Shop, Handstand Kids Italian Cookbook Kit or Slamwich! I'll choose four winners at random – each winner will receive one of the sandwich toy prizes.
Here are four ways to enter, you can do any or all of them (please leave separate comments for each entry):

The giveaway will close on Friday, December 9, 2011 at noon PST. [THE GIVEAWAY IS NOW CLOSED] I will use random.org to select four winners (each winner will receive one of the sandwich toy prizes) and announce the winners in this post. I will contact the winners via e-mail – if I don't receive a response within 5 days I will draw another name. Due to shipping costs, the prize can only be shipped to U.S. addresses.
**UPDATE 12/10/11: Congratulations to our winners – Joanna Liwanag #7, Angela Chee #52, Grace #41 and Mandi #4!
Thanks to Melissa & Doug, Green Toys, Gamewright and Handstand Kids for providing products for review and the prizes for this giveaway.