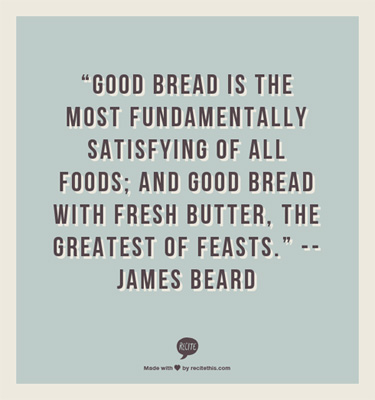 My butter experience has changed, and I've been telling everyone about it.
The initial shift happened during my 40th birthday dinner at Coi, in San Francisco. When it was time for the bread course, about an hour into our tasting menu, our server bothered to mention that the little individual loaves of Japanese milk bread he was setting on the table were accompanied by the restaurant's housemade cultured butter and Maldon sea salt.
The butter wasn't just some anonymous off-white spread in a dish…they'd made it themselves, and there was rhyme and reason behind it. And it was stop-in-your-tracks delicious.
I mean, butter is usually just butter, right? We don't think too hard about it. Restaurants rarely tell you about the butter they're serving, and most of us keep our butter selection pretty simple at home — at most maybe a salted for spreading and an unsalted for baking. Honestly, I'm afraid we've been missing out.
I'm afraid I've become a little obsessed with butter. Not heaping on copious amounts of it…appreciating it. This isn't about being all fancypants — the "good stuff" isn't even all that expensive — it's about tasting, learning, understanding, benefiting.

My husband Mike and I took a deep dive into butter. The first step in our education: "The Buttering", aka a side-by-side butter taste test. I got a baguette and some Maldon salt, and set Mike up with a selection of butters: our everyday Challenge sweet cream, the Plugrá I use for baking, a cultured Kerrygold, a cultured Organic Valley and a goat butter (that's the white one). I didn't tell him what butters I'd included, so it was a completely blind test. The verdict: Mike liked them all (of course), but preferred the cultured ones, for their tangy, more pronounced flavor.

I began to read up on cultured butters. This article from The New York Times does a great job of explaining the nature of cultured butter — basically, butter made with cultured cream — and the history of how sweet cream butter became the standard in the United States. Not only do the cultures add flavor, but they make biscuits more tender and cakes lighter. All good things!
It was inevitable — I tried my hand at making my own cultured butter (and my first-ever YouTube video — enjoy the time-lapse!). The buttermilk was starting to spin out of control there — you can see me coming in with the plastic wrap! I followed the incredibly easy recipe for making your own cultured butter from the Food & Wine website and absolutely loved the results.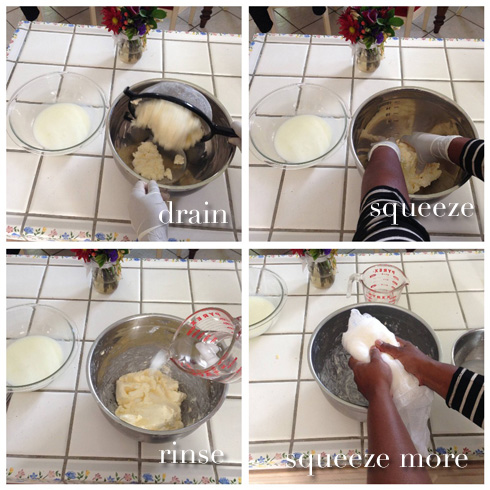 Once the butter separated from the buttermilk (hooray — we've got buttermilk too!), kneading the butter was actually a pretty gratifying process. I am grateful, by the way, for the new iPhone timer features so I could get these photos.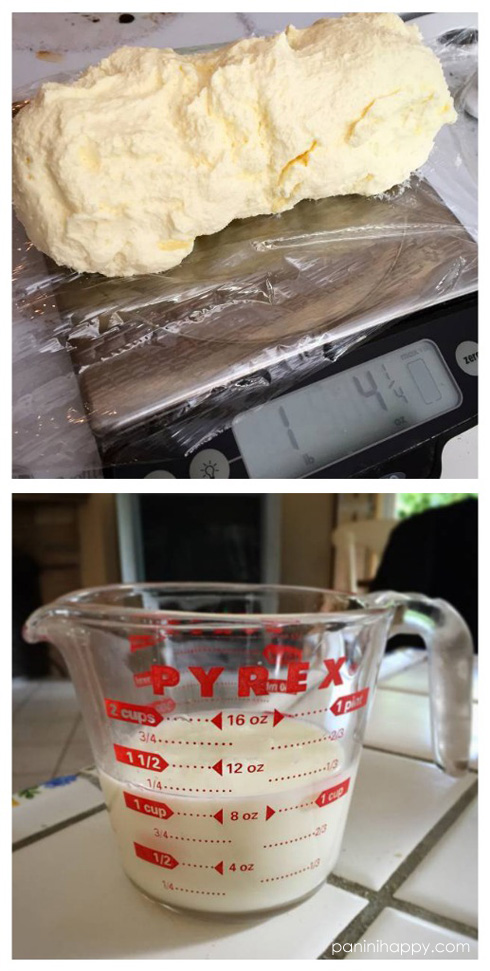 I wound up with 1-1/4 pounds of glorious homemade cultured butter and a little over a cup of fresh buttermilk! I cup up sections of butter and passed them out to friends I hung out with that week (my friend, Meilee, and I even ordered bread at a restaurant to partake in our BYOB!). It was too good not to share. My husband buttered countless pieces of toast. I made some pretty incredible buttermilk pancakes (my favorite way to use buttermilk):

That was a lot to do about butter, I know. But I wanted to share it all with you in case it might spark you to take a fresh look at an ingredient that's pretty ordinary for a lot of us. I'll tell you what, plain old bread and butter has gotten a lot more enjoyable in our house — I hope it will in yours too!