Do you say "tunafish"? Or just "tuna"?
Sandwiches made with a salad of canned tuna, mayonnaise and celery were "tunafish" to me growing up because that's what my parents, both New Yorkers, called them. But I've rarely, if ever, heard the word in California. It's always "tuna salad" or "tuna sandwich", but never "tunafish." I'm thinking it might be a regional term. Like "pocketbook", "dungarees" and "AH-ranges" – other notables from my early vocabulary that used to perplex my childhood friends on the West Coast.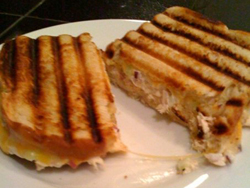 I started thinking about tunafish (or tuna) after my friend Sarah recently shared a photo of a tuna melt panino she'd made (see left). "Inspired by Panini Happy!" she remarked.  Hooray! I love hearing when I've inspired someone, panini-wise. Hers looked so enticing that she, in turn, inspired me to grill a tuna melt as well. I still do my tunafish really simply – with just celery, mayo and salt and pepper.  This time I dressed it up a little with bacon and piled it all on a batard I baked fresh an hour earlier (I'm telling you, Artisan Bread in Five Minutes a Day
is the real deal!). I might have preferred it with sliced bread like Sarah used for those great crispy grill marks but my roll version was pretty good too.
No matter what you call it, it's hard to beat a good tuna melt.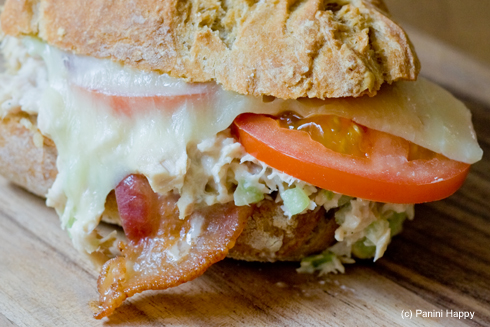 Bacon Tuna Melt Panini
Serves 2
INGREDIENTS:
1 6-ounce can albacore tuna in water, drained
1/2 rib celery, minced
1-2 tablespoons mayonnaise, plus more for spreading on bread
Salt and pepper to taste
4 slices country-style bread (I used a homemade batard)
4 slices fully cooked bacon
1 tomato, sliced thinly
2-4 slices mozzarella cheese (cheddar or swiss would also be nice)
DIRECTIONS:
Preheat the panini grill to 375 degrees. (No grill? See "How to Make Panini Without a Panini Press")
In a small bowl, combine albacore, celery, mayonnaise salt and pepper to make tuna salad.
Spread a thin layer of mayonnaise on each slice of bread.  Assemble each sandwich with bacon, tuna salad, tomatoes and cheese between two slices of bread.
Grill panini for 6-7 minutes (if you're using sliced bread, you might want to brush a little melted butter or olive oil on the outside for extra crispness and flavor) until the cheese is melted and bread is toasted.  Serve immediately and enjoy!