There's not a lot you can do to improve on a classic bacon, egg, and cheese breakfast sandwich on an English muffin. It's pretty perfect, if you ask me – a savory, handheld meal in itself. My vacation breakfast go-to, for sure.
I did come up with an improvement, though…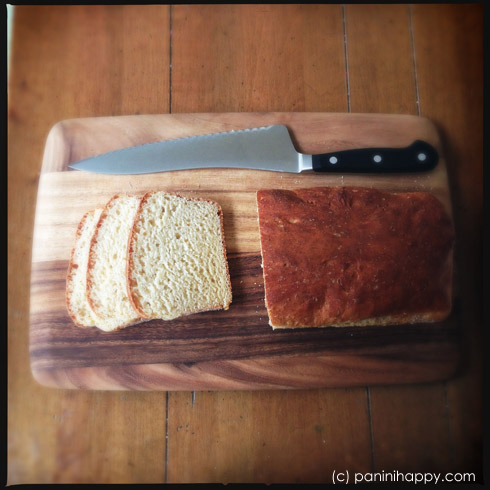 Have you heard of English muffin toasting bread? It's bread that you can slice and toast to reveal nooks and crannies just like an English muffin. I've been hearing about it for years, and I finally baked a loaf myself this weekend (following a straightforward recipe from King Arthur Flour). It's fantastic! The coarse texture makes it perfect for toasting. And if a bread is great for toasting…you know it's even better for grilling!
The thing with regular English muffins is you only get one crumbly textured side – the inside of the muffin. The outside gets toasted too, but it's flat and smooth and, well, a little boring. In sliced bread form, there's no boring side. It's all nooks and crannies as far as the eye can see (tongue can taste?).
And so we have my new-and-improved Bacon, Egg and Cheddar English Muffin Panini – made even better with sliced English muffin toasting bread. You might be able to find this bread in some bakeries, but it really isn't all that difficult to bake it yourself (trust me, I'm not a great bread baker and I managed not to mess this one up…too much. :-)). Of course, good old-fashioned English muffins work well on the panini press too – for the best results, I'd suggest choosing muffins that are on the thicker and denser side.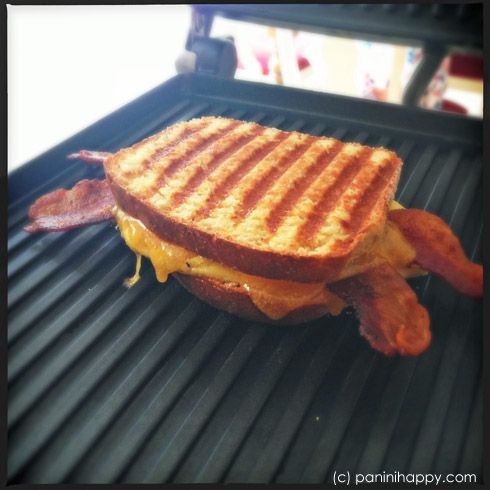 Come join #DairyBreakfastClub recipe party at TidyMom along with The California Milk Advisory Board and RealCaliforniaMilk.com
[print_this]
Bacon, Egg and Cheddar English Muffin Panini
Prep time: 10 minutes | Cook time: 20 minutes | Total time: 30 minutes
Yield: 4 panini
INGREDIENTS:
4

large eggs

Coarse salt and black pepper

4 tablespoons

butter, at room temperature (if using English muffin toasting bread)

8 slices

English muffin toasting bread OR 4 English muffins, split

8 strips

cooked bacon

4 ounces

sharp cheddar cheese, sliced
DIRECTIONS:
One at a time, prepare the omelets. Melt about 1/2 teaspoon of butter in a small nonstick skillet over medium-low heat. Beat one egg really well in a small bowl, season it with salt and pepper and pour it into the skillet. Once the egg has set slightly, pull in the sides with a rubber spatula to allow the runny egg to flow to the pan. When the eggs are nearly set, carefully lift up one edge with the rubber spatula and fold it over in half. Transfer the omelet to a plate and cover it with foil to keep warm while you prepare the other three omelets in the same manner.
Heat the panini maker to medium-high heat.
For each sandwich: If you're using English muffin toasting bread, spread butter on two slices to flavor the outside of the sandwich. Flip over one slice and layer on cheese, an omelet, two slices of bacon and more cheese (if you're using traditional English muffins, apply the fillings inside the lower half of the muffin). Close the sandwich with the top English muffin half.
Grill the panini, two at a time (or all four, if they will fit), until the cheese is melted and the bread or muffin is toasted, 4 to 5 minutes.
[/print_this]