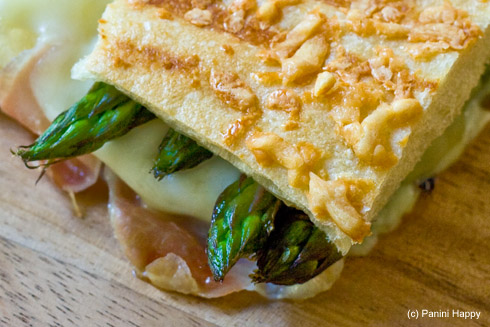 Before I started making panini on a regular basis it never would have occurred to me to insert something long, skinny and roly-poly like asparagus into a sandwich. But some of the folks I Twitter with have gotten me intrigued with all of their excitement over asparagus sandwiches as of late. Spring is finally here which means asparagus are in season, so what better time to expand my horizons and give this concept a try.
Since asparagus and prosciutto is such a wonderful combination in pasta dishes I applied it to this panini recipe,  adding in some fresh mozzarella for that stretchy cheese effect as well as to help keep those roly-poly guys in place. As for bread, I was lucky enough to nab an asiago focaccia at my local bakery department right out of the oven. With that salty bite of crispy asiago baked on top the focaccia would have been amazing on its own. But combined with my other tasty fillings…let's put it this way, just thinking about it drove me to grill and eat yet another sandwich in the midst of composing this post.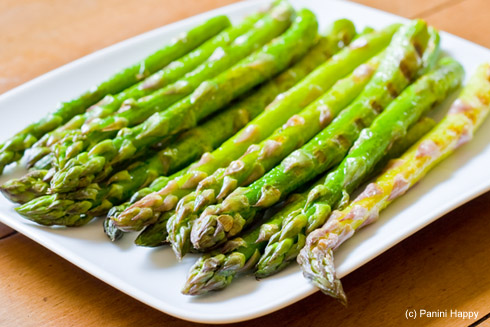 Grilling is, by far, my favorite asparagus preparation method. It's fast, gives a nice semi-crunchy texture and all that great asparagus flavor remains intact. They come out bright green with nice grill marks. I usually just toss the spears in some olive oil, salt and pepper and grill for 2-3 minutes. On my outdoor gas grill I rotate them halfway through, but on the panini grill you don't even need to do so.
Happy spring, all!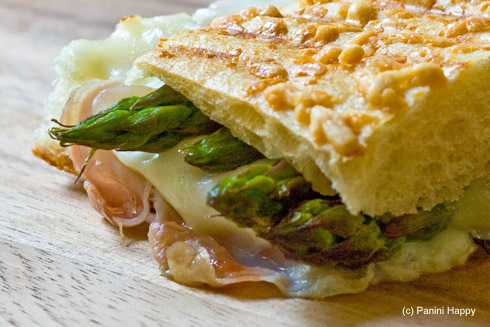 Grilled Asparagus & Prosciutto Panini
Serves 4
INGREDIENTS:
1 lb. asparagus
2 teaspoons olive oil
Salt and pepper
1 focaccia, sliced into 4 pieces
4 slices prosciutto
8 oz. fresh mozzarella, sliced into 1/4″ slices
DIRECTIONS:
Preheat the panini grill to medium-high heat.
Rinse the asparagus and break the ends off of each spear (if you hold onto each end and bend the spear it will naturally break in the right place). Discard the ends. In a large bowl, toss the asparagus in the olive oil and season with salt and pepper. Grill for about 3 minutes until cooked through and grill marks appear. Set aside.
Turn off the grill and carefully clean the grates. Reheat the grill to medium-high heat.
For each sandwich: Slice the focaccia in half lengthwise. Place a slice of prosciutto inside the bottom half. Top with 1/4 of the cheese and as many asparagus spears as will fit securely. Close the sandwich with the other focaccia half. Grill 4-5 minutes until the cheese is melted. Slice the sandwich in half, serve immediately and enjoy!