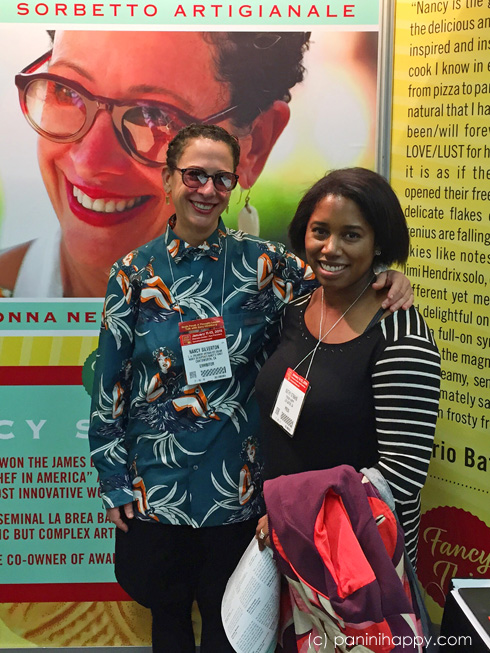 So many booths, so many dreams! Imagine the world's largest Whole Foods on a Friday evening…plus sales reps…and speed dating. At the Winter Fancy Food Show in San Francisco on Monday, I was overwhelmed — dizzied, even — by the sheer volume of specialty food products and people looking to buy, sell, package and promote them.
Meeting Nancy Silverton (see above) was definitely a highlight of the show for me. I've long admired her success as a chef and businesswoman and was extra proud to let her know that I used La Brea Bakery bread throughout much of The Ultimate Panini Press Cookbook. She actually was at the show to debut a new venture: gelato! I had the chance to try out four flavors of Nancy's Fancy — my favorite was the Coconut Stracciatella with Bittersweet Chocolate Strands, which is actually a dairy-free sorbetto. The coconut flavor, from coconut milk, was so pronounced and refreshing!
Nancy's Fancy shared a booth with L.A. Creamery, which had one of the most decadent treats I have dared to taste in recent memory: salted caramel cheesecake sandwiched between two cinnamon-sugar dusted sugar cookies, aka Cheesecake Sammies. Ohhhh my goodness. I took three bites (ok, big bites) of this insanely delightful sandwich before I had to move it away from my own reach. I still had a lot of tasting to do!
{ 7 comments }