Hey there! I can't believe it's been nearly 6 months since my last post. Time definitely flies when you're having fun — and I've been having lots of fun, diving into a new cookbook project!
Introducing…The 8×8 Cookbook
No panini press this time, it's all about the 8×8-inch baking dish (or metal pan). You know that little square dish that we usually pull out for brownies and cornbread? It's also the perfect size for weeknight one-pan dinners, Sunday dinners, desserts, sides and brunches for a family of four to six (or, for a larger crowd, you can double the quantities to fit a 13×9-inch dish). In The 8×8 Cookbook I'm turning this versatile dish that most of us already own into a kitchen workhorse, with recipes for 88 crowd-pleasing "square meals" (get it?).
A team of 40 amazing friends and family members have been hard at work, testing the recipes as I've been finishing them. Each and every time a feedback survey comes in, I learn something incredibly valuable to make the recipe clearer, more accurate, more delicious or just plain more grammatically correct. I cannot thank them enough!
If you follow me on Instagram, you've already seen a number of the recipes I've been working on over the past few months (as well as my growing vintage Pyrex collection). A few of my favorites so far (FYI, these are just my iPhone snapshots — I'll be doing the "real" photography next month):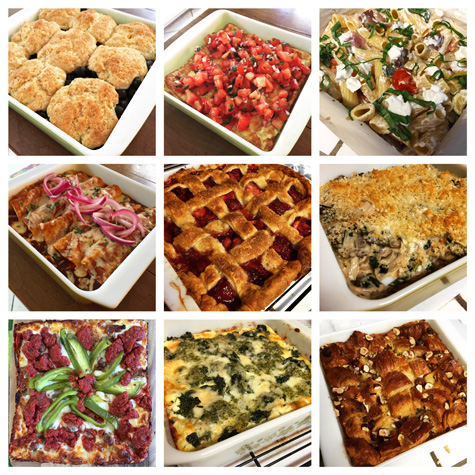 …and also Burnt Cheese Press
I've also started a publishing company! Burnt Cheese Press, LLC is officially a thing, and The 8×8 Cookbook is the first title I'm releasing. I will learn a ton this time around, and likely make my fair share of mistakes (we'll call them "experiential learning opportunities"). My goal is to publish other authors going forward, and to explore content distribution options beyond traditional print publishing — electronic, apps, videos, merchandise, to name a few.
I have the incredibly talented design and editing duo from Interrobang Collective out of Portland putting the glitz and polish on this 8×8 project. We aim to earn a spot on many cookbook shelves with a beautiful collection of recipes people will love to cook and eat.
Join Me On This Journey
I'd love to share my progress with you! I've started an email newsletter for Burnt Cheese Press, which will feature recipes from The 8×8 Cookbook, updates on my publishing journey, decisions I'm faced with, lessons learned. Subscribers will be the first to know when the book is available for pre-order and hopefully I'll have some fun offers as well. Join the email list here!
Whew. So that's what I've been up to. It's not without a little trepidation that I'm making this public today! But I'm shaking off those fears. I'm very proud of the work that's been done so far on 8×8 and I couldn't be more excited to cross the finish line and hold the first copy in my hands. I hope you'll join me on this journey!