Hello All! How fitting that my last post was about lemonade, because today I'm sharing with you my new cookbook for kids ages 6-12, called The Lemonade Stand Cookbook! It's all about empowering kids to get cooking, get crafty, and become entrepreneurs. The book just launched on Kickstarter (which means, it's available to order) and I couldn't be more proud of it. I hope you'll consider picking up copies for your kids, grandkids, nieces and nephews or all of the above!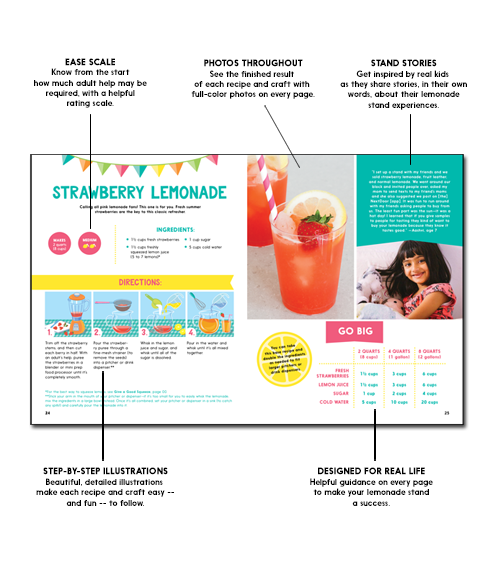 What I've loved most about creating The Lemonade Stand Cookbook has been coming up with features that make each page as kid-friendly and appealing as possible:
Step-by-step illustrations, drawn by the amazing Carol Yoshizumi, to make each step easy and fun to follow
"Stand stories" from the kids themselves, recounting that time they had a lemonade stand (they DO say the darnedest things!), are inspiring for kids

 to read

Easy conversions to make large drink quantities — most recipes you find only yield enough for a few servings, these recipes take the guesswork out of scaling up for a crowd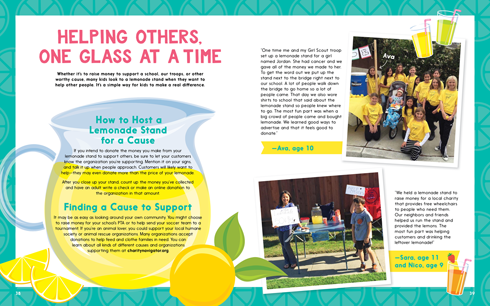 This is one of my favorite pages in book because it's all about how kids can help others through a lemonade stand. I've got heartwarming stories from Ava, whose Girl Scout troop raised $1,000 for a friend battling cancer, and Sara and Nico, who raised money for people who needed wheelchairs. So inspiring!
More than 50 kids are featured in The Lemonade Stand Cookbook, and more than 40 families tested the recipes and crafts. It has truly taken a village. Thank you so much for your support!